Blazers overhaul broadcast crew: Mike Barrett, Antonio Harvey and Mike Rice out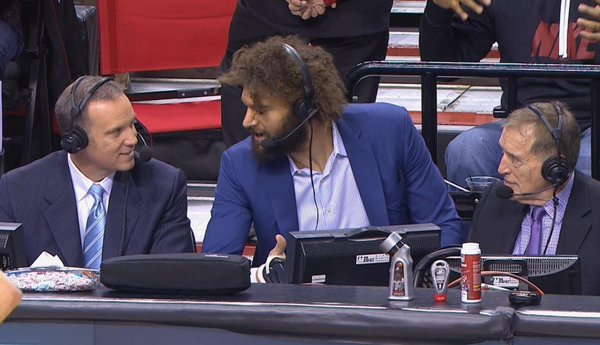 The Portland Trail Blazers' broadcast crew is undergoing a major overhaul and several faces who were synonymous with the organization will no longer be there.
The team announced Wednesday that television duo Mike Rice and Mike Barrett, as well as radio analyst Antonio Harvey will not be with the team next season. A national search to replace Barrett and Rice has already begun. Radio voice Brian Wheeler will be back for his 19th season, doing a Vin Scully-style solo broadcast on the radio.
"After reviewing our entire broadcast operation over the past couple of seasons, I felt it was a good time for us to transition into a new direction," McGowan said in a press release. "I would like to thank our broadcasters for their years of dedicated service to our organization and wish them nothing but success in their future endeavors. Going forward, we will focus our efforts on a national search to fill our open TV broadcast positions, with the number one goal of bringing in top-notch talent that our fans will be excited to watch during Trail Blazers broadcasts."
The Blazers 10-year deal with Comcast Sportsnet Northwest is up after next season and both sides have been in negotiations since the new year. The Blazers and Comcast have butted heads in the past over who would get revenue from streaming games, which has caused Blazers fans who pay cable subscriptions to continue living in 2006, with no streaming option the past two seasons. Joe Freeman of The Oregonian got the scoop that Comcast offered the Blazers a deal but that the Blazers are listening to other offers and must decide on a new partner before July 1.
Comcast, which leans on the Blazers as its flagship partner in the region, submitted a new contract offer earlier this year during an exclusive negotiating window. But the Blazers — long frustrated by Comcast's lack of distribution — have been fielding offers from other potential partners for weeks and it's possible they will move in another broadcast direction. For nearly a decade, Blazers games have been unavailable to satellite television subscribers because of national distribution disagreements between Comcast and DirecTV/Dish, leaving a large percentage of Blazers' fans in the crosshairs of a corporate kerfuffle.
DirecTV owned ROOT Sports broadcasts the Portland Timbers and the Seattle Mariners. As Freeman also noted, they could also go a non-traditional route with their broadcast. The Blazers often feel the pressure for living up to their "Trail Blazers" brand and a streaming broadcast option would set a precedent in the league. Here's what McGowan told me when it came to carriage of Blazers broadcast earlier this year.
"It's super important," McGowan said of carriage on other providers. "Unfortunately we don't control it which is a tough thing. There's only a few companies that carry regional sports networks. You have to create a deal and a partnership with those companies. It's definitely a factor. It's on our mind. It's our end goal. It's one of those things that we understand our fans want our games as widely distributed as possible."
Comcast Sportsnet Northwest's positioning is also precarious with regards to the Blazers. According to sources, the network's future could be in jeopardy if the Blazers don't renew their contract with them.
All the best to Mike, Mike and Tone who were nothing but gracious to a young reporter trying to break into the game.