Uncategorized
Reconnecting with Friends through Art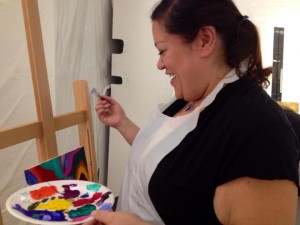 Work, relationships, and the general wear and tear of our daily schedules create a need to do something that recharges our emotional batteries. Regardless of our skill levels or the types of arts and crafts we enjoy, many of us benefit from a creative outlet.
For five years, I have invited a small group of friends over to my house occasionally to paint, collage, or color while drinking coffee and chatting. Lately, I've coined this Ladies Art Club, but it's had different names and incarnations. What has been consistent is the theme: friends connecting through art. It's been wonderful to watch friends meet and interact while trying new art mediums.
All over Clark County, there are small groups that meet regularly to knit, sew, paint, write, read, and build things together. Unlike happy hour or lunch groups, arts and crafts groups have something new at the end of their time together, as well as stronger bonds. A powerful force of community building these groups are; in addition to being healthy for participants.
It's easy to create your own group. Simply identify a few friends that do art or are interested in trying, pick a time to meet, send out a message, and make sure there's plenty of coffee, tea and snacks at the event. Typically, I have one activity and supplies set out but friends also bring their own projects. The point is to reconnect, and for some reason doing art together makes that easier.
When we are in a creative mode we are less guarded, more accepting, and able to think about things in a fresh way. Friendship & art are a great way to recharge.
Local arts advocate Hanna Perez hand paints a decorative mirror at art social event last year.