Uncategorized
Local Artist's Vision for African Residency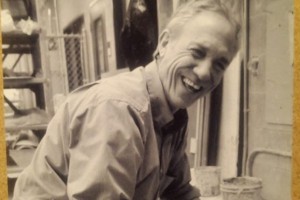 Artists are full of great ideas. It's sort of what we're known for. But sometimes an artist's good idea becomes a generative vision. Local artist and retired teacher Russell Ford has a vision of traveling to Africa this year to teach in a new program for empowering girls through art. No one can explain his vision better than him, and so I am including excerpts from his plan:
"I am a recently retired art teacher with a desire to continue teaching art but with a different goal and in a different part of the world. I think I have found a perfect fit for my skill set in an art school (Wayiwayi Studios) for young adults and children in Zambia, Africa.
This school is unique in that the couple that run it, Lawrence and Agness Yambwe, are both successful artists and they are heavily invested in uplifting the greater community through the creative experience. They share a special interest in improving the lives of African women (and through them, the men), and they have a compelling argument for doing that through their particular connections and unique abilities.
Though Lawrence and Agness have been hard at work developing this school for many years, it has been a dream of theirs that their students would benefit greatly from exposure to cultures outside their own. With this in mind, they have been using some of their meager resources to slowly build a covered space to house a guest artist-in-residence. This year, they were able to put a roof on the building, and though there are no amenities inside yet, they are prepared to accept their first artist-in-residence…me.
Though I am up for a chance to share and do my own art in such a space, I am especially excited to test my skills as an accomplished art teacher (Washington State art teacher of the year) in this special school. I have been an advocate for using art as a cultural bridge for some time and firmly believe that art is a universal language and I relish the chance to give proof to the theory by taking an active part in teaching both the regular classes and with those special students that participate on the weekends.
I have created a window of opportunity to go to teach for the month of April of this year. I have decided that this experience will be most meaningful if I am able to "work" my way to Africa rather than to be funded through others generosity. With that in mind, I have set out to create a body of work that I would love to sell to finance my trip. All proceeds from the sale of these works will finance the trip and my expenses for staying there, and everything extra will go to improve the residence facility with the goal of creating an ongoing program that will be even more inviting for the next resident."
The upcoming event to sell Ford's ceramic work and Lawrence Yambwe's paintings to raise money for the program is at the Aurora Gallery at 1004 Main Street, Vancouver, WA in March 2016. There will be an opening celebration as part of the First Friday Art Walk on March 4th from 5-9pm.
Russell Ford photo courtesy of artist.