Uncategorized
First Friday's Big Holiday Celebration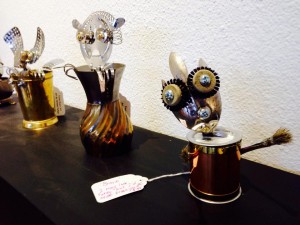 It's that time of the month again- First Friday Artwalk in the Vancouver Arts District. Local galleries made their lists and checked them twice and hung shows with collectible and gift-able art by a variety of local artists. Joining in the festivities are also businesses like Eric Runyan Jewelers, Boomerang Coffee House, Cellar 55 and the Clark County Historical Museum. The list of participating businesses is so long it's best to follow this link to the Vancouver Downtown Association's HOTSHEET to get the complete story.
For those headed out to First Friday with holiday shopping in mind, Gallery 360 and North Bank Artists Gallery have gift-able art shows. Aurora Gallery and Art on the Boulevard always carry inventory of jewelry, ceramics, and other items perfect for thoughtful presents.
Charitable giving is the focus at some businesses, like Above & Below Art Studio which is doing a Toys and Towel Drive, Clark County Food Bank's presentation of "A Place at the Table" at Loowit Brewing, and Salon Moxi's annual fundraiser for the Humane Society for SW Washington.
This First Friday has something special for just about everyone. Please join us!
North Bank Artist Chrissie Forbes is showing unique recycled art robots in the front gallery.