Making Shrimp and Crab Dumplings
Ever since, My Pirate and I lunched at the new Taste of Sichuan in East Vancouver, I've become completely smitten with Asian dumplings. To learn how to make my own, I turned to the public library and checked out Asian Dumplings: Mastering Gyoza, Spring Rolls, Samosas, and More by Andrea Nguyen. And I've been making some very ugly dumplings, but don't worry, they still taste delicious.
My Kid asked My Pirate to make his (fantastic) Khoa Soi Curry Noodle Soup for our Christmas celebration. And while My Pirate was hard at work making his delicious soup, My Kid and his lovely girlfriend helped me assemble Har Gow Shrimp and Dungeness Crab Dumplings. We sipped hot White Peony tea and enjoyed our time chatting and laughing with Mr. Barnaby, my 170 pound Great Dane, asleep on our feet.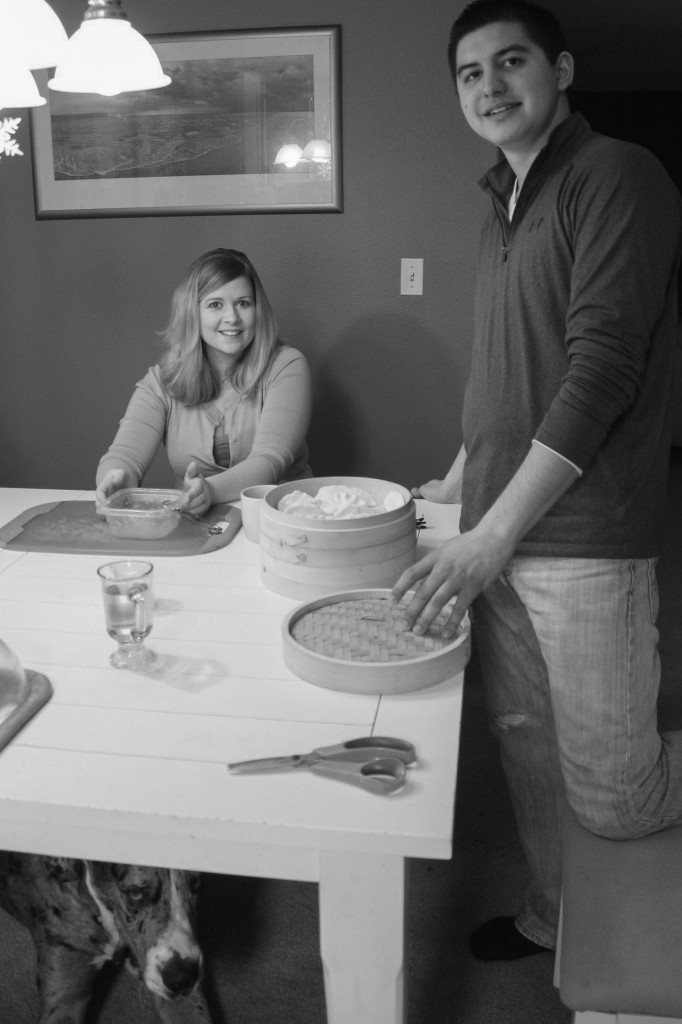 I pushed chunks of wheat starch dough under an oiled bowl to press 3 inch rounds of dumpling wrappers out on my cutting board. And the kids filled the wrappers with the seafood mixture and beautifully pinched them together. They made beautiful dumplings on their first try!
Then we placed the layers of dumplings on top of a boiled pot of water for 9 minutes. The dim sum style dumplings turned out gorgeously translucent and delicious. We made and ate 30+ dumplings before we enjoyed our main course.
I highly recommend reading Andrea Nguyen cook books and visiting her website, Asian Dumpling Tips. Her website is a wonderful resource filled with tutorials and tips on making delicious dumplings. She helps you succeed.
We used her lovely translucent wheat starch dough recipe on page 132 of her Asian Dumpling book.
Har Gow Shrimp and Dungeness Crab Dumplings
adapted from Andrea Nguyen's book, Asian Dumplings
1/2 pound of shrimp, I used Trader Joe's Red Argentinian Shrimp
large handful of fresh Dungeness crab meat
1 teaspoon kosher salt
1 teaspoon of bacon fat
2 tablespoons of minced shallot
2 tablespoons diced bamboo shoots
1 1/2 teaspoons cornstarch
1/2 teaspoon sugar
1/8 teaspoon white pepper
glug of Shaoxing rice wine
Chop the shrimp, bamboo shoots, and shallot and stir together. Add the handful of crab meat and bacon fat.
In a bowl, combine the cornstarch, sugar, white pepper and ride wine and stir together until dissolved. Add more rice wine as needed. Then pour over the shrimp mixture and stir together. Wrap up and refrigerate for 30 minutes to 4 hours to marinate. I left mine the fridge overnight.
Fill approximately 3 inch store-bought wrappers with 1 to 2 teaspoons of filling, fold into a half-moon shape, and pinch the edges together. Use water to wet the seams if necessary. Pinching them closed is the trick to a delicious dumpling. Steam in a parchment paper lined steamer over boiling water for about 6 to 10 minutes.
Serve with light soy sauce and chile sauce. Enjoy!
Laura Heldreth
Hello! My name is Laura Heldreth and most days you can find me playing in my kitchen and vegetable garden.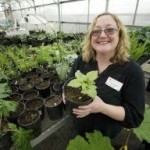 Hello! My name is Laura Heldreth and most days you can find me playing in my kitchen and vegetable garden.