Have you ever tried the custard-filled cornbread recipe from The Breakfast Book by Marion Cunningham? Whether you love or hate cornbread, you need to try this recipe! Custard-filled cornbread is one of those rare genius recipes that magically exceed the sum of its ingredients.
I first stumbled upon this recipe on page 251 in Molly Wizenberg's book, A Homemade Life. I immediately whipped up a batch and My Pirate who hates cornbread, giggled after the first bite. He giggled. Then, I tested it on my marching band booster friends and ended up being hugged, kissed, and proposed to. So, I carefully slid the recipe into my favorite recipes binder with the word amazing marked in the corner.
I recently whipped up another batch of this recipe to pair with the red lentil soup. I used Red Mill medium grit cornmeal and the bigger grits sunk down to the bottom of the pan creating a crusty bottom that only accentuated the creamy custard center of the bread. I melted butter on top it and I made a fatal mistake; I absent-mindedly handed Barnaby, my Great Dane, a small bite. His eyes widened and he immediately laid down and nudged me for another bite.
The next morning, I heated up a slice of the cornbread and topped it with my best maple syrup for breakfast. After breakfast, I let Barnaby lick the crumbs off my plate. As I rinsed my dish, I looked behind me just in time to see Barnaby twist his muzzle in the refrigerator door seal and carefully clasp the door with his teeth. The refrigerator door swung open and Barnaby bathed in the light and heard the humming choir before he leaned in towards the custard-filled cornbread. I sung out in a panicked voice, "Let's go get a stick outside," as I quickly shut the fridge door and did my best to distract him.
Only to find him later in the afternoon, sitting in front of the open fridge again, smiling at the possibilities. We compromised and I sprinkled some cornbread on his meals for the next couple of days. His cornbread craving satisfied, he left the fridge door closed.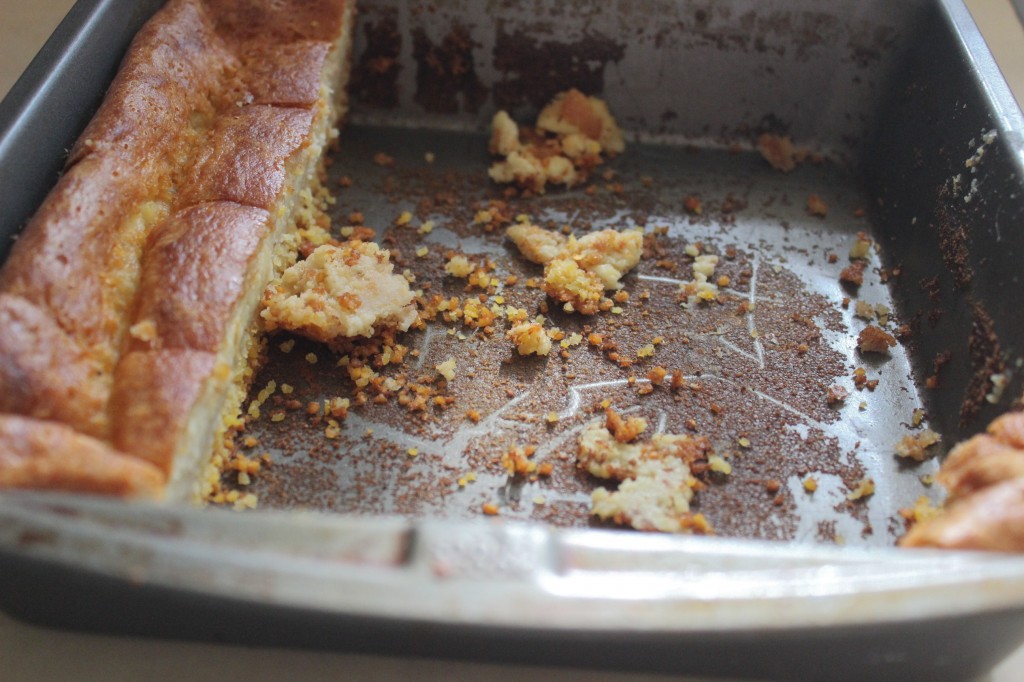 Custard-filled Corn Bread
from A Homemade Life by Molly Wizenberg and originally from The Breakfast Book by Marion Cunningham
3 T. unsalted butter
1 cup flour
¾ cup yellow cornmeal, preferably medium ground
1 teaspoon baking powder
½ teaspoon baking soda
2 large eggs
3 T. sugar
½ teaspoons salt
2 cups whole milk
1 ½ T. distilled vinegar
1 cup heavy cream–I use 3/4 cup
Pure maple syrup, for serving
Preheat the oven to 350 degrees.
Butter an 8 inch square or 9 inch round pan, then place it in the heated oven while you make the batter.
Melt the butter then set aside to cool.
Combine the flour, cornmeal, baking powder, and baking soda in a bowl and whisk together.
Whisk together the butter and the eggs until they're well combined. Add the sugar, salt, milk and vinegar. Whisk together. Then whisking constantly, add flour mixture and whisk until smooth.
Pull the heated pan out of the oven and pour in the batter. Then carefully add the cup of cream in the center of the pan of batter. Do not stir. Slid the pan into the oven. Bake for 50 minutes to 1 hour. Serve warm, with butter and maple syrup.
Yield: 6 to 8 servings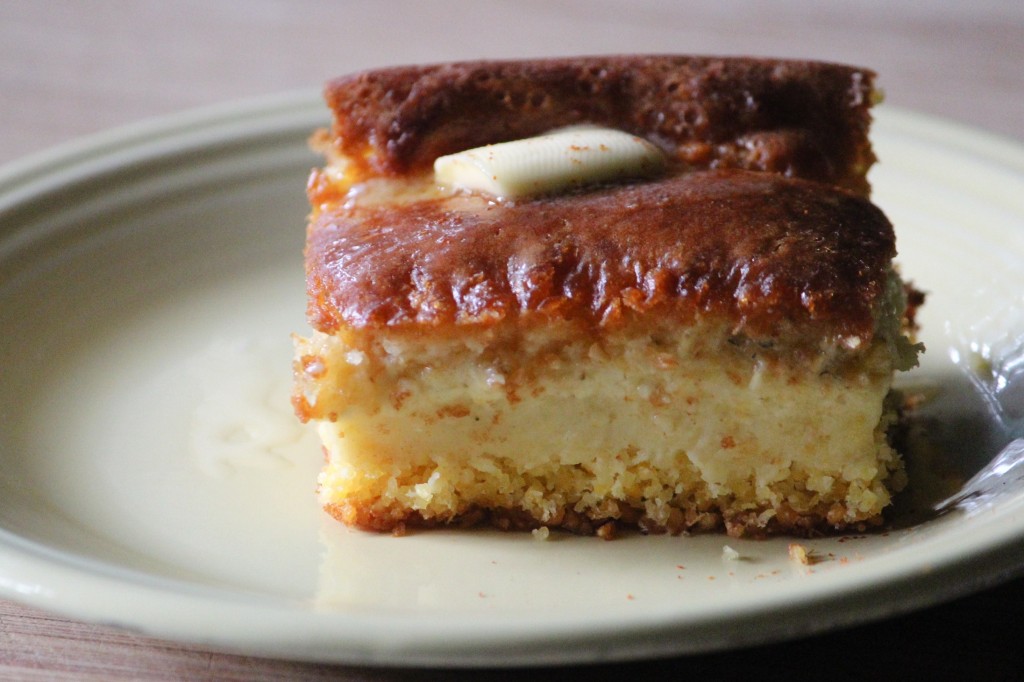 Laura Heldreth
Hello! My name is Laura Heldreth and most days you can find me playing in my kitchen and vegetable garden.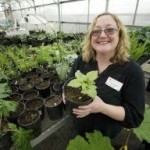 Hello! My name is Laura Heldreth and most days you can find me playing in my kitchen and vegetable garden.