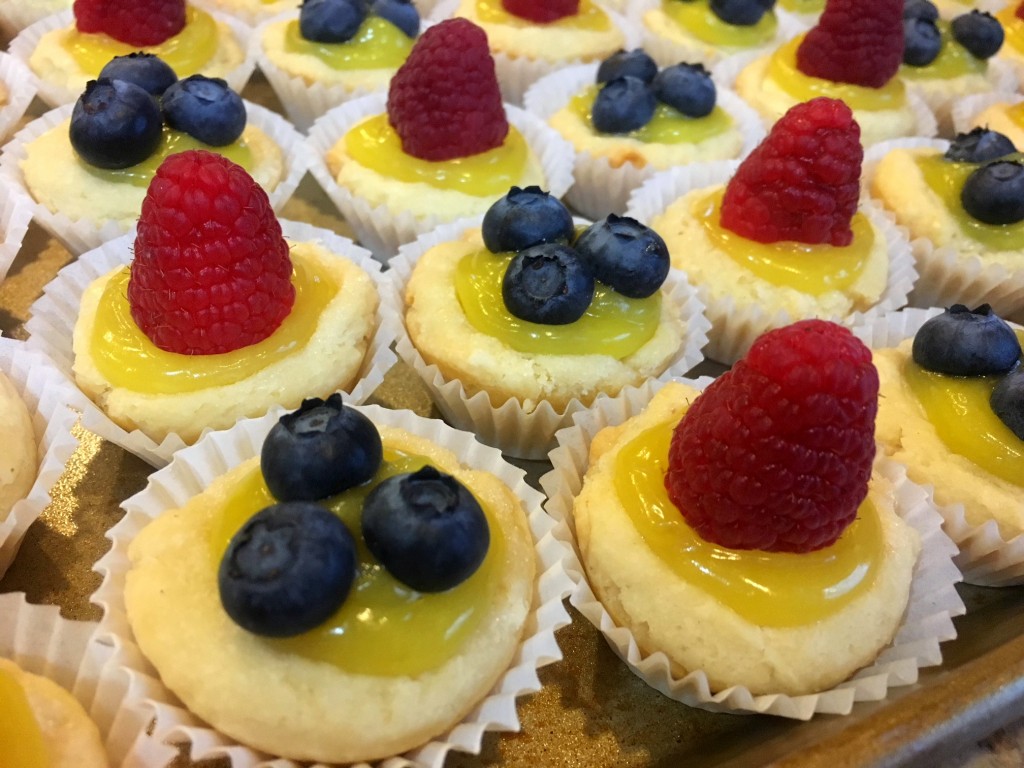 Lemon Cheesecake Bites are perfect miniature treats.  With a lemony crust, sweet cheesecake filling and tart lemon topping, these little beauties will impress anyone.  Need extras?  (Hint… you'll need extras).  The recipe doubles easily.
Lemon Cheesecake Bites
Makes 24 miniature cupcakes
Ingredients:
Crust
3 oz cream cheese, softened
1/2 C (1 stick) butter, softened
1 T lemon zest (about 1 lemon)
1 C flour
Filling
1/2 C sugar
5 oz  cream cheese, softened
1 t fresh lemon juice
1 t vanilla
1 egg
Lemon topping
2 T corn starch
1/3 C sugar
2 T lemon juice
1 T lemon zest (about 1 lemon)
1/3 C water
2 T butter
Yellow food coloring (optional)
Fresh fruit, washed and dried (for garnish)
Directions:
Make the crust ahead of time.  Use a mixer to combine cream cheese and butter until smooth.  Add flour.  Wrap tightly in plastic wrap and refrigerate for at least 1 hour.
Heat oven to 325.  Line mini muffin pans with cupcake wrappers or coat with nonstick cooking spray.
Use a small cookie scoop to make 1 inch balls.  Set into pan and use fingers to squish to fit OR use a shot glass rolled in sugar (I found narrow ones at a grocery store… super useful).  You want to make crust-like shapes.
To make filling, use a mixer to combine cream cheese and sugar.  Add lemon juice, vanilla and egg.  Scoop into prepared crusts, filling 3/4 full.  I used a teaspoon sized measuring spoon and it worked pretty well.
Bake 18-22 minutes.  You will see the crust becoming lightly golden on the edges and the cheesecake mixture inside will puff up.  Don't worry, it will settle when it cools.
Remove from the oven and cool about 5 minutes.  Carefully run a thin knife around the edges and remove.  Set aside and cool completely.
While cheesecakes are cooling, make lemon topping.  Whisk together sugar and cornstarch in a small sauce pan.  Add water, lemon juice and lemon zest.  Bring to a boil over medium heat, whisking constantly.  Boil for 1 minute, mixture will become very thick.  Remove from heat.  Add yellow food coloring (if using) and 2 T butter.  Allow to cool to room temperature.
Transfer lemon topping to a plastic bag and snip the corner.  Pipe on cheesecakes, leaving the crust and a teeny bit of the filling showing.  Garnish with fresh fruit.  Keep refrigerated until serving.
Recipe modified from "Miniature Lemon Cheesecake Tarts," tasteofhome.com