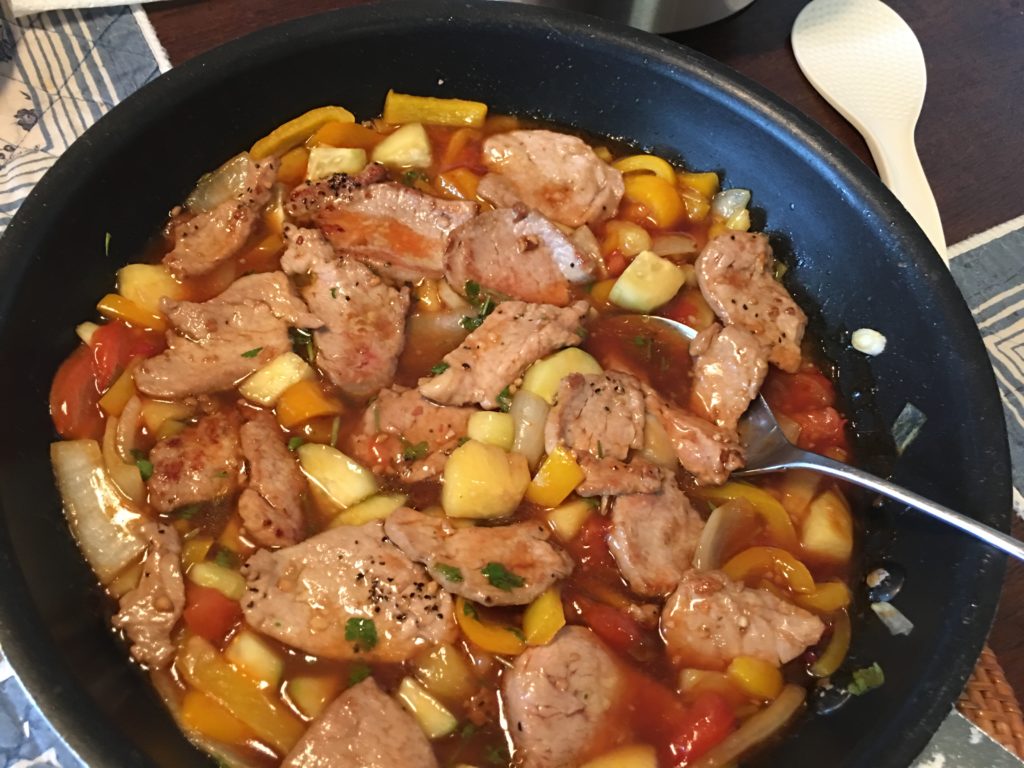 My friend Linda Meade, a member of Our Lady of Lourdes parish in Vancouver and a volunteer for the Frassati suppers at the Proto-Cathedral of St. James the Greater where we feed the poor and homeless, took me to lunch the other day at Thai Orchid.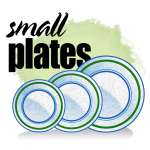 We ordered the Thai sweet and sour pork entree. It was so good that I vowed to replicate it at home. The result? It was delicious at the restaurant but even more tasty at home. I went to a couple of recipes for guidance, and then I combined and improvised.
No. 2 son dropped by as he often does on a Saturday night. It passed the John test. The Intrepid One praised the flavors. In fact, we all pronounced it "company worthy," a term we use when something is good enough to serve to guests. We had leftovers, so I'm anticipating that the flavors will meld tonight and we will have a delicious lunch tomorrow.
Here is my improvised recipe:
Thai sweet and sour pork
Half a pork tenderloin, sliced into 1/4-inch rounds
1 tablespoon soy sauce
1 clove garlic, finely chopped
1/2 teaspoon pepper
2 tablespoons oil
1/2 large onion, cut into large chunks
1 bell pepper, seeded and cut into strips
1-1/2 cups fresh pineapple
1 tomato, chopped into chunks that are about the size of cherry tomatoes
2 green onions, peeled and chopped
1/4 cup cilantro
Steamed rice for serving

For the sauce:
1/2 cup brown sugar
3 tablespoons white vinegar
2 tablespoons ketchup
1 tablespoon soy sauce
1 teaspoon chili-garlic sauce
1 tablespoon minced garlic
1/2 cup pineapple juice (I was a little short, so I threw in a couple of tablespoons of lemonade)
2 tablespoons cornstarch mixed with 2 tablespoons water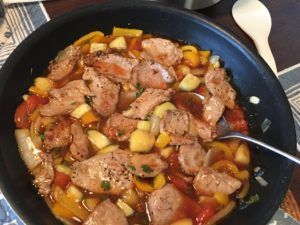 To put this together:
Marinate the pork slices in the soy sauce, garlic and pepper at the top of the recipe for at least 30 minutes.
Make the sauce by bringing all the ingredients, except the cornstarch, to a boil. After the sugar has dissolved, add the cornstarch and let the mixture thicken. Set it aside.
Cook the pork in hot oil until tender and not overdone. Get a clean frying pan. Heat more vegetable oil and then stir-fry the vegetables. Pour in the sauce and cooked pork. Add the pineapple, cucumber and heat through, Garnish with green onions and cilantro. Serve with steamed rice.