Food evokes joy of friendship
Hi there, Small Plates readers:
Last weekend, I had a fabulous visit with one of my best friends from high school and her husband. I flew to San José, Calif., to stay at their house. (It was on a Boeing 737, but not the MAX.)
We went to the Little Italy section of San José and dined at Paesano Saturday evening. I ordered Pappardelle Alexandra, a broad ribbon pasta with pancetta and crab in a tomato vodka cream sauce. It was heavenly.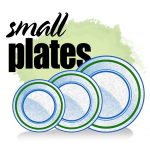 Back home, I kept raving to the Intrepid One about what a wonderful weekend I had had with my friends.. He had stayed home with our aging Labrador, Abby, who suffers from laryngeal paralysis, a horrible condition common to older Labs that affects their breathing. In late January, she also had a tumor removed from her paw pad. It was determined to be an aggressive malignant melanoma. At this point, we are trying to keep her as comfortable as possible.
Anyway I tried to replicate the Paesano  recipe, though I admit that I used Cento's creamy vodka sauce, available at Sheridan's in Southeast Portland. I used Neuske's bacon, medium sliced, from Portland's City Market instead of the pancetta. (And next time I'll make the sauce from scratch.) Anyway, No. 2 son stopped by, and we all agreed the recipe was a keeper and company worthy,
Sorry, St. Patrick, we're having Italian again tomorrow night because we have plenty of leftovers.
Thanks, Susan, for 56 years of friendship. And thanks, David, for taking care of our beloved pooch, Abby.
Crab and bacon pappardelle
4 strips of high quality bacon, cut into 1-inch strips
1 jar of Cento creamy vodka sauce
Extra whipping cream
1/4 cup basil, finely chopped
salt, pepper
meat from one small crab
Pappardelle pasta (I bought it at Pastaworks in City Market in Northwest Portland)
Parmigiano-Reggiano
Fry the bacon chunks. Dab the excess grease with a paper towel. Pour in the creamy vodka sauce and add salt, pepper and extra cream to taste.
Add the basil and meat from the crab. Gently toss.
Cook the pasta according to directions. With the silky strands of pappardelle, it took about seven minutes. Pass the Parmigiano-Reggiano.