Spaghetti Squash Carbonara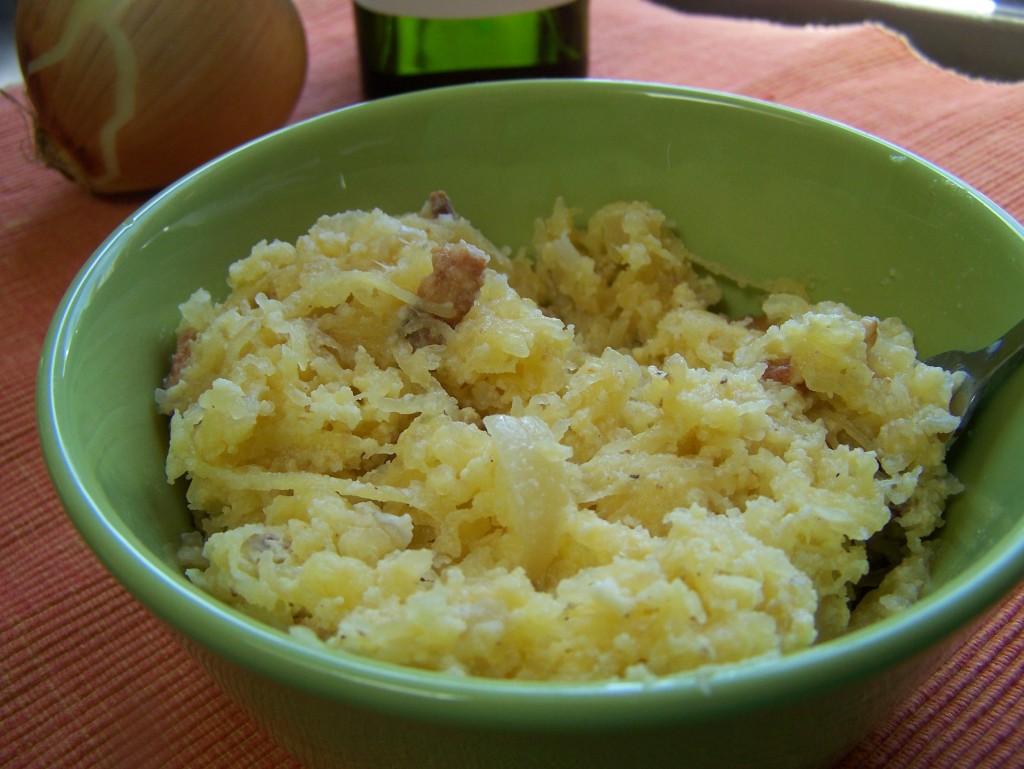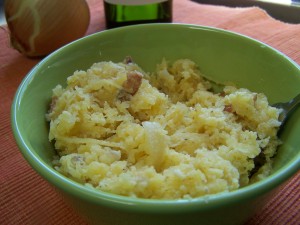 Ok can I just make a confession here? Remember when I mentioned that paleo allows for an 80/20 way of eating where you're eating paleo 80% of the time? Well lately friends I've kind of had this flipped and was not going to even mention it to you thinking I could pull the wool over your eyes. But as I've said before, over here at Paleo Mama we're all about keeping it real and I think we can all say we've been there sometimes with bad eating habits. What's important is that we get back on that wagon or horse or insert your favorite old-timey mode of transportation here. Well this dish is me getting back on the paleo horse. And now back to our regularly scheduled recipe
Here's one I've been wanting to make for a while. It features once again the favorite paleo pasta substitute spaghetti squash. We've been down this road before regarding my love of this happy yellow squash, more on it here.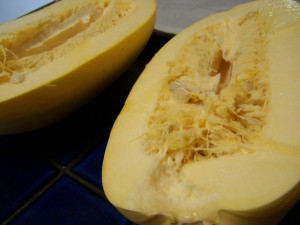 I had seen some recipes for spaghetti alla carbonara and figure it would translate well into a squash dish. What really yums up this one is the bacon and onions combined with the creaminess of the egg mixture. (Inspiration from Paleo Grubs one of my favorite paleo blogs).
I'm usually a microwaver of the squash for convenience sake but this time I decided to use Martha Stewart's method of roasting and it came out perfectly done.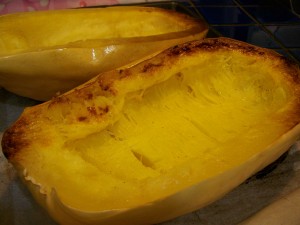 In fact, the squash I used was so huge only half this amount went into the recipe. Also a word to the wise drain your noodles once you scrape them out. I did not and ended up with a lot of moisture in the finished dish I had to drain later.
Hope you enjoy the tastiness!
Spaghetti Squash Carbonara
Ingredients:
1 small to medium spaghetti squash cooked or roasted with flesh scooped out
5 pcs bacon
½ onion diced
1 tsp chopped garlic
2 eggs
¼ C. almond or coconut milk
Salt and pepper to taste
Directions:
While squash is baking, fry the bacon, crumble, set aside, and reserve about half of the grease. In a small bowl mix the eggs with the milk adding salt and pepper to taste. Cook onions in the grease on medium high heat, when almost done add the garlic and cook until fragrant (don't let the garlic burn). Add the squash into the pan with the onions and garlic and stir to coat. Lower heat to low and slowly drizzle the egg mixture over the squash stirring to coat. Cook until you no longer see raw egg. This should make a creamy coating for the noodles and not look like scrambled eggs. Serve and enjoy!