N. Mississippi restaurant features Italian-inspired wine dinner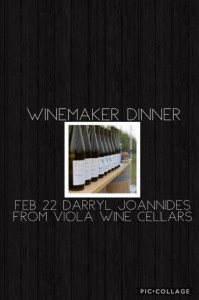 QUAINTRELLE HOSTS WINEMAKER DINNER WITH DARRYL JOANNIDES OF VIOLA WINE CELLARS
Four-course family-style dinner with wine pairings, $75
February 14, 2017 – Portland, OR – Quaintrelle will host a February winemaker dinner on Wednesday, February 22 with Darryl Joannides of Viola Wine Cellars.
Join sommelier Matt Hansel and chef de cuisine Bill Wallender for a four-course family-style dinner. The seasonal menu will be paired with Italian-inspired natural wines from Viola Wine Cellars. Dinner begins at 6:30 p.m. and tickets are $75, including gratuity. For reservations, please call Quaintrelle at 503-200-5787 or purchase tickets online.
Viola Wine Cellars selections include:
2016 Viola Ramato of Pinot Grigio
2015 Viola Bianco d'Allegre (Sauvignon Blanc, Moscato, Pinot Grigio)
2015 Viola Dolcetto d'Allegre
2015 Viola "Dugger Creek Vineyard" Sangiovese
Darryl Joannides has spent the past 20 years immersed in Italian food and wines. Darryl's first Italian-inspired business was as chef/owner of Assaggio in the Sellwood neighborhood from 1995-2005. Viola Wine Cellars was created in 2002 during harvest when Darryl worked as an intern for Andrew Rich Vintner during the inaugural year of the Carlton Winemaker's Studio. Viola became a full-time venture in 2012 and today production is located in his garage in NW Portland. The majority of the vineyards used to produce Viola's wines are located in the Columbia Gorge appellation.
Upcoming winemaker dinners will feature Brianne Day of Day Wines on April 12 and Pam Walden from Willful Wine Company on May 17.
About Quaintrelle: Located in Portland's bustling N. Mississippi neighborhood, Quaintrelle serves Pacific Northwest inspired cuisine made with passion and intention and works with a range of purveyors to ensure the best seasonally available local ingredients. The restaurant is located at 3936 N. Mississippi Ave. Reservations may be made through OpenTable, or by calling the restaurant at (503) 200-5787 or online at www.quaintrelle.co.
**Follow Corks & Forks by clicking the 'Follow' button or follow Corks & Forks on Facebook, Twitter @WACorksandForks or Instagram Viki@WACorksandForks.