Four ways to wear button-up shirts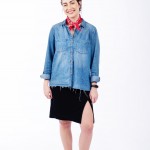 One of my favorite things to do when I get dressed in the morning is to pick an outfit I've never worn before. I repeat combinations sometimes, but I try to avoid wearing the same outfit twice. 
You may be thinking: "How big is this girl's closet?" while picturing one of those crazy Pinterest-style rooms stocked with shoes and clothes. If only that was my secret.
In reality, I scope out clothing items that are versatile and get creative with layering and accessories. I also try to keep all my clothing within the same color family, so that everything goes together and can be interchanged. I own a lot of neutrals, which gives me more options and allows me to add colorful and fun accessories to spice things up. 
By far, the most useful items of clothing in my closet that serve as a great base for any outfit is a button-up shirt. They can be worn in so many different ways — buttoned or unbuttoned, dressed up or dressed down. Some brave folks even wear them as a skirt or make them into off-shoulder tops. The options are plentiful and varied.
This week, I decided to show the ways that I usually wear my button-up shirts, and the things I consider when putting together an outfit in order to make it different and more interesting. I selected one top and assembled four outfits around it.
The shirt I chose is a denim Madewell top. I love the boxy structure and the raw hem, which makes it flattering tucked or untucked. Plus, a denim shirt is a great staple, and it's likely that many readers have one in their closet already, and may be able to relate and experiment with their own looks.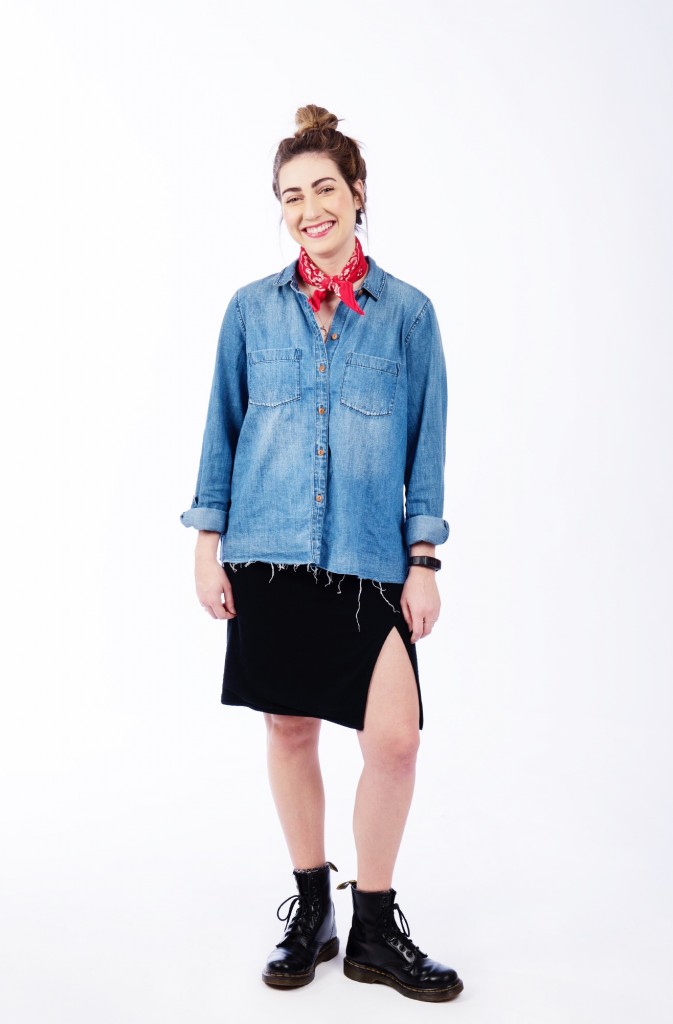 Buttons undone: 
This style is perfect for showing off your favorite necklace or scarf. If you read my first post, you'd probably be unsurprised that I chose a bandana. This one is a basic red one from a craft store. I'm also wearing a crescent necklace from Etsy. This basic, super comfy skirt is from GAP, and I'm wearing my favorite winter shoes — my Doc Martens boots.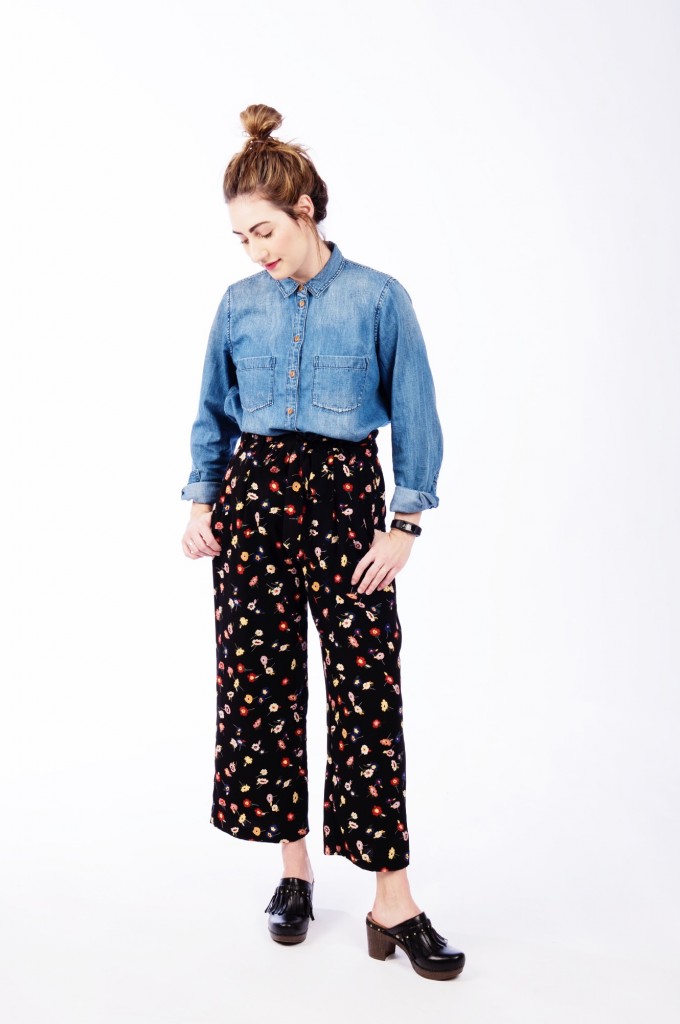 Buttoned up: It's not as common for women to wear their shirts buttoned all the way up, which is one reason that I love this style. It's unexpected, but it looks sharp and put together. I'm wearing my favorite pair of pants: floral print, tie waisted trousers that are as comfortable as pajamas. I'm also wearing my favorite shoes, which are fabulous Dankso clogs with fringe that I found at Nordstrom Rack. This outfit shows how you can easily turn something casual, such as a denim shirt, into a dressier outfit.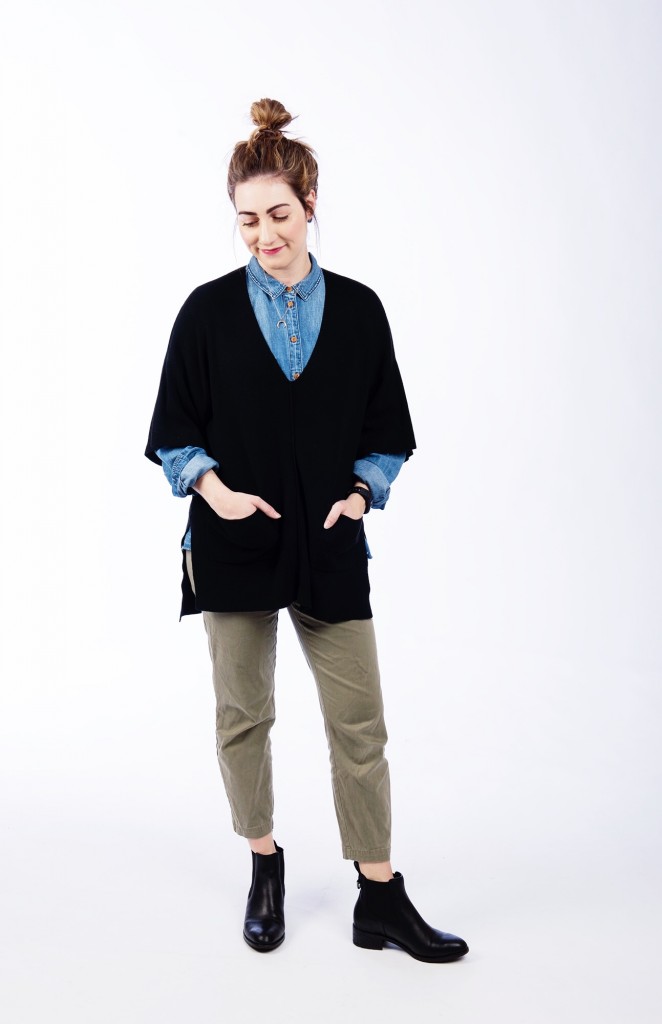 Under: Wearing a crew neck sweater over a collared shirt is a classic workwear staple. I mixed it up by layering this long V-neck sweater from LOFT over my shirt. The relaxed joggers, which are also from LOFT, make it a little more casual, so I chose sleek Cole Haan booties to finish off the look and prevent it from looking sloppy.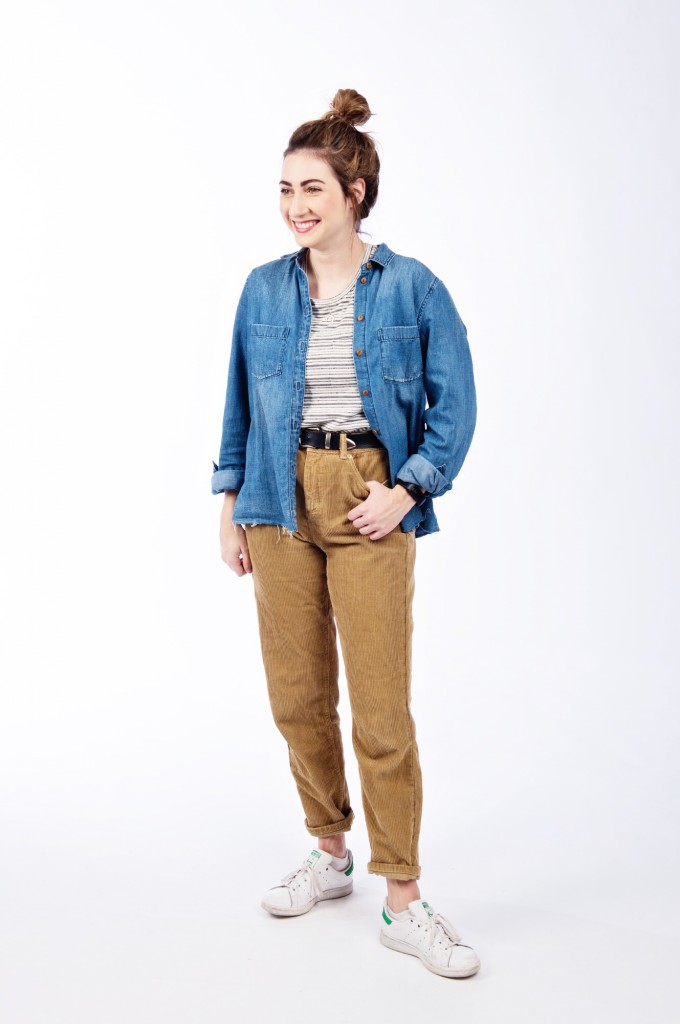 Over: This style is easiest when going for a casual look. Maybe I have been watching too much "Stranger Things," because this outfit has a bit of an '80s vibe. Under my denim shirt, I'm wearing a striped tee from Madewell, tucked into these great high-waisted corduroys from Urban Outfitters. I'm also wearing a belt that I stole from my mom's closet, and my Stan Smith Adidas sneakers to keep the look casual, comfy and sporty. 
Button-up shirts, especially in a neutral color or fabric such as denim, can yield a large plethora of different outfit options. Layering, tucking, or buttoning can create totally different vibes and makes it easier to make good use out of the clothing you already have. It doesn't take a giant closet full of clothes for outfit options — just a bit of creativity. 

 Photos by Alisha Jucevic/The Columbian