Blazers G Damian Lillard voted 2nd Team All-NBA triggering pay bump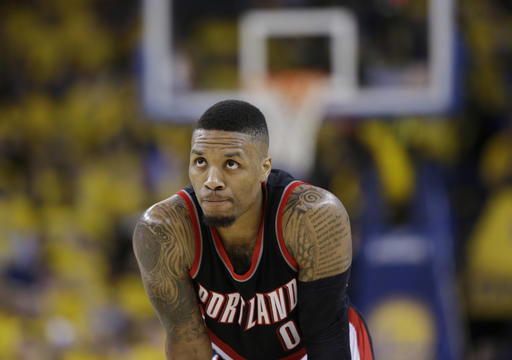 The NBA announced Thursday afternoon that Portland Trail Blazers guard Damian Lillard earned All-NBA honors for the second time in his four-year career. That accomplishment has earned the point guard a raise in his 5-year max deal that will kick in starting next season via "The Derrick Rose Rule."
Lillard made Second Team All-NBA alongside Chris Paul, DeMarcus Cousins, Draymond Green and Kevin Durant. Lillard was 3rd Team All-NBA in the 2013-14 season. First Team includes Stephen Curry, Russell Westbrook, LeBron James, Kawhi Leonard and DeAndre Jordan. Third team includes Kyle Lowry, Klay Thompson, Paul George, LaMarcus Aldridge and Andre Drummond.
The rule itself states that players who A) win the MVP, B) are voted to start in the All-Star game twice and/or C) make an All-NBA team twice in their first seasons are eligible for a max deal worth 30 percent of the cap. Those contracts were previously usually only available to players who have already signed a big contract extension and are on to their second or third big deal. This way, players who play like stars on their rookie deals aren't punished.
However, Lillard's Rose Rule is not like rule itself. Danny Leroux reported a while back that Lillard agreed to take 27.5 percent, citing the work of Eric Pincus for Basketball Insiders. That's a huge deal for the Blazers. Instead of triggering a raise of $20 million over the next five seasons that number comes down to about 12. If that had stood at $20 million, along with the nearly $2 million per season they will spend stretching Anderson Varejao, it would have been worth about as much as a rotation player. It makes things tight for the Blazers, but it isn't crippling and they have a lot of flexibility. Lillard will now become the highest paid player in his draft class starting next season.
Eric Griffin of Blazersedge.com had a very interesting piece on the Blazers cap situation and the timing of Lillard's extension and how that move has actually cost the Blazers $13 million. It did, but they were at least able to save around $8 million on the back end with the 2.5% Rose Rule kicker.
Lillard earned the respect of the All-NBA voters and a nice little raise. While Portland could have saved a few million by waiting to extend Lillard, they did save a decent chunk of their future cap space by avoiding the all out Rose Rule deal. It wasn't the perfect execution of the cap gymnastics, but I think all parties involved have to be pretty happy with how everything turned out.