Trail Mix: Coaching carousel comes for Blazers, new Dame DOLLA drops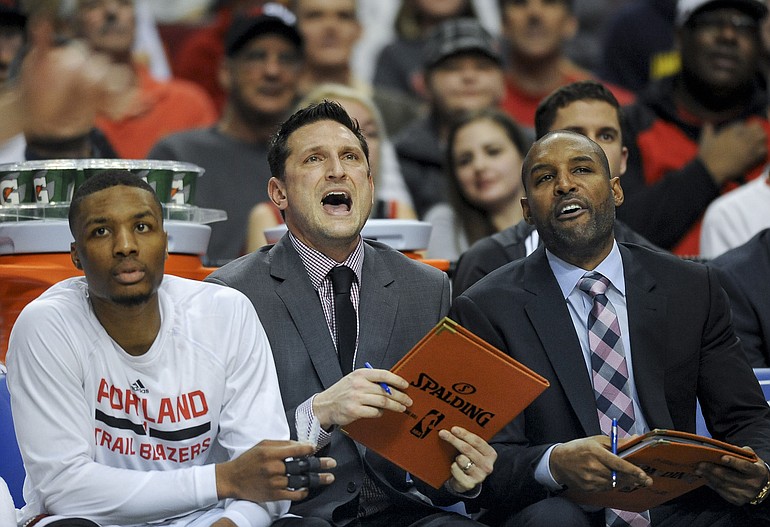 This exercise in news gathering and digestion is just as important for me as it is for you. I spent the last week sitting by the pool drinking Pacifico, playing basketball and having tacos in Mexico, so of course almost everything that could possibly happen during that time happened. With that said, shout out to PTO, a concept that does not exist in the world of basketball coaches.
Terry Stotts got a three-year contract extension, which we reported following the end of the season was a mere formality. Stotts got his money, more years, Lillard has his man on the bench and Olshey did the pragmatic thing as he always does. It was academic. What happened afterwards, the more interesting part, is that his assistants have suddenly become hot commodities. Stability and continuity in the coaching staff was one of the few things that didn't change last season, save for Kim Hughes keeping it '100,' and now that stability is being tested.
Jay Triano, who was Portland's lead assistant for the last four seasons, left the team to join former Blazer Earl Watson's staff down in Phoenix. Triano's intensity, offensive genius and experience as an NBA head coach had been a major asset to Portland's staff and now that is gone.
Nate Tibbetts, as reported by Chris Haynes of Cleveland.com, interviewed last week for the Memphis Grizzlies' head coaching job. They aren't the only ones banging down the door for the renowned development coach who helped the Blazers come up with their defensive game plans during the playoffs. Adrian Wojnarowski of The Vertical reported this morning that Tibbetts is also a candidate to replace Luke Walton on the Golden State Warriors' staff.
Tibbetts has head coaching experience at the NBA D-League level and has been an assistant in Cleveland and Portland, where he's spent the last three seasons. His work with Kyrie Irving, Dion Waiters, Damian Lillard, Wesley Matthews and several of Portland's young players this year has clearly been noticed.
However, the Blazers aren't going to be caught blindsided and are also looking to add another up-and-coming assistant to their staff. Woj reported that the Blazers received permission to interview Stephen Silas, a finalist for the Rockets head coaching gig as well as the same lead-assistant job in Golden State that Tibbetts is up for. Silas has been an assistant with the Charlotte organization for the past six seasons.
It will be interesting to see how everything shakes out. Tibbetts nearly joined Billy Donovan's staff last season and teams have inquired about David Vanterpool before as well. With Triano out the door and Tibbetts looking that way, it looks like there will be some reshuffling of the staff.
Silas, not-unlike Tibbetts, is a hot commodity and is respected around the league for his demeanor and his ability to relate to players, league sources said.
The Blazers front office aren't the only ones trying to make connections around the league. In something that doesn't qualify as hard news but definitely qualifies as raising eyebrows, CJ McCollum made sure to grab the attention of Miami's Hassan Whiteside via twitter. David McKay of Blazersedge.com chronicled the tongue-in-cheek exchange.  
McCollum took the opportunity to remind some protective Heat fans that Whiteside is indeed an unrestricted free agent and noticing the major need at center the Blazers have, it's not hard to connect the dots.
Whiteside was a savior in Miami, helping salvage the final productive years of Dwyane Wade's career and allowing them to make the playoffs despite the scary Chris Bosh situation. However, the questions have not stopped coming out of Miami about whether Whiteside is really a "Heat guy." It would make sense for Whiteside to return where he can sign for the most money and most years, but it also remains to be seen whether the Heat actually want to keep him. The Bosh situation makes Whiteside even more valuable to them and with every game the Thunder win, the less likely it looks that Kevin Durant, once thought to be Miami's No. 1 priority.
If nothing else, McCollum is just having a little fun. But don't think for a second that he and Lillard wouldn't kill to play with the only big man in this free agent class that is in their age group, has been cast aside several times and could help hide their team's shortcomings on both ends.
Speaking of Lillard, he's been a busy man in the offseason. He went to a Thorns game a few nights ago and then welcomed anyone 21-and-over to come skate at Oaks Park until 1 a.m. last night. Didn't make it to party with Dame? Well, Dame DOLLA is bringing the party to you as he re-ignited his offseason tradition of #MusicMondays with the release of "Talk To 'Em" featuring V.I.P. and Bozzle, produced by Jahlil Beats.
[soundcloud url="https://api.soundcloud.com/tracks/265540313″ params="auto_play=false&hide_related=false&show_comments=true&show_user=true&show_reposts=false&visual=true" width="100%" height="450″ iframe="true" /]
Columbian Sports editor Micah Rice penned a nice column while I was gone about the needs facing the Blazers, including making the right decisions on a couple of their free agents.
And finally, my boy Sean Highkin and I are back with a brand new episode of the Bulls vs. Blazers NBA Podcast. Draymond Green's shot on Steven Adams is the talk of the day. Neither one of us want him to be suspended but he totally meant to hit Adams in the nether regions. This totally sucks and what's even more crazy is that I'm not even sure a Green return fixes things for the Warriors. They've got problems with the Thunder no matter what. We talked about that series and caught you up on all of the latest news around the league.
[soundcloud url="https://api.soundcloud.com/tracks/265540211″ params="auto_play=false&hide_related=false&show_comments=true&show_user=true&show_reposts=false&visual=true" width="100%" height="450″ iframe="true" /]
Subscribe to us on iTunes, Stitcher or Soundcloud and leave us a five star review.