Warriors G Stephen Curry named unanimous MVP, Damian Lillard 8th in voting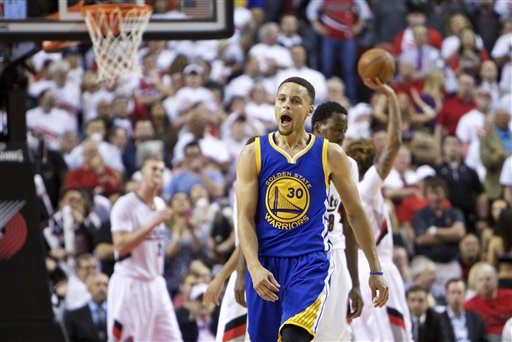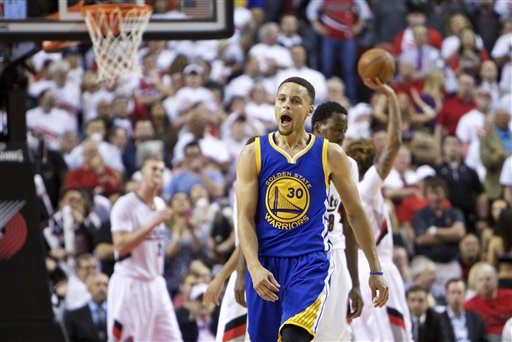 After Monday night's epic, the NBA announced that Golden State's Stephen Curry is the first ever unanimous winner of the league's Most Valuable Player award. Curry is first unanimous winner in 61 years of the award. Last night he added to his living legend with 40 points, including a record 17-points in overtime, to help the Warriors beat Portland in overtime to give them a 3-1 series lead.
Curry's season, the greatest regular season of all-time and the new voting system where the internet can shame any and all with questionable votes has given us our first unanimous MVP. And since the league has never seen anybody like Curry, it's appropriate. Curry is the 11th player in league history to win the award in consecutive seasons and is the first to do it since Steve Nash ('05, '06).
But although Curry's hold over the MVP was never in doubt, it's noteworthy that Portland's Damian Lillard cracked the top-ten in the MVP voting. Lillard finished eighth, just a few votes behind Golden State's Draymond Green. He received one 3rd place vote, four 4th place votes and nine 5th place votes.
Even though Lillard didn't make the All-Star team this season, it's clear that he has the respect from the voters. And if his finish in the MVP voting is any indication, it looks like Lillard has also earned himself a raise in the form of the "Derrick Rose Rule." Should Lillard be named to one of the three All-NBA teams, his contract extension will be worth 30 percent of the cap instead of 25.
The Blazers still have at least one more game to play as they head down to the Bay Area for Wednesday's Game 5 against the Warriors.
Here are the official voting results
Player, Team                            1st           2nd          3rd           4th        5th            Total Points
Stephen Curry, Golden State  131         —             —             —          —              1,310
Kawhi Leonard, San Antonio    —             54           34           26        8              634
LeBron James, Cleveland          —             40           48           34        9              631
Russell Westbrook, Oklahoma City–       29           37           28        14            486
Kevin Durant, Oklahoma City   —             2             7             22        32            147
Chris Paul, L.A. Clippers           —             4             3             9          37            107
Draymond Green, Golden State–            2             —             6          18            50
Damian Lillard, Portland           —             —             1             4          9              26
James Harden, Houston             —             —             1             1          1              9
Kyle Lowry, Toronto                 —             —             —             1          3              6