Warriors G Stephen Curry likely to play in Game 4 vs. Blazers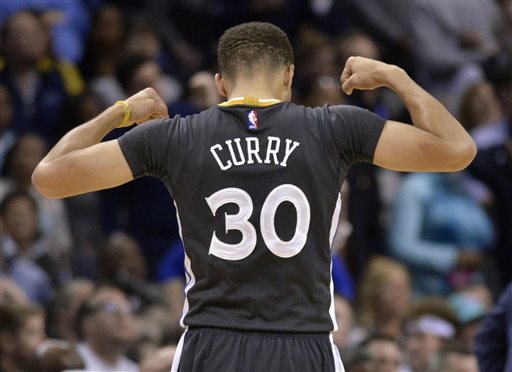 Golden State Warriors guard Stephen Curry, who will be named the league's Most Valuable Player for the second consecutive season, is expected to make his return to the court in Monday night's Game 4 against the Portland Trail Blazers. The Warriors lead the best-of-seven series 2-1.
Moments before Warriors coach Steve Kerr told reporters that Curry would play "if all goes well" during his warm-ups, Curry was already on the court doing his trademark dribbling drill with two basketballs.
"I think it will go well," Kerr continued. Kerr also added that while there had been talk about Curry potentially campaigning to come back, that Curry's return to the floor has simply worked out. It wasn't a thing, at least according to him, that changed because the Blazers won Game 3.
The Blazers were mentally preparing for Curry to return at their shootaround on Monday morning.
"We've played against them enough times to where we know how we we'll guard him," Damian Lillard said. "Our approach is the same either way. Coverages change when different guys come into the game. We would guard him different than we would guard Shaun Livingston. How we would guard Barbosa is different than how we guard Livingston. It changes anyway. When he comes back we'll just make that adjustment when he's in the game. When someone comes in for him we will go back to what we have been doing the first couple of games."
When asked about how a Curry return would affect the Blazers game plan, Stotts has said on more than one occasion that the Blazers would have to treat him like Klay Thompson.  That means sending two or three defenders at him at once, as we saw in Game 3.
Kerr added that there is no minutes restriction for Curry and Kerr declined an opportunity to say whether Curry would start or come off the bench.
The Blazers could also make a few line-up changes in Game 4, as well, given the limited status of Maurice Harkless.
Tip-off will for Game 4 of the Blazers-Warriors series is at 7:30 and the game will be televised nationally on TNT.