Trail Mix: Warriors G Stephen Curry upgraded to questionable, possible changes to Blazers line-up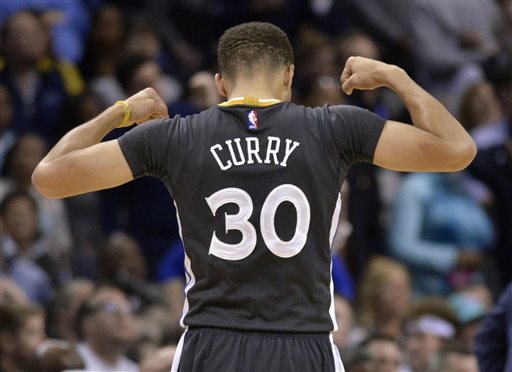 It was reported by multiple outlets Monday that Golden State point guard Stephen Curry would be the league's Most Valuable Player for the second straight season. A good day got even better Monday, as the first player to win back-to-back MVP awards since Steve Nash, has been upgraded to questionable for Game 4 against the Portland Trail Blazers, according to Warriors coach Steve Kerr.
"We'll talk to our doctors, we'll make a decision this afternoon and go forward from there," Kerr said after the Warriors' shootaround Monday in Portland. Kerr added that he they want to see how Curry feels after he gets treatment on his body following the morning workout. He did 3-on-3, which was a progression for him and other reports suggest that the Warriors were optimistic that Curry will play. Marc Spears of ESPN.com's The Undefeated, reports that the Warriors may even bring Curry off the bench.
That would be a shrewd move by Kerr. The start of the second quarter was a major turning point in Game 3 when Blazers coach Terry Stotts rushed Lillard back early to get he and McCollum in a match-up against Leandro Barbosa and Ian Clark. Moving Curry to the bench would be a safe-guard against Kerr's own shaky rotations. The starting line-up in the series has been pretty good for the Warriors and this unnatural situation could be the time for an unusual strategy.
The Blazers insist that Curry's return changes little for them, since they anticipated he would return in the series.
"We've played against them enough times to where we know how we we'll guard him," Damian Lillard said before Portland's Game 4 shootaround. "Our approach is the same either way. Coverages change when different guys come into the game. We would guard him different than we would guard Shaun Livingston. How we would guard Barbosa is different than how we guard Livingston. It changes anyway. When he comes back we'll just make that adjustment when he's in the game. When someone comes in for him we will go back to what we have been doing the first couple of games."
The Blazers have an injury that they must deal with. Maurice Harkless was limited to just seven minutes of action in Saturday night's Game 3 win against the Warriors thanks to a bruised right hip. But even if Harkless is given the clearance to play, the Blazers may make some changes given the success they had with Gerald Henderson and Allen Crabbe playing in his spot.
Harkless told reporters that the hip was limiting him after Game 3 and while he said it was feeling better on the morning of Game 4, he isn't sure what his role will be. He said he has just done some shooting and hasn't done much running around.
"I'm going to try and go either way," Harkless said. "But I don't want to be a detriment to the team. Obviously if I can't move well enough I'm sure coach will take me out. It's really up to the coaching staff and the H-and-P (health and performance) staff if I'm able to compete at a high level."
Stotts was asked about how Harkless' status might change things and it was then that he hinted at potential changes.
"The fact that Gerald and AC played well in the 2nd half, we'll just see how it goes," Stotts said.
Through three games, Harkless has the team's lowest on-court net-rating at -27.8 according to NBA.com. Meanwhile, Allen Crabbe has an on-court net-rating of +4.2, which along with Ed Davis are the only two positive on-court net-ratings for the Blazers in the series.
It's a small sample size, but in the playoffs that's all you've got.
The Blazers also continued to throw little bits of shade towards Golden State's Draymond Green. During the game and in watching the film of Game 3, it was evident that the Blazers wanted to involved Green in more pick and rolls on the defensive end.
When asked how he decides who to involve in the pick and roll, Lillard was not shy in discussing his strategy.
"Who is defending them, if Bogut is in the game, then I'm going to call Bogut into the pick and roll because I know he's going to play back," Lillard said.  "Last game I saw that Draymond, he didn't want to be in the pick and rolls because they were switching. So, he was kind of taking himself out of the paint and out of the action. He didn't want to be in any pick and rolls, it seemed like. It's just paying attention to what they're doing and what's working for them defensively and making the call based on that."
Hope that's enough to tide you over until Game 4, which is about five hours from tip-off.