Spurs' GM R.C. Buford wins 2015-16 NBA Executive of the Year, Blazers' Neil Olshey finishes 2nd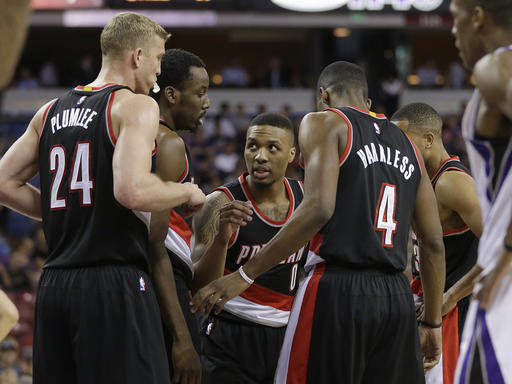 The Portland Trail Blazers' rapid rebuild after losing four starters from last year's team has been one of the league's most remarkable stories. However, that wasn't enough to earn Neil Olshey the NBA's Executive of the Year Award from his peers, as it was awarded to San Antonio's R.C. Buford on Monday morning with Olshey coming in second.
Buford won the EOY, which is voted on by his basketball executive peers, by 14 points. Buford received 9 of the 29 first-place votes to 10 for Olshey. Golden State's Bob Myers took home the award last season.
With the departures of LaMarcus Aldridge, Nicolas Batum, Wesley Matthews and Robin Lopez, the Blazers had to replace the combined 25.1 win-shares that they had in the 2014-15 season. Las Vegas pegged the Blazers to win 26.5 games. Olshey filled the roster quickly with young talent like Mason Plumlee, Al-Farouq Aminu, Ed Davis and Maurice Harkless. He traded two second rounders in the 2013 draft to the Cavaliers for Allen Crabbe and that deal is looking might good right now as well. The Batum deal that netted them Gerald Henderson and Noah Vonleh has also paid dividends, especially in the second half of the season when Henderson became a rotation fixture. They went on to win 44 games, snag the fifth seed in the Western Conference and currently find themselves in down 2-1 in a best-of-seven series against the Warriors.
Buford, of course, snagged the crown jewel in free-agency in Aldridge. The Spurs are one of the league's model franchises and have been for sometime, but what they did last summer added some galactico flair to the Spurs' mystique. They don't appear to be slowing down as the rumors are heating up that they will go after Kevin Durant in the offseason. Buford also made other solid moves such as bringing in veteran David West at the minimum, found Jonathan Simmons, who literally came off the street for a D-League try-out and made it on to the Spurs' roster this season.
Full voting results
Executive, Team                          1st           2nd          3rd           Total
R.C. Buford, San Antonio         9             10           2             77
Neil Olshey, Portland                   10           3             4             63
Bob Myers, Golden State             5             4             1             38
Masai Ujiri, Toronto                      2             2             2             18
Rich Cho, Charlotte                      1             2             6             17
Danny Ainge, Boston                   1             2             2             13
David Griffin, Cleveland              —             3             1             10
Stan Van Gundy, Detroit             —             1             3             6
Pat Riley, Miami                           —             1             3             6
Sam Presti, Oklahoma City           1             —             —             5
Sam Hinkie, Philadelphia              —             1             2             5
Wes Wilcox, Atlanta                     —             —             1             1
John Hammond, Milwaukee         —             —             1             1
Dennis Lindsey, Utah                   —             —             1             1