The Scouting Report: Golden State Warriors, Game 4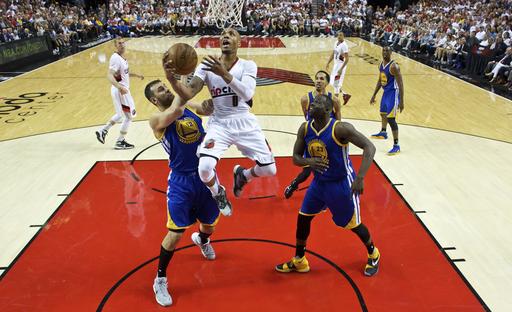 Projected starting line-up: Shaun Livingston, Klay Thompson, Harrison Barnes, Draymond Green, Andrew Bogut
Key injury: Stephen Curry (right knee) was listed as doubtful for Game 4 on Sunday afternoon
Although there's a slim chance this could change in the next 12 hours or so, as of this writing, Stephen Curry is doubtful to play in Monday's pivotal Game 4 between his Golden State Warriors and the Portland Trail Blazers. The Warriors, who recently completed the greatest regular season in NBA history, still hold a 2-1 lead and have the opportunity to take a commanding 3-1 lead back to Oakland for a potential close out Game 5. After a 12-point win at home, the Blazers are feeling even better about their chances after blowing a double-digit 4th quarter lead in Game 2 and winning in Game 3.
There were some notable changes in Game 3. Of course, the biggest one was that Damian Lillard was at the peak of his game. Contested shots, passes with pinpoint accuracy, leading the team. 40 points and 10 assists goes a long way. But the way he did it was also a sign of things to come for the Blazers. Aggression wasn't just a quality that their leader needed, but one that he needed to help foster amongst his teammates.
After Game 2 the Blazers had considerably more uncontested shots but in Game 3 they won mostly because of their efficiency taking shots most wouldn't consider good. They took 53 contested shots after taking just 33 in Game 2. Lillard took 16 contested shots, hitting 8 and CJ McCollum was 6-for-11 on contested shots. Al-Farouq Aminu, who was 4-of-5 on contested shots. Perhaps not all contested shots are created equal.
There was little to no hesitation from the Blazers wings all night. Whether it was a decision to pass or shoot, it was done quickly.
Before we look at how the Blazers changed defensively to account for Klay Thompson, let's look at how they were able to succeed offensively in Game 3.
Against the Warriors, it's about buckets
Mason Plumlee's playmaking and the offensive rebounding and cutting of Maurice Harkless were important tools for the Blazers defeating the Los Angeles Clippers. But after what transpired in Game 3, it appears as though the Blazers simply need a little more out of their players in terms of finishing ability whether around the rim or from the perimeter.
Foul trouble and injuries forced the Blazers into some line-ups but those line-ups with Allen Crabbe, Ed Davis and Gerald Henderson thrived so much to the point that you have to wonder whether Stotts will continue to go with that philosophy in Game 4. He's been extremely coy about the line-up and we certainly won't get any indication on who will start until tip-off Monday.
The Warriors defense is an All-Time unit. Instead of always looking to make extra pass after extra pass, the Blazers made quick decisions to shoot and score. Of course, they were led in this regard by Damian Lillard.
Look at this early pull-up 3-pointer.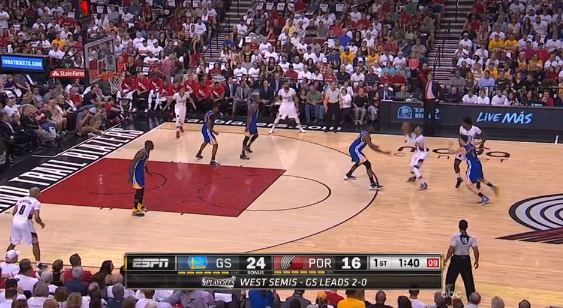 However, aggression isn't the only thing that you can give the Blazers credit for. If nothing else, the Blazers could be giving future opponents of the Warriors a blueprint to attack the vaunted defense of the champions. And at least part of the plan is just to let it fly. If you've been watching the Cleveland Cavaliers, it looks like they've already gotten with the program. Pulling up with no regard for the defense isn't the only way the Blazers have had success.
The Blazers just needed guys who could finish. Plumlee's struggles didn't just mean his inability to score but his screen setting also left a lot to be desired. A pick and roll starts with a good screen and Plumlee was whiffing too much in Game 2. Ed Davis brought more on both ends and most importantly, he brought help where Portland desperately needed it around the rim and with screen setting.
After Meyers Leonard, Ed Davis was Portland's most efficient scorer as a roll man in pick and roll situations according to Synergy Sports (1.04 points per possession) during the regular season.  Plumlee, like Harkless, was crucial, but Portland needs a different skill set against the Warriors.
It also helped that in place of Harkless, Portland had guys who are legitimate threats to score when they catch the ball at the 3-point line. Harkless is hurt but that also may make it easier for the Blazers to slot more scoring in at the 3 with Henderson or Crabbe. Here, Henderson gets to the rim much in the same way Aminu did against Green.
Henderson shot 50 percent on corner 3-pointers for the Blazers this year. Leaving him here is not the same as leaving Harkless. Henderson helped the Blazers but they were even better when Crabbe was on the floor in Game 3. It's stating the obvious that the Blazers wouldn't be here without Harkless, but given the abilities of Henderson and Crabbe in addition to his health, It may be in their best interest to ride those two as long as they can. Crabbe was the team's best 3-point shooter in the regular season and took advantage of a lot of openings in Game 3.
Attacking Draymond Green and trusting Aminu
Draymond Green is going to make his impact on the game. After Game 3 he was disappointed with his defense most of all. But going away from Green also isn't an option. His presence on the floor is nearly impossible to escape but for this reason, the Blazers decided to put Green in the middle of the action rather than let him dictate help from the weakside possession after possession. But that also had another implication: the complete trust in Al-Farouq Aminu.
Here's a sequence from Game 3 where the Blazers put Green in a pick and roll situation twice in the same possession. It leads to a Lillard 3-pointer like the one you see above. He misses, but these are the types of looks the Blazers have to be okay with getting because it won't get much better.
The logic behind Green in the action is sound. The Blazers are making a calculation that making him guard pick and roll after pick and roll against Aminu is better than stubbornly running those plays with Plumlee where Green can cheat knowing Plumlee has very little chance of scoring. At least with Aminu's shooting threat, Green has to stretch himself to the 3-point line and he also got blown by a handful of times.
The Blazers also had success running pin-downs for their best shooters on Green's side of the floor causing some him some of those same issues. A Crabbe pin-down here causes Green to help and leaves him exposed to the drive from Aminu which leads to a dunk.
Defense: anybody but Klay
On the first possession of the game it was evident that the Blazers were going to ratchet up their strategy against Klay Thompson. Thompson still made shots, but Portland was going to make sure he did with three or four defenders around him at all times.
Here's another situation in which Thompson floating to the 3-point line commands the attention of at least three Blazers.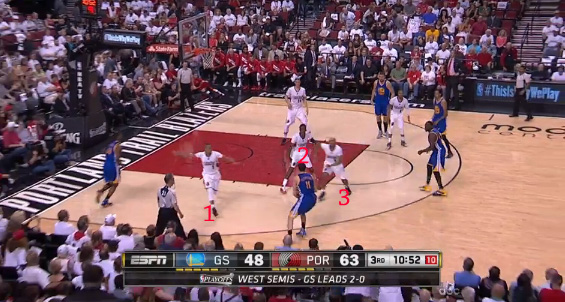 Warriors writer Danny Leroux pondered whether Thompson's early success against this strategy was actually a net-negative for the Warriors for The Athletic. Thompson said as much after the game, lamenting that he and his team did not do enough to "wear down" the Blazers with ball movement. But part of this strategy meant giving up 3-pointers to Draymond Green. Green made a lot (8-of-12) and the Blazers ended up having to switch pick and rolls.
The Blazers were more able to switch pick and rolls with Davis in the game. Stotts said after the game that he preferred Davis at center when Green is at center. Here is a play where the Blazers employed that strategy.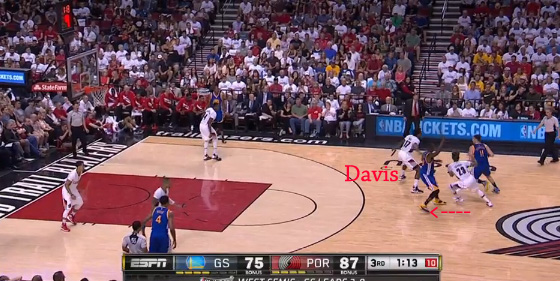 Blazers players are openly welcoming Green to shoot more 3-pointers. Green was excellent individually but it sounded like even though he and Thompson had big games, they didn't play the Warriors' way. I would expect Portland to let Draymond shoot at the beginning of the game once again, give full attention to Thompson and then adjust only if they have to.
Their adjustments mattered mostly impart to their best shooting game of the playoffs. But it did matter some that there were different players taking most of the shots in Game 3. It mattered that Lillard, McCollum and Aminu each went over 41 minutes. Crabbe, Henderson and Davis have all played their way into the conversation. Stotts also finding minutes for Lillard and McCollum against the Warriors reserve backcourt was a key moment in Game 3.
It's a plan that requires near perfect execution but the Blazers have a plan. If Portland can sustain their effort and execution on both ends, setting up the close out game won't come as easy as expected for the Warriors.