Blazers F Maurice Harkless limited by bruised right hip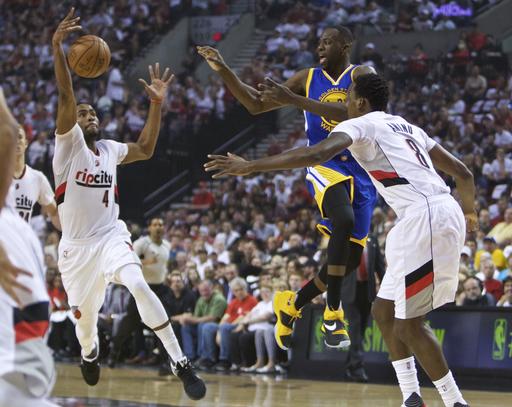 The Portland Trail Blazers season got a jump when they inserted Maurice Harkless into the starting line-up but right now, he's just not himself. Harkless said that a right hip bruise that he suffered in the first quarter of Game 2 against the Golden State Warriors. Harkless fell on his hip when Draymond Green commited a hard foul on him in the first quarter. Video of the play can be seen here.
"I got fouled and fell pretty hard on it," Harkless said post game. "The next day when I woke up it hurt really bad. I'm trying to get it better now."
As for how Harkless felt in Game 3, he wasn't 100 percent and commended the coaches for making "the right call" by limiting his minutes.
"I think it's limiting me," Harkless said. "I felt really slow out there today. The coaches saw that, they took me out, which I think was the right decision. Selfishly I would have liked to play. I am happy for our team, that was huge and I think that was big for myself, too."
I thought for a while that the Blazers pulled Harkless just because he was playing poorly and that Henderson gave them a little more offensive playmaking. I was wrong. It ended up working and could very well be the recipe going forward, but it's clear that Harkless isn't 100 percent and Stotts also said that he thought playing Henderson or Crabbe in that spot "gave them the best chance." So for the Blazers, Harkless is the main injury to keep track of.
Harkless played seven minutes in Game 3 and played sparingly in the second half after getting pulled early in the first quarter.
Stephen Curry, meanwhile, appears to be closer to a return. On Saturday he participated in some 2-on-2 drills with Warriors coaches. The Warriors will practice Sunday, where it's expected that Curry will ramp up his workload.
When asked whether he would re-evaluate his starting line-up given the success with Henderson, Crabbe and Davis on the floor, Stotts seems open to change.
"Right now it's whatever group I think is going to work," he said. "Obviously Ed playing with Draymond at 5 is something we'll consider. I thought Mason was good with Bogut, Speights or Ezeli out there. It's match-up driven."
Harkless' status brings more to the equation for Stotts to consider, but so does the play of Henderson and Crabbe.