Stephen Curry officially ruled out for Saturday's Game 3 vs. Blazers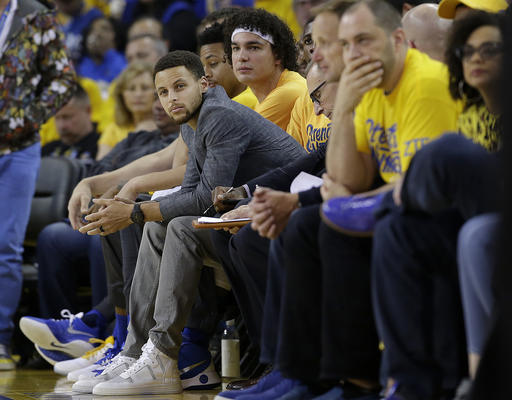 The MVP is making progress but he won't be playing Saturday night in front of an ABC audience. Warriors head coach Steve Kerr confirmed that soon-to-be back-to-back MVP Stephen Curry will not play as he continues to recover from a sprained right knee.
Kerr did say that Curry did some stuff earlier on Saturday, which included playing 2-on-2 with some of the Warriors' assistant coaches. It wasn't quite a full simluation and it wasn't even 3-on-3, but it was the closest Curry has come to simulating live game action since injuring his knee back on April 24.
"He wasn't passing to Jarron Collins very often, but I wouldn't either," Kerr said jokingly. "He came out of it fine. It's his first actual basketball, kind of. 2-on-2 with the coaching staff but he's doing five. He's not going to play tonight, though."
Kerr, of course formerly of the media, then extended a courtesy to all of the reporters.
"Pause for tweets," he said.
Kerr said that the hope for Curry is that they will continue to start ramping up his workload, hopefully with some 3-on-3 after Game 3.
Blazers head coach Terry Stotts' response to the notion that Curry would be out has simply been "wait and see." Finally, he and the Blazers can move forward with the knowledge that there will be no Willis Reed moments from Curry. For a series that's already been difficult enough, the Blazers need every break they can get.