The Scouting Report: Golden State Warriors, Game 3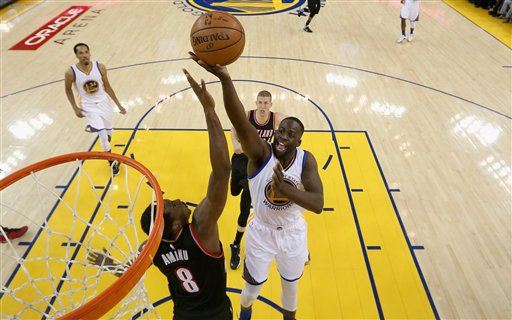 Projected starting line-up: Shaun Livingston, Klay Thompson, Harrison Barnes, Draymond Green, Andrew Bogut
Key injury: Stephen Curry (right knee) is doubtful to play in Game 3
Perhaps only the most fervent Blazers supporters think they have a shot to win this series after blowing Game 2. That assertion isn't a wrong one but it's also exactly the one that most have had about the Blazers all season.
With all that said, Portland found ways to score and ways to limit good shots for the Warriors for 42 of the 48 minutes in Game 2 and the same could be said for at least 36 minutes of Game 1. But Game 2 is clearly the one the Blazers want to build off, because they said as much. It looks lost now. But the complexion of the series changes if Portland can get a win tomorrow. Let's look at how they closed the gap from Game 1 to Game 2.
Rebound in transition? Everyone must go
Towards the end of Game 1 when it looked like the Blazers were just getting some garbage time points, ABC's Hubie Brown was loving it. As the Blazers got out and made shots, Brown made the point that the Blazers were in transition. Hubie was right as the Blazers found most of their success in transition in Game 2.
The Clippers' series changed thanks to improved play from Mason Plumlee and he got a lot of attention for initiating the offense when the Clipper guards denied Lillard and McCollum. But against the Warriors the need to push is even more crucial because their set defense is even more devastating. For this reason, when someone on Portland gets a defensive rebound, no matter who it is, they have to push.
Here, Al-Farouq Aminu, far from a portrait of excellent playmaking, does exactly what is needed for Portland's attack to succeed by taking the rebound up the court and finding CJ McCollum in transition for a 3.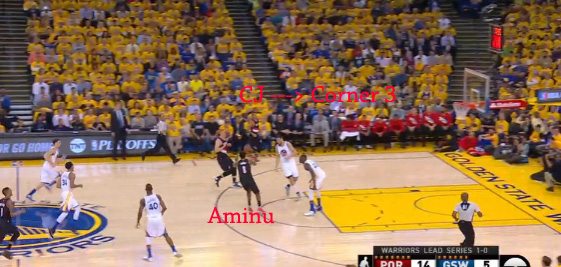 The Warriors are also a lolly-gagging a bit here, but this was at least the second time in the 1st quarter that Aminu took a rebound to the other end to create a 3-point attempt. The other one was for Harkless, who didn't make the shot, but eventually got fouled on the same possession. The point remains, all five players for the Blazers have to push the ball at every opportunity.
Accounting for the Golden State Rim Protectors
According to NBA.com, the Blazers were awful at the rim in Game 1 against the Warriors, shooting 7-of-23 at the rim when defended by Andrew Bogut and Draymond Green. The Blazers made some adjustments, both account for their skill at the rim as well as take advantage of Bogut's lack of quickness against the athletic Plumlee.
The first adjustment the Blazers made was one that they've done a few times before against elite rim protectors: rather than continuing to try and ram the ball down the paint, they're taking their foot off the gas a little bit and looking for more midrange shots. Less is more.
Nearly all of Portland's main ball-handlers in Game 2, from Lillard to Aminu, employed their midrange jumper much more. According to NBA.com, after taking 41 field goal at the rim in Game 1, they took only 19 in Game 2. And the results were much, much better. Portland made a significant improvement in effective field goal percentage and true shooting percentage from Game's 1 to 2 and part of that can be attributed to their shot quality. They took just 33 contested shots in Game 2 compared to 51 in Game 1.
Here, Lillard creates just enough space between he and Bogut to get a jumper off rather than take it into the trees.
Lillard obviously wasn't the only one and the decision across the board to go away from the rim is a clear sign that this is a strategic move.
The other way the Blazers tried to change up their attack was using the foot speed of Plumlee against Bogut and try to involved the Australian anchor in more actions like this one in the 1st quarter.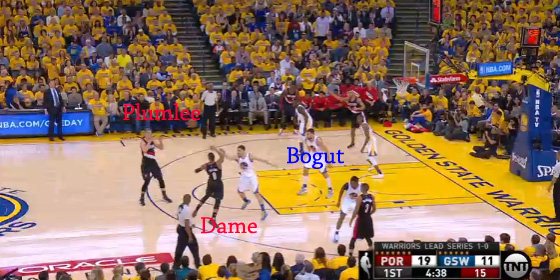 After working a pick and roll with Plumlee, Lillard almost instantly gives it back to him to run a dribble hand-off, creating a situation for Bogut where he must commit to Lillard, allowing Plumlee to blow by him for a dunk.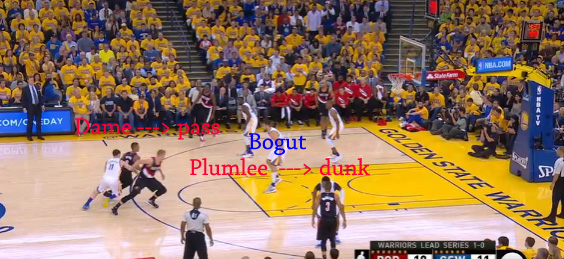 Here they are able to drag Bogut out just enough to have to worry about Lillard that Plumlee can get a step on him to the rim.
Steve Kerr's solution to this was put insert Festus Ezeli at center. Ezeli is quicker and more active higher on the court but that also could have caused some of the Blazers, like Plumlee, to hesitate instead of executing without thinking.
Here, Plumlee gets caught in the middle with Ezeli and it leads to a block. Also, notice where it all starts: Plumlee is unable to make contact on the high screen and it allows the Warriors to defend the play easier. Ian Clark gets right around the screen but Ezeli is high just in case Plumlee executes.
Then Plumlee gets the ball in the middle, where he's rarely a threat to score but is usually able to make a play. But instead of make a decision with the ball quickly, he holds it just a little too long without a decision. Green and Livingston have length to bother passes but hesitation only allows more chances for the Warriors to get their desired result.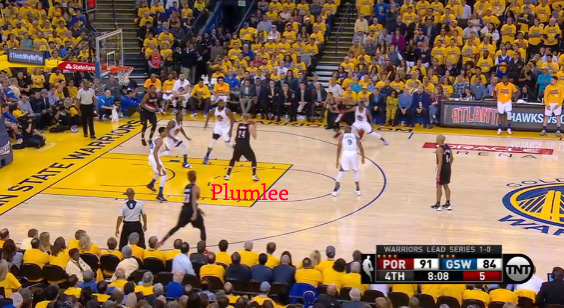 It doesn't end well.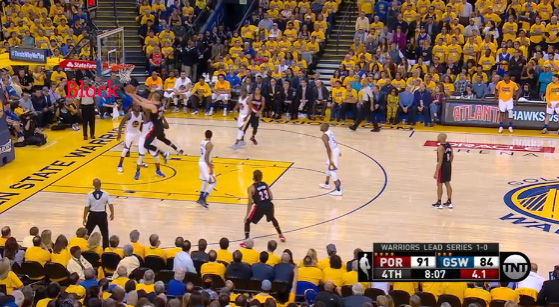 Ezeli was a great personnel move by Kerr, but the Blazers made it look even better with their inability to execute. Stotts mentioned screen-setting as something Portland didn't do well down the stretch and Lillard in particular, mentioned the sense of hesitation in their actions down the stretch. On this example above, it highlights both of those issues.
Draymond The Dementor 
The Blazers also have a major issue when it comes to dealing with Green on both ends. His ability to play center has limited the effectiveness of Portland's smallball and his offensive creation has been vital to success without Curry.
Perhaps the most crushing action for the Blazers is when Green is able to post up on one of Portland's smaller guards. It's a mismatch that doesn't happen often, usually when match-ups become scrambled, but the Warriors never fail to take advantage. Take this possession where Lillard is guarding Thompson, before Thompson and Green run a pick and roll to get the switch they want.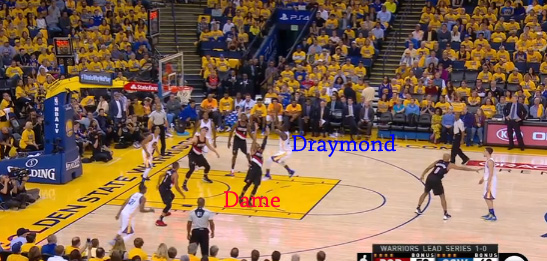 LIllard is a pretty decent post defender, but I do wonder if it would be worth it to the Blazers to have Lillard fight through that screen when Green is involved. If Thompson is the screener, that makes it a lot harder because to say "fight through it," and potentially allow an open jumper for the best shooter on the floor. But if it's Livingston or Iguodala, the Blazers have got to make an effort to fight through harder to not let Green have that mismatch. The above example involves Thompson but the Warriors hunted that match-up wherever Lillard and McCollum were.
If there was one defensive tweak for this series it would probably for Portland to stop switching pick and rolls with Draymond where the match-up is one of the smaller guards. It's much easier said than done and there will still be times, like this, when Draymond will find the match-up. Another thing several other people have through around would be to hang way of Green and make him knock down jumpers. He shot 39 percent from long range this season but shooting has never been his meal ticket.
Still, it's very likely he will find a way to destroy you. Here he finds Harrison Barnes wide open after Allen Crabbe gets caught on a screen (again notice the problems when Klay is the screener) with Ed Davis playing pretty far off him.
Here, in the 4th quarter, he gets into the paint to throw a lob to Ezeli, which he did more than once down the stretch.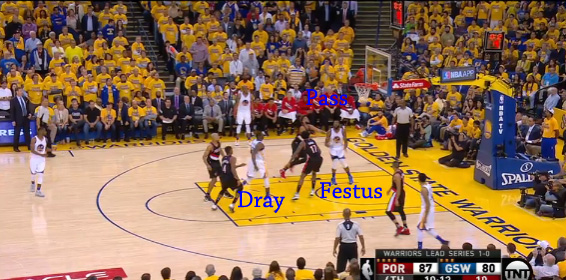 Green is fantastic and should be All-NBA First Team. There is no shame in being unable to stop him. But Portland's wings could be doing a better job against him on the perimeter, who are just getting beat by his first step time and again. Too often did Green get right to the rim for a lay-up or suck the defense in to pass to an open shooter. On the above example, Harkless closes out to Green at the 3-point line but he still makes two points out ofit.
The same would happen with Aminu. This play ends in a lefty lay-up by Green.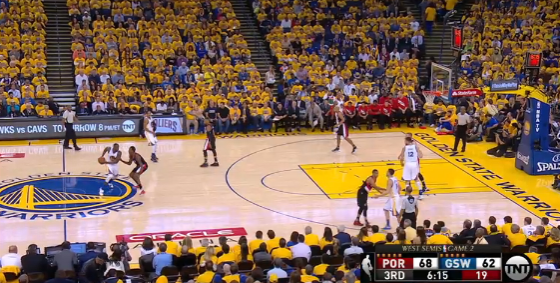 Green is amazing, but Aminu, known as this team's stopper, cannot continue to get beat in this way if Portland is to have a chance at avoiding a 3-0 deficit. And the Blazers cannot afford to help too much. The individual defense for Portland has to be crisp.
But Green is really, really good and that's going to be difficult. By the end of the game he is ready to take your soul like a Dementor from Harry Porter, as he did in Game 2. I compared him to that on the last Bulls vs. Blazers with Sean Highkin and one of our listeners @AirLainey (via Daniel Coughlin (@xvanwilderx) gave us this beauty.