Warriors guard Stephen Curry doubtful to play in Game 3 vs. Blazers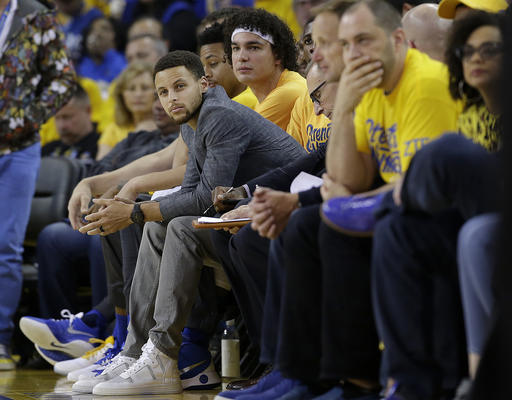 Stephen Curry's return from a sprained right knee Game 3 of the Western Conference semifinals is unlikely, according to multiple reports. Steve Kerr told reporters in Oakland following Thursday's practice that the soon-to-be back-to-back MVP did not participate in live drills and would be unlikely to play in Game 3 against the Blazers, which is Saturday at the Moda Center. The Warriors hold a 2-0 lead and have the opportunity to take a commanding 3-0 lead Saturday. As head coaches are the spokesmen for teams, it's pretty clear that Curry will soon officially be listed as doubtful.
David Aldridge of NBA.com says that before the Warriors clear him, they have to see him play in a live scenario and that even a 3-on-3 drill would be enough. Aldridge reports that Kerr believes it is "conceivable" that Curry returns to the court in Game 4, which is Monday and would mark the end of the initial two-week timeline. Until he gets any live action, it's hard to tell when he will be back. But it sounds like Monday is the best-case scenario for a return.
The Blazers also returned to the practice court on Thursday. Everybody was healthy and head caoch Terry Stotts said this morning that they were approaching Game 3 as if Curry would play. It appears that at least for one more game they don't have to worry. Considering that Curry didn't have any live action, it's hard for me to see this a ruse, like when Kerr said he wouldn't change the starting line-up in Game 4 of the Finals. It seems sincere, especially given how transparent they have been about the entire Curry situation and the Blazers can now shelve their worries of a Curry return for at least 48 more hours.
The Warriors have done just fine without Curry, winning the first two games of the series and doing so by double-digits in each game. The Warriors have been outscored by the Blazers in six out of the eight quarters in the series but a dominant 1st quarter in Game 1 and a dominant 4th quarter in Game 2 have made the difference.
Game 3 is an early 5:30 PM tip Saturday at the Moda Center.