Trail Mix: So, when is Steph Curry coming back?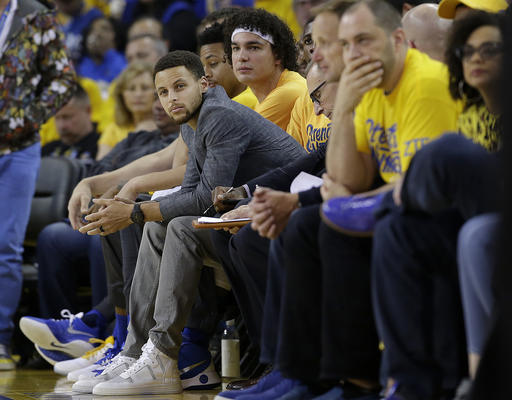 Blazers fans, I know you're taking last night's loss pretty hard. I'm pretty sure that Stephen Curry's injury and impending return has something to do with it, which I talked about this morning on Dusty and Cam. Before we get into the details of last night's Game 2 collapse, let's take a fresh look at the most important story of the NBA playoffs and this series. The Warriors lead 0-2 with Game 3 coming Saturday at the Moda Center.
Diamond Leung of the Bay Area News Group reported prior to Tuesday's Game 2 that Curry received a platelet rich plasma (PRP) injection in his injured right knee.
PRP, which is said to promote healing, was given to Curry on the second day of his recovery process, he said.

Curry could be nearing a return to basketball activities nine days after suffering a Grade 1 MCL sprain.
It seemed noteworthy when Curry told ABC's Lisa Salters that his chances to play in Game 3 of the series were "pretty good." But players always want to play. Even when he was forced from the Houston series, he was encouraged to take care of himself by Steve Kerr and the team staff. Warriors general manager Bob Myers declined to give a timeline for Curry's return during a radio interview. Next Monday, which is when Game 4 is scheduled, will mark the day that Curry is scheduled to be re-evaluated and the end of the first two-week timeline.
Dan Devine of Yahoo!'s Ball Don't Lie excellently curated all of the important sources for Curry updates. Curry hasn't practiced yet and just recently returned to light shooting duties. I'm not sure how I see him returning to the court later this week when he hasn't even played 3-on-3. There will be a rhythm that Curry will have to regain but there are questions about whether he can get back on the court soon.
A Blazers victory in Game 3 will likely put pressure on the Warriors and Curry from the fans and those of us in the media, but even that might be an overreaction. Home court has already loomed large in this series, but even if the Blazers manage to win two games, the Warriors are in fine shape after taking care of their home court. They can afford to rest him a little bit and it appears as though they are proceeding with caution. The three day lay-off is huge for the Blazers who had no time between the end of the first round and the start of the second round, but it will be just as beneficial to the Warriors.
Curry's return is still legitimately uncertain, despite his own desires. Until he starts participating in full speed drills, or at the minimum 3-on-3 and 5-on-5, he's not really "close." Myers and Kerr both said as such. Close to basketball activities is one thing but close to being ready to play in a playoff game is greater challenge that Curry must get ready for, which could take more than five days.
Both the Blazers and Warriors took Wednesday off. So when they get back on the court tomorrow, we will have a much better idea of how close Curry really is to returning.
Here's a run down of some other Blazers stories.
Kevin Arnovitz of ESPN.com, embedded with the Blazers throughout the playoffs, checked in from Oakland where the Blazers feel pretty good about how they performed in Game 2, all things considered. They did play much better and it looked like they found ways to score. It involves them playing at their best but that's what you've got to do against Golden State.
On the other hand, Joe Freeman of The Oregonian wonders if last night's loss was the beginning of the end. Perhaps the Blazers finally found the opponent for which they have no answer.
After last night's game, I wrote that it's hard to say whether resting Lillard a few minutes in the fourth quarter ended up costing Portland in Game 2. I thought the absence of Allen Crabbe late was a more important question to consider, even though I'm not sure Portland could have done anything to stop the Warriors momentum in at home. Obviously there's still lots of consternation about it, but Dwight Jaynes of CSNNW.com thinks that misses the point.
Would you rather not talk about that? Well, you can go back to happier times. Dan Marang has video of Damian Lillard's 3rd quarter buzzer-beater at Blazersedge.com.