Trail Mix: Lillard makes time for family, McCollum not happy with Warriors' screens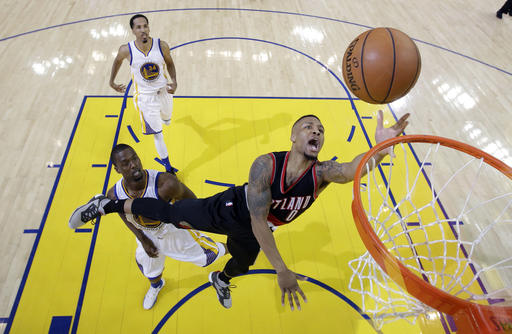 Game 2 of the Portland Trail Blazers' Western Conference semifinal series against the Golden State Warriors will get underway at 7:30 PM Tuesday. The game will be shown nationally on TNT as the Blazers look to even the best-of-seven series before both teams head to Portland for Saturday's Game 3.
Obviously, we are not in Oakland to provide coverage on the ground. But because of this, I am afforded the extra time to pour over the film instead of shuttling from media availability to media availability, which increase in volume during the postseason. Also, things like match-ups and tactics tend to matter a little bit more in the playoffs. I took a pretty detailed look at the film, one that you won't get anywhere else in the market, from Game 1 to analyze how the Warriors guarded the Blazers, how Portland's defense approached Klay Thompson and what changes will likely be made heading into Game 2.
Now that I've successfully tooted my own horn, let's get to why you're really here and that's all the best stories on the Blazers in one place.
Damian Lillard is, of course, an Oakland native. So the opportunity to face the Warriors provided him with the opportunity to see his family and make his grandfather's 80th birthday. Marc Spears, now with ESPN's The Undefeated, penned the definitive account of Lillard making it to that party,  how much it meant to him and even spoke to his grandfather.
Mike Richman of The Oregonian has another version of that account, by placing the chance to see family in the context of his major professional challenge against the Warriors. Lillard is very close to his grandparents and Richman gives a little more background as to why.
Jason Quick of CSNNW.com reports that CJ McCollum is at it again with the public comments on screens, questioning the legality of the Warriors' screens. McCollum took the first question of his Most Improved Player to mention that he had to mentally prepare for the illegal screens of DeAndre Jordan, a subtle way to call attention to what he thought was an advantage given to the Clippers. The Blazers ended up winning the series last time and with only so much time before Curry returns (either in Game 3 or Game 4), he's not wasting any time using the media to try and get an advantage. Klay Thompson issued his reply to the accusation from McCollum, saying the Blazers guards need to "stop dying" on screens.
David Thorpe of ESPN.com, their resident coach and player analyst, put together his top-10 list of the Most Valuable Players so far in the NBA playoffs. McCollum made Thorpe's list and was the only Blazer to crack the top-ten.
Thorpe writes that McCollum's huge Game 5 was what helped turn their first round series in their favor.
Getting Game 5 on the road was the pivotal win, and McCollum put together his best game of the series to help secure the game. His 27 points, 4 rebounds and 4 assists on terrific shooting, adding two blocks and just committing a single turnover, made him the best player on the court. His ability to dribble weave through traffic and finish creative shots has grown enormously, and is a perfect counter to defenders pressing up on him to challenge his perimeter shot.
Also in news that is pretty much irrelevant at this point, the NBA ruled Tuesday that the leg whip by Anderson Varejao on Gerald Henderson was a flagrant 1. Both players were ejected and Henderson appeared to be the one getting the short end of the stick.
Also, if reading isn't your thing (which would be weird since you're reading this), Joe Freeman and Casey Holdahl have Rip City Report podcast from Oakland. For a more league-wide look at things, I recommend the Bulls vs. Blazers podcast with myself and Sean Highkin. We just posted a new episode yesterday.
In old Blazers news, Nicolas Batum told the Charlotte Observer that his stop in Charlotte was the first opportunity to play "his way." Ryan Sterling of Blazersedge.com recapped that story. At least in terms of usage rate, Batum's point isn't really up for debate. He posted a career-high 21.4 percent usage rate after posting his second-lowest usage rate of his career in his final year in Portland. He likes to pass the ball but it doesn't mean he dislikes getting to shoot it. He was a part of Portland's offense but he was, at worst, the second option on the Hornets at all times. In Portland, he was at best the second option, when Lillard or Aldridge sat.