12-point 4th quarter dooms Blazers against Warriors to go down 0-2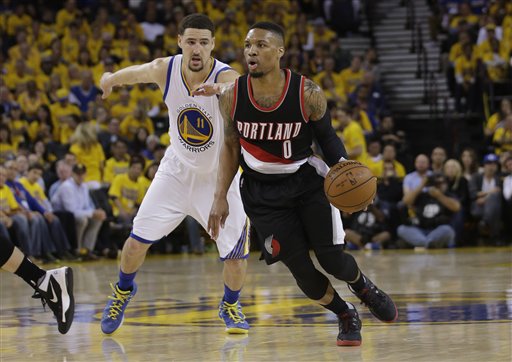 For three quarters, it looked like the Portland Trail Blazers would add "beating the 73-9 Warriors at home in the playoffs," to their list of accomplishments everybody else thought was impossible. But some villains are too vile to stop. Some mountains, too tough to climb. Draymond Green, Klay Thompson proved to be that mountain again for the Blazers, leading the Warriors to a 110-99 win behind a monster 4th quarter where they outscored Portland 34-12. The Warriors lead the best-of-seven series 2-0. Game 3 is 5:30 Saturday at the Moda Center.
Damian Lillard loves playing at home and looked better in Game 2, scoring 25 points through three quarters.  And he of course wanted to erase a rough Game 1 where he scored 30 but was just 8-of-26 from the field. He was quiet early but exploded for 17 points in the third quarter, helping Portland hold an 11-point lead after three quarters. But Lillard didn't score in the fourth and nobody on the Blazers could help their cause late as they saw what was likely their best opportunity for a road win in the series slip away.
With a quick turnaround, the Blazers looked overmatched in Game 1. Truth be told, they are overmatched. But they don't fold and their start to Game 2 was exactly what should have been expected. The Blazers learn and they found ways to attack the Warriors with success. They preyed on Andrew Bogut's slow feet and it helped create holes in the defense. Those holes weren't there when Steve Kerr dusted off Festus Ezeli down the stretch, which coincided with Portland suddenly being unable to score. Ezeli suffered an injury and was inexplicably buried on the bench behind Anderson Varejao and Mareese Speights until the 2nd half of Game 2. He made a major contribution and helped turn the game around with his defense as well as improved play from Green and Thompson.
Lillard carried Portland in the third, including a buzzer-beater to end the quarter to put them up 11, and Stotts tried to get him a brief rest. It's hard to say in hindsight whether that decision backfired. But with three games until Game 3 Saturday, it was clearly the night to extend Lillard. Stotts waited until there were about 8 minutes left to bring Lillard back with Portland's lead at five after it was at 7 when he left. A Thompson 3-pointer with 6:41 left tied the game. The first lead change of the series came at 5:25 with a Thompson 3-pointer.  Harkless got it back on the next possession but that was about it for Portland's last stand. They had answers all night but finally, the Warriors were relentless enough to leave the Blazers at wits end after a night they played brilliantly.
This is what this series was always going to be. I was more optimistic than most that the Blazers would make this a series. They still can with two home games and Curry's status moving forward still uncertain. Terry Stotts tried to take the Oracle crowd out of the game any time the Warriors made a run with early time outs. He won't have those worries at home. But he will still have the same worries about Green. The same ones about Thompson. Portland is learning and tonight looked like the same type of stuff we've seen. In many ways, it reminded me of their preseason loss to the Clippers. The stakes were much higher tonight but the lesson was the same: their opponent, in this case the Warriors, showed them how its done. The Blazers didn't hold it together and they are left to learn from their mistakes again.
The Blazers had a lot of trouble in Game 1, but all things considered, it seemed like they were in OK shape. Sure, they lost by double digits and Klay Thompson had 37, but the Blazers fell behind by 20 in the first half and looked shaken early on. They recovered well, threw their counter punches and got closer but never threatened the security of the game with the big lead.
After starting Game 1 on their heels, the Blazers were the aggressors. Mason Plumlee in particular was a monster on the board from the jump, grabbing four rebounds in the three minutes. Unfortunately for the Blazers, Plumlee's excellence came in waves in Game 2 and Green proved to be too much for him in the game's closing moments. That's not a knock on Plumlee, Green does that to everyone. For the second straight game, Plumlee had a rough game at the rim.
It also helped Portland's aggressive start that the Warriors started the game 1-for-7. Early jumpers from Lillard and McCollum got them going, then Aminu was feeling it and the energy of Plumlee buoyed everything. The Blazers trusted Plumlee, letting him touch it more than a few times per possession and creating high quality shots by using Plumlee's speed against Andrew Bogut, who was dominant in Game 1. But as we addressed above, the Warriors answered with Ezeli down the stretch and it shut some of those lanes down.
Defensively the Blazers switched some match-ups, most notably putting the 6-foot-9 Harkless on Thompson, which is what I suspected they would do. Thompson was the only Warriors who could hit anything but things were coming much harder for him and everybody. The Blazers led 17-5 at one point, forcing the Warriors to call a timeout. As for Thompson, he made huge shots late and finished with 27 points, but he was not as good in Game 2. He missed a host of open shots but it also seemed like Harkless bothered him more as the primary defender.
The dominance peaked when it was 45-28 after an Allen Crabbe jumper at the 8:06 mark of the second quarter, the roll they were on slowed to a crawl. They didn't make a field goal again until the 2:20 mark when Aminu cashed in a 3. Unheralded Warriors like Ian Clark were suddenly shredding the Blazers interior defense but Portland managed to hold them off.
Moving Green to center was clearly the tide-changer but things calmed down after the Warriors cut the lead to three. Plumlee returned to steady the ship at center, helping Portland maintain an eight point lead. This series is thought to be a formality and while the Warriors have almost every advantage, the Blazers are also pretty good. And they needed the full power of their arsenal to pull off the upset. They had that in the first half minus Lillard getting red-hot. Plumlee, McCollum and Aminu all looked comfortable in their roles and Portland succeeded despite Harkless' foul trouble.
The Blazers also got a little lucky in the first half. They'll need it all series. It did look like Thompson was still getting great looks but he was missing them. Perhaps Harkless' defense, perhaps just luck, perhaps Thompson didn't know how to attack until later in the game when he took over. He just set a record for the most 3-pointers over a 3-game stretch, he was due to miss a few and Portland took advantage early, but they didn't make the most of it.
The Warriors came out tough to start the third quarter and threatened Portland's lead several times. It appeared that Thompson was maybe a little frustrated with the defense of Harkless when he picked up a technical in the third quarter. But the good vibes for Harkless didn't last long as he picked up his fourth foul early in the third. The Warriors continued to make their runs, but as they've done time and again, the Blazers had answers.
Losing Harkless wasn't their demise and Thompson still couldn't get going. It looked like the Warriors' stars, Thompson and Green, were trying to will a Curry-like comeback by taking some tough shots. Steve Kerr looked like he was going to blow a fuse and went full Popovich during interview before the 4th quarter. His team responded. Thompson and Green settled down, he found Ezeli and the Warriors were the Warriors again.
Similarly, in the end, the Blazers were also themselves. The Blazers were their best selves for three quarters and couldn't finish late. It was a familiar story for the Blazers early in the season back when they were 11-20. It happened again in Round 1 (the symmetry with both Game 1's where they were blown out and didn't look ready followed by three great quarters in Game 2 is really weird) but they tightened up, caught some luck and advanced. As this group finds itself in a new situation against the champs, they again show that they will take their lumps and they won't look ready at times. This time they won't walk out as triumphantly but the one thing the Blazers can guarantee is that they will go down playing their way, which they did tonight.
NOW LET'S NIT PICK!
Notes
Stotts clearly showed that he would rather go with Plumlee at center against Green at center and take his chances. I think that's fine. But in the fourth quarter, where was Allen Crabbe? Maurice Harkless has been excellent but the Warriors are basically begging for any Blazer on the court to dribble. Aminu isn't trusty enough and Harkless doesn't score that way. Crabbe is really the only other creator and he may not be as tall as Harkless but he can still be a good bother on Thompson. Thompson even said that he had to be smarter offensively against Harkless in the post game press conference. A lot of Blazers fans are already talking about the decision to rest Lillard for about two minutes in the fourth quarter. That's fair, but I think Crabbe's absence in the fourth quarter is also an important point. He played 20 minutes, had 5 points and went 2-for-2. Gerald Henderson had 12 points in 27 minutes and also didn't see the floor late in the game when the Blazers needed offense. They also needed stops but it cuts both ways. Wen you score 12 points in a quarter, it's obvious they could have used more offense around Lillard and McCollum. But hindsight is 20-20.
The Blazers will definitely feel bad about this one. It hurts even more when Aminu goes 3-of-5 from 3 and Henderson goes 2-of-4 from deep. The Blazers played great defense at the start and weren't able to sustain it. They still haven't had a game in the playoffs where they've made 15 3-pointers. They had 12 such games in the regular season. It looked like they were finally going to get one of those in this game but the Warriors tightened the screws and didn't let the Blazers get some of the same looks they got in the first half.
Other than the Crabbe thing at the end of the game, I'm not sure what other rotation tweaks the Blazers really have left. Brian Roberts playing some point looked pretty good offensively but defensively it was kind of a disaster, especially if he got a bigger guy on a switch.
The Blazers also got very sloppy with the ball. They had 11 of their 17 turnovers in the 2nd half. That's what the Warriors do but it looked like they were simply not ready for the Warriors elevated pressure. They handled it with calm and made shots. They got some pretty good looks down the stretch they didn't make. McCollum and Lillard saw more pressure but they also missed some of the same shots they hit in big moments against the Clippers. Aminu had an ugly turnover when Portland still led at 91-88 with 7 minutes left. The Blazers had a lot of those little moments in the fourth and they added up. Mason Plumlee was the biggest culprit. He saved the Blazers in the last series with his playmaking but he can't comfortably slot in passes against the Warriors like he did against the Clippers. The jump passes got he, Aminu and Lillard a few times. But the Blazers had a great start because Plumlee was involved and Aminu was as well. I'm not going to play the result on that. It won them the last series and if it was good enough to win that, you have to accept their contributions when they lose.