The Scouting Report: Golden State Warriors, Game 2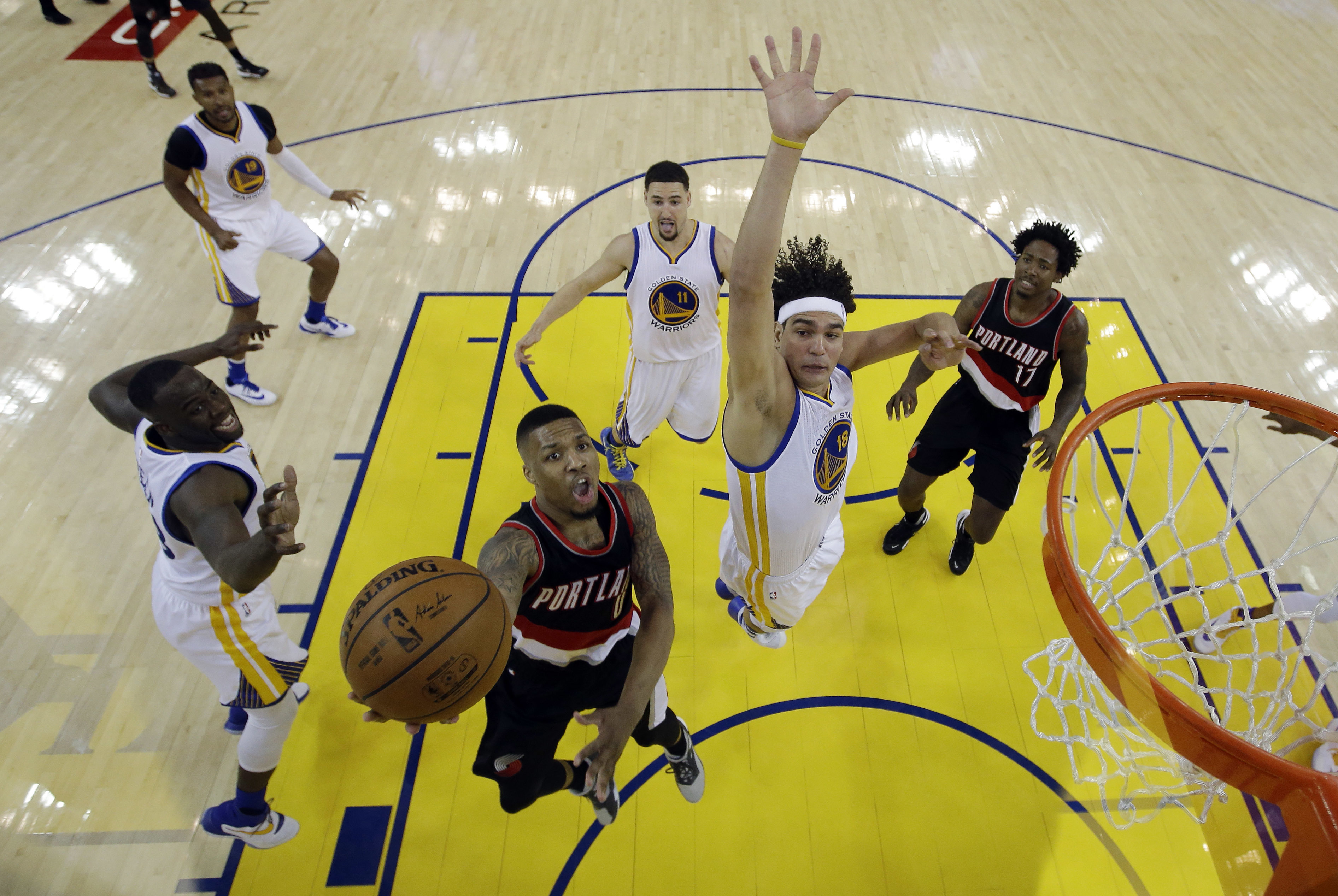 Projected starting line-up: Shaun LIvingston, Klay Thompson, Harrison Barnes, Draymond Green, Andrew Bogut
Key injury: Stephen Curry (knee) told ABC that his chances to play in Game 3 are "pretty good"
If it is up to Stephen Curry, Tuesday will be the last game of the series the Blazers will get against the Warriors without Curry. No doubt the Blazers will relish the opportunity to face Curry when he returns, but their chances simply won't be as good. Klay Thompson dropped 37 and Draymond Green had a triple-double in Game 1. However, the Blazers have a lot of areas where they can correct small mistakes.
Thompson scored 18 points in the first quarter and hit several tough shots but the Blazers started with suboptimal match-ups and they also looked out of sorts when dealing with the activity and abilities of the Warriors defense. If the Warriors, specifically Thompson and Green, continue to shoot the lights out, there is probably nothing Portland can do. But after Game 1 it is clear that there are some things they can fix in their quest to slow down the two stars for the Warriors. The Blazers also outscored the Warriors by eight after being outscored by 20 in the first quarter.
They say the playoffs are all about match-ups, so we'll start there.
Klay Thompson
I didn't think that CJ McCollum did a bad job in the last series against JJ Redick. Redick had some good games but I felt that McCollum actually did an okay job. Thompson is not Redick. Redick and McCollum are roughly the same height and McCollum could actually get up to bother his jumpers. Unfortunately for McCollum, his above average length for his size isn't enough to bother the 6-foot-7 Thompson who has a very high release and is a much better ball-handler than Redick.
The Blazers made a similar choice in Game 1 of the last series. Rather than put one of their best defenders on the opponents' best offensive player, they stuck to the positional match-up between two stars: Damian Lillard on Chris Paul. They later moved Harkless on to Paul. McCollum isn't a bad defender, but putting Al-Farouq Aminu on Shaun Livingston seems like a waste. Harkless on Green didn't work too well in Game 1 and perhaps Aminu and Harkless should switch more. But one of them should be on Thompson.
One play in the dominant first quarter for Golden State showcased that Harkless' length is something that Thompson at least has to think about.
Here's a transition 3-point attempt from Thompson and look where Harkless is before he jumps to contest the shot from Thompson.
Then look where Harkless is at the release. It's a little hard to see without zooming in too much but he's basically right there and may have even gotten a piece because the shot was a duck.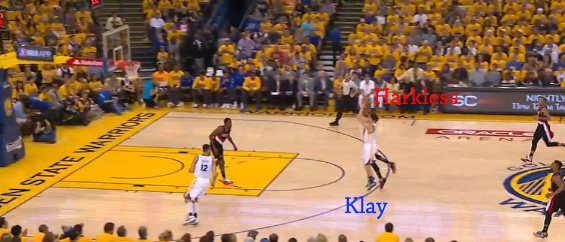 There is no surefire strategy for Thompson but putting McCollum on him, who even on his best contests can't bother Thompson like a longer defender can, can't be it.
But the Warriors have other players with other great skills! Shaun Livingston and Harrison Barnes are both in the top-six in points per possession on post-ups in the playoffs according to Synergy! 
Guess what? This is what playing the Warriors are like. There are no good choices! That's why they're 73-9. The options when it comes to what to give up as a defense range from very bad to less bad. Livingston and Barnes are two of the most efficient post-up players so far in the playoffs but they've only accounted for 22 total possessions of post-ups in the playoffs. As I wrote before Game 1, allocating their best defenders to Thompson and Green must be the priority. If you get beat by Livingston and Barnes, then they beat you and that's why they're the champs. But whether it's Aminu, Harkless or Allen Crabbe, the Blazers need to get as much length on Thompson as you can.
Thompson is playing more like Curry right now and he's playing with an extremely quick trigger. His off-ball movement is a killer and as the Blazers were admittedly taking a light approach to the Game 1 game plan with a quick turnaround. Game 2's game plan should, at the very least, include a bigger defender on Thompson from the jump.
The Big Man Problem
I was debating calling this section "The Draymond Green Problem," but that would do a disservice to Andrew Bogut, who is often forgotten and crushed the Blazers front court in Game 1. Green is such an issue and it doesn't look like the Blazers have an answer for him. He out-rebounded Harkless and Aminu by six on his own. If you include Barnes, the two Warriors forwards out-boarded Portland's 25-7.
The Blazers started with Harkless on Draymond Green and Aminu on Shaun Livingston. This was likely to guard against the post-up threat of Livingston. That's a good reason but when it comes to all of the bad options, you have to prioritize and Thompson and Green have much more extensive resumes when it comes to carrying a team than do Livingston and Barnes.
Barnes also rebounded better than any other Blazers forward and that has to change in Game 2. Green has a lot of heart and Barnes is a big guy. The Blazers forwards may be overmatched but they've also shown over the course of the season they can be better. And if they're not, the Blazers have good reason to limit their minutes and get more offense out there.
The Blazers were 7-of-23 at the rim against the Warriors' duo of Green and Bogut according to NBA.com. ESPN.com's Kevin Arnovitz reported a 6-of-27 number against Green and Bogut. Whichever database you choose, the Blazers did poorly when they tried to score against those two.
Look at this great block by Draymond. But what else is there?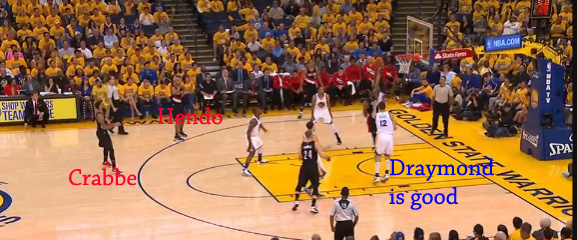 This was one of the most definitive plays of the game and excellent block by Green. But it also shows how Green is treating who is match-up is. The Warriors defense is prioritizing Lillard and McCollum and here you see Green help way off Gerald Henderson, who is wide open at the elbow, to contest and block Lillard's drive to the rim.
Here is another example of how Green caused problems for the Blazers. His ability to cover ground is amazing and he leverages that with great ability to cause problems for Portland's stars. Here he's helping all the way over past the nail, ignoring Harkless at the elbow.
Lillard started to notice this tactic as the game went along and started to move the ball earlier.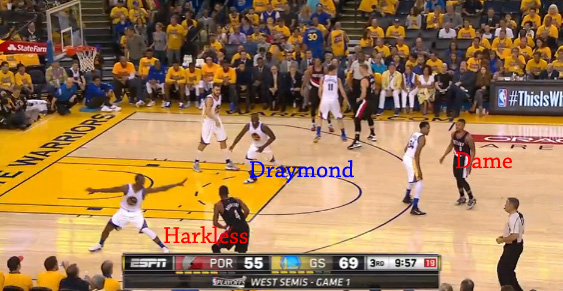 This ends in a missed lay-up thanks to a contest by Green. Another counter to this could be Plumlee breaking off from his screen, coming up to the ball and trying to make a play or open himself to a dribble handoff. Harkless' off ball cutting worked against the Clippers and it will be interesting if the Blazers decide to test Green rather than try to take advantage of the brief openings he's giving up with shooting. If Harkless' cutting can't be a valuable counter, the Blazers will then have to consider playing Allen Crabbe more minutes at the small forward spot. It will then be up to Stotts to decide which player he'd rather slot at 4 between Harkless and Aminu.
Michael Pina, writing for RealGM, has an even better breakdown on the offensive tactics that the Blazers found down the stretch. It involved a little bit more off ball screening to find openings and it starts with Lillard and McCollum trusting the pass more. They moved Lillard off the ball early in the game and had McCollum run point a few times, including a look to get Lillard his first 3-pointer.
Lillard and McCollum will have to make tough shots in any winning scenario for Portland. No matter where the openings are, the Blazers have to knock them down. And actually, in Game 1 the Blazers supporting players did fine (other than Harkless who was 1-5) in knocking down the uncontested looks they got. The Warriors defense was keyed in on Lillard and McCollum and they were unable to shake loose. When they did, they didn't take advantage, going 7-for-20 on uncontested shots according to NBA.com.
That has to change and Mason Plumlee has to score more than one point. His rebounding will continue to be important to success and he had 13 in Game 1. But he can't go scoreless and expect to be a legitimate threat. He also allowed Andrew Bogut to get to his right handed hook far too easily.
Dropping back and playing safety against the Warriors' cutters is nice if you can get away with it, but if Plumlee takes his eye off his match-up too often, it can hurt just as bad as when he fails to get a help his teammates. Bogut has some skills that hurt Plumlee in ways that DeAndre Jordan did not and he will need to adjust. Again, before overreacting and saying that he suddenly sucks after matching Jordan, I'm looking forward to see how he adjusts to Bogut. Plumlee, like many of these young Blazers, learns quickly.
Lillard can trust his teammates a little bit more and in turn make the game easier on him. He likely had that thought very early himself after Game 1 when he was fighting through a chest cold. He got a lot of uncontested shots but if the Blazers trust the pass there is a good chance they can get a little more. He shot 25% on 16 contested shots and he'll have to be more efficient in those situations, too.
Isolations will be a big part of his game as well but he can also use them to cause problems and find teammates. Lillard looked to be in a very aggressive mindset from the beginning and the Blazers need that but he can mix it up a little bit better in Game 2. And if the Blazers' supporting players don't step up, they will lose anyway. He may be feeling better after the chest cold during Game 1, but he needs to trust his teammates to help him out just a bit more.
The Warriors deserve most of the credit when it comes to confusing Portland's guards, making things hard for Lillard and McCollum and making it difficult for them to see open guys. When they do see them, the Warriors also have the length to bother the pass. But that doesn't mean that a little more ball movement will hurt.
The Blazers will also look at a couple of other missed opportunities against the big men. Here, the Blazers have an opportunity that they will likely have a couple more times in the series but they don't take advantage. Andrew Bogut is guarding Gerald Henderson, which is non unlike the way the Warriors guarded Tony Allen last year in the playoffs. In this situation, Stotts tries to call Henderson over for a guard-guard pick and roll to either trigger or a switch or challenge Bogut.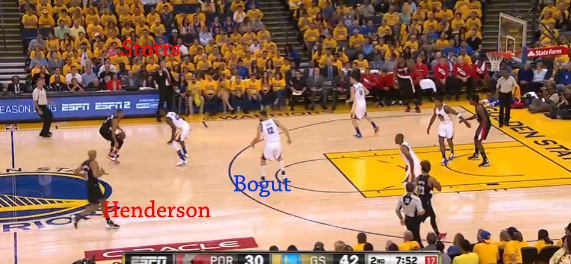 But the Blazers don't pick up on Stotts' call and it leads to a contested midrange shot out of an isolation for Henderson.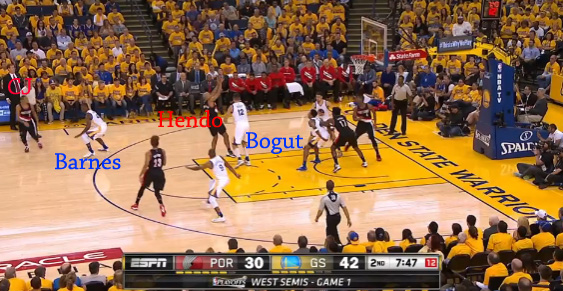 Ed Davis also took advantage of the Warriors lack of big men on the second unit to get offensive rebounds. He had some important put backs, which must continue. Rebounding is one of few things the Warriors are not great at and Davis will need to exploit that weakness, especially against the Speights/Varejao rotation. But he also must be more aware that the Warriors have more limbs and hands to get on the ball than most teams. Here he gets an offensive rebound but is surrounded by four Warriors with a new shot clock, ignoring open shooters. He needs to keep picking up the junk but he can also turn that junk into treasure, getting rare open 3-point looks for the Blazers.
The Blazers looked overmatched in Game 1 and in most match-ups they are. But they also appeared to find some things offensively to make it easier. They also made some simple mistakes. Defensively they can switch some match-ups but still, the task remains the toughest they've faced all season long.