Warriors lead wire-to-wire in 118-106 Game 1 win over Blazers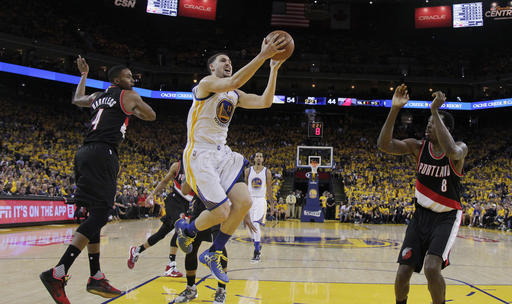 Klay Thompson had 37 points while Draymond Green finished with a triple-double of 23 points, 13 rebounds and 11 assists in a 118-106 wire-to-wire victory by the Golden State Warriors over the Portland Trail Blazers in Game 1 of their best-of-seven Western Conference semifinal series. The Warriors lead the series 1-0. Game 2 is Tuesday back at Oracle Arena.
The Warriors led by as many as 26. Damian Lllard finished with 30 points (10-10 FT) but was a terribly in-efficient 8-for-26 from the field and his backcourt CJ McCollum suffered a similar fate going 5-of-17. Lillard told reporters that he has been dealing with a chest cold and sounded raspy in his press conference after Game 1.
The Blazers will not have Curry for at least the first two games but there is a reason why the Warriors were still the big favorites. Big games from Lillard and McCollum would help but the Warriors also showed that without Curry, they have size at every position. But that wasn't really the only thing that did the Blazers in tonight.
The Warriors man-handled the Blazers on the glass in Game 1, holding a 55-40 rebounding advantage. The Blazers dynamic duo didn't get hot but the Blazers supporting players were simply dominated by Golden State. The Blazers power forwards, Al-Farouq Aminu and Maurice Harkless, combined for just seven rebounds. Meanwhile, Green and Harrison Barnes had 25 between them. Rebounding is about a lot of things and you're rarely going to win a battle of heart against Draymond Green. But the Blazers have to be stronger here if they want to get on the board in this series, Curry or not. Right now the Blazers don't have an answer for Green and most teams in the NBA don't either.
The Blazers started Game 1 1-for-8 from the field. Lillard and McCollum each got looks they didn't knock down while Thompson was hot early, playing the part of the offensive catalyst for the Warriors with Curry out. It was a 14-4 start for the defending champs. The Blazers didn't get good shots and the Warriors were both getting good ones and making tough ones. They had no answer for Thompson as they started with McCollum on him and putting Maurice Harkless on Green.
It wouldn't get much better after the hot start from Thompson. Everybody was hot for the Warriors because they would only get bad shots if they wanted to. Lillard couldn't get going from the field and with McCollum struggling as well, the Blazers couldn't keep up and their defense was nowhere near where it had been.
It looked like the Blazers were on the verge of getting blown out just like the Oklahoma City Thunder did the night before in San Antonio. But with Shaun Livingston in the starting line-up, the backcourt when the benches are in for both teams is in strong favor of the Blazers. McCollum, Henderson and Crabbe went up against the Warriors back-up group of Ian Clark and Leandro Barbosa who were buoyed by Andre Iguodala. With some toughness from Ed Davis, the Blazers cut the lead from 20 to 13 with 8:36 left in the 2nd quarter and then down to 11 after a TV timeout.
The Blazers remained relatively close, even when Steve Kerr tried to issue the knock out blow by moving Draymond Green to center. The Blazers answered that with their own version, first with Harkless at center and Henderson at power forward. Harkless was first to draw the match-up against Draymond Green and for the first half, slowing him down did not happen. Green had 12 points, eight rebounds and six assists in the first half alone. Thanks to Green and Andrew Bogut, the Warriors outrebounded the Blazers 31-19 in the first half…The Blazers were truly lucky to be down only 14 points at halftime with Lillard (2-11) and McCollum (1-8) struggling to get going.
The Warriors then did what champions do and jumped on the Blazers to start the third quarter. With more great defense and more dynamic offense, the Warriors pushed the lead back into the 20's and the Blazers fought hard but still remained far away for most of the night. The problems that hurt them in the first half only continued in the second half.
Adjustments are the sexy word and there will be some. But the Blazers big men were thoroughly dominated and they could be overmatched. That's what it looked like in Game 1 of the Clippers series and the Blazers turned that around starting with Plumlee in Game 2. The Blazers will need everyone to play stronger sooner to get on the board in this series as Stephen Curry's return will come in Game 3.
Plumlee, who matched DeAndre Jordan after Game 1, was dominated by Bogut and didn't do any better against Green. The Blazers small ball answers proved unable to rebound in Game 1. Aminu and Harkless both bring value in their rebounding and if they aren't rebounding, they bring little to the table against the Warriors. At least in Game 1, the combination of Allen Crabbe and Gerald Henderson looked more effective. Crabbe in particular was excellent, scoring 15 points off the bench.
Henderson didn't have a prolific offensive performance but played some tough defense. However, his night was cut short after Anderson Varejao lost his balance and decided to leg whip Henderson, who bumped Varejao going into the lane. What Henderson did is a normal NBA action. If he doesn't bump Varejao, that's bad defense. After a lengthy review, they were both assessed double-technicals. Then a few minutes later when Henderson was on the court and Varejao was chatting him from the bench, they were both assessed another double-techincal which led to an ejection for both.
https://vine.co/v/ixaiOaqpOiT/embed
It was probably the most interesting part of the game even though the Blazers did do a nice job to make the game competitive until the last few minutes. The Blazers looked overwhelmed to start the game but they also had a much shorter time to rest and game plan. The Blazers learn well from their experiences and they made some important changes after their Game 1 loss to the Clippers in the last round.
The Warriors are obviously a different beast. Trying to contain them proved to be too difficult in Game 1 but with more information and a little extra time, Game 2 should be a little bit better from a strategy standpoint.
Notes
I didn't include Mason Plumlee in the bit about rebounding because he did a pretty solid job. He had 13 boards but that also is a product of the pace this series will have. Plumlee too often played Bogut as if he were the less offensively skilled DeAndre Jordan. Bogut is no DeMarcus Cousins but his baby right-handed hook shot and excellent passing make him more difficult to guard. Plumlee, too, will have a better grasp on how to handle Bogut. But even if that changes, the Blazers need more from Plumlee offensively than 0-7 and 1 point. His assists are great but if he can't even make his lay-ups they're considerably less valuable. Green is a tough match-up and so is Bogut. But Plumlee showed in the last round he can be better and they need him to be quickly.
Ed Davis brought some solid contributions off the bench and will be a fixture for the Blazers in this series. Crabbe was definitely the best bench player for Portland in Game 1, scoring 15 points on 6-of-9 shooting. If Crabbe continues to play like this, the Blazers will need to keep him on the floor longer. His ability to shoot and create off the dribble was crucial in closing the gap when the benches were on the court for both teams. Part of that could be Steve Kerr's rotations, going without Thompson or Green on the court while he entrusts Leandro Barbosa and Ian Clark to run the show. But if Crabbe starts getting into a rhythm like we know he can, it's going to be hard to take him off the floor. And usually when he gets going offensively, his defense picks up just a smidge. The Blazers have a very clear talent deficit in this series but they can also play much better than they did in Game 1.
Having more length on Thompson to start Game 2 is the easiest adjustment I can think of without looking at the film. CJ McCollum isn't bad at chasing Thompson around screens but the problem is that he rarely got good contests when he was there because of Thompson's height. He's a good option to pester him and he knows how to get around screens. It won't be bad for stretches. But as we talked about after Game 1 of the Clippers series when Harkless or Aminu or any good defender wasn't on Chris Paul, the value of those defenders is considerably less if you don't use it on Golden State's best weapons. There will be times where Aminu and Harkless will have to switch match-ups and the cutting will cause a lot of switches. I think starting with more length on Thompson from the very beginning will have to be their best option moving forward. He's still impossible to stop. But you've got to try something against him. Green, on the other hand, I'm not sure the Blazers have an answer for. But if Aminu and Plumlee can play better, at least that's a start.
The Blazers starters had a -65.6 net-rating tonight according to NBA.com in 13 minutes. It was ugly as the Warriors held the starting line up to less than 0.6 points per possession.
I liked that Lillard got to the line tonight. He will have to find more ways to do that as the series goes on. The Warriors defense is too good to give up easy shots. Getting hot will happen a few times but if the free-throw line can be a steady source of points for Lillard in the series, and perhaps McCollum (who doesn't draw a lot of fouls) as well, their chances of hanging around until the end of the game should improve.