The Scouting Report: Golden State Warriors, Game 1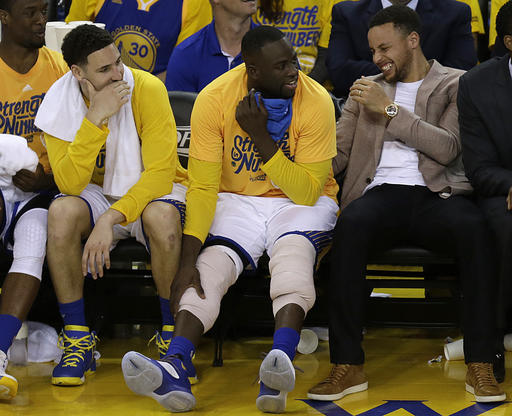 Projected starting line-up: Shaun Livingston, Klay Thompson, Harrison Barnes, Draymond Green, Andrew Bogut
Key injury: Stephen Curry (knee) has been ruled out of Game 1 and is doubtful to play in Game 2 according to Warriors' coach Steve Kerr.
Despite the obvious, there still isn't a whole lot that is different about the Golden State Warriors in their current state. They do not have the shooting threat of Curry pulling up off the dribble from literally anywhere. As Terry Stotts said during a conference call Saturday, they are "a historically great team with him and a great team without him."
Stotts said that the coaching staff will likely take a simple approach to Sunday's game plan. I'm going to follow their lead on trying to analyze Game 1 and it's mostly because Houston Rockets are not a good test case for the Curry-less Warriors. They are still great to be sure, but the Rockets are broken and had breakdowns of spirit, effort and focus far too often to be a real playoff team. The Blazers didn't win ugly but they won and that alone makes them a more worthy challenger to the throne.
Viewers should also prepare for outlandish scores that reminds of the good ol' days of the 1970's when nobody played defense. The Warriors are built on defense and the Blazers advanced on defense, but the pace that these two teams play with will create lots of opportunities against those great defenses and lead to high scoring numbers.
The Blazers defenders are going to have to bring their track shoes and have their head on a swivel for 48 minutes. Guarding the Warriors off ball actions and screen after screen can be dizzying, but the Blazers will need to stay centered. Klay Thompson will be much more aggressive and he'll look to shoot with even less space than usual. The onus will be on him to make shots and he usually can. If the Blazers thought accounting for JJ Redick was difficult, accounting for all of the Warriors' screens, back cuts and passes will be an even tougher test. The Blazers will not quite be dealing with an offensive player of the caliber of Chris Paul but Thompson is good enough to go off against anybody.
It's hard to put too much into which teams will do what since the Warriors without Curry are still an unknown. The Blazers will likely continue to go with a shorter eight man rotation, meaning that we will see very little of Chris Kaman or Noah Vonleh. Vonleh has the size and skills to play in this series, but trusting a 20-year old to anchor your defense against the greatest team of all time is a tough ask.
We will break down more film of this match-up and discuss tactics after Game 1, when we actually have film to break down. But with that said, I still have a couple of things that I'm looking for in Game 1.
I expect a couple of things to continue for the Blazers tactically and suspect that Harkless will guard Thompson, who is currently the Warriors' best perimeter threat. Aminu will draw Green, allowing those two to switch when Green and Thompson are involved in actions together. It was their remedy against Chris Paul and Blake Griffin and while Thompson and Green are a different beast, it's clear Portland doesn't have a better option defensively than the Harkless-Aminu duo. But Allen Crabbe and Gerald Henderson will both have to participate in making life tough for Thompson.
During a conference all Saturday, Stotts talked about Harkless' effectiveness against the Clippers and said switching could be a part of their plan against the Warriors.
"I liked his versatility," Stotts said. "His length on the perimeter was very effective against the point guards. Chief was very good on the low post guys like Blake. Their versatility, allowing us to switch some pick and rolls was important for us in the Clippers series. I think switching and doing similar things against Golden State might be an important part as well."
That's as close as Stotts will ever get to tipping his cap on strategy but it's safe to say that the Harkless-Aminu duo will be a major part of Portland's defensive strategy.
The Blazers will have to live with post-ups from Livingston and Harrison Barnes against Lillard and McCollum. They threw the occasional double team at Blake Griffin and may do it some against Livingston and Barnes, but they likely shouldn't. If Lillard and McCollum can keep the damage to a minimum, that would bode well for their chances to stay competitive. I also suspect that Steve Kerr will turn to reserve guard Ian Clark to be a best on Lillard and McCollum after not playing much in the last series. It could prove to be more valuable than the offense of Barbosa in this series.
The Blazers game plan won't be complicated but it doesn't mean that they can't learn from their mistakes of their last Game 1 and get their two best defensive players on the court, whether it's Aminu, Harkless, Henderson or Crabbe, guarding Golden State's best offensive players at all times. Stotts said it was an option going into Game 1 vs. the Clippers but they just wanted to see how things went before tweaking things. A best-of-seven series does allow for that and without Steph, the Blazers need to maximize every moment. They probably need a little more intel but they should be ready to pull a trigger quickly if a match-up isn't working.
As for the Warriors, team play, great shooting and defense have led to historical greatness. Turnovers may be the only place where they get a little too loose at times. If you've seen the Warriors play, even though they don't have Curry, I expect them to look like they usually do. I also suspect Portland will give them a much better fight than the Rockets.