Blazers vs. Warriors: Full second round broadcast schedule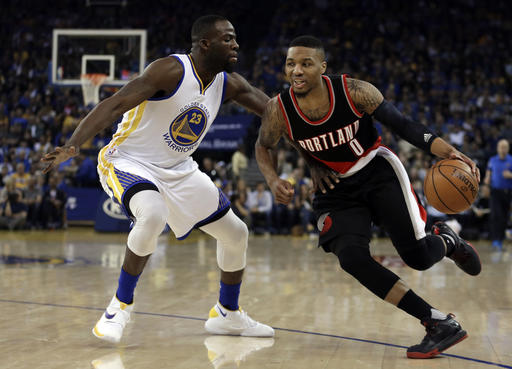 The Portland Trail Blazers will face the Golden State Warriors on Sunday afternoon for Game 1 of the Western Conference semifinals. The Blazers punched their tickets last night with a 106-103 victory over the Los Angeles Clippers. The Warriors beat the Blazers in three out of their four meetings and the Blazers got the Warriors one time in the first game after the All-Star break. Tip-off for Game 1 is 12:30 Sunday.
As a reminder those of you who are not cable subscribers: it's part of the league's agreement with its television broadcast partners that the second round and beyond be broadcast exclusively on national networks. That means that you will have to wait until next season for the dulcet tones of Mike Barrett to return to the television screen. Blazers games will all still be carried on their flagship radio station, 620 AM. The Warriors presence in the series does however get the Blazers on ABC a couple of times which is nice for those who may not have TNT or ESPN but still want to watch the series at home.
Here's the full schedule
Game 1 – Sunday May 1 Portland at Golden State 12:30 PM pacific ABC

Game 2 – Tuesday May 3 Portland at Golden State  7:30 PM pacific TNT

Game 3 – Saturday May 7 Golden State at Portland  5:30 PM pacific ABC

Game 4 – Monday May 9 Golden State at Portland 7:30 PM pacific TNT

Game 5 (if necessary) – Wednesday May 11 Portland at Golden State TBD TNT

Game 6 (if necessary) – Friday May 13  Golden State at Portland TBD ESPN

Game 7 (if necessary) – Monday May 16  Portland at Golden State TBD TNT
The Warriors lost at home just twice during the regular season. They lost twice at home during last year's playoffs, so it's not unprecedented if the Blazers steal one of the first two games.