Shootaround notes: Blazers excited heading into potentially decisive Game 6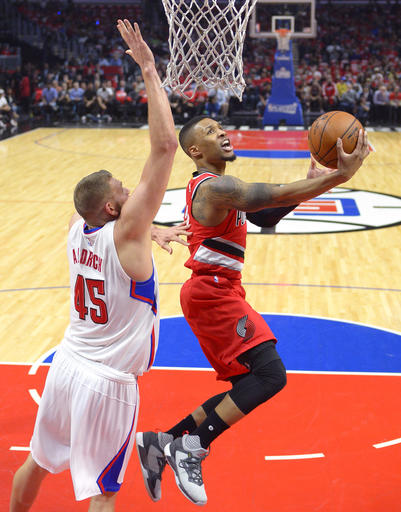 The Portland Trail Blazers woke up Friday morning as the prohibitive favorites walking into Game 6 later Friday night. The Blazers pulled away late in Los Angeles to score a double-digit win against a decimated Clippers team without Chris Paul and Blake Griffin. At their shootaround, head coach Terry Stotts described his team as excited.
"Same as they've always been," Stotts said when asked how the team was on the morning of Game 6. "They're excited to play, they're excited to close out the series. We understand how we need to play."
CJ McCollum said that the team is blocking out the high expectations, just as they blocked out the low ones.
"We just go out there and play," McCollum said. "We don't pay too much attention to what's being said, we don't read into that too much. First we were supposed to get swept then we were happy to win games. We just go play. Just control what you can control. Have the same mindset and understand that nothing is inevitable."
How they need to play starts with defense, at least in the best-of-seven series which they now lead 3-2. The Blazers have had the 4th best defensive rating in the playoffs after a brutal Game 1 performance, a postseason start that almost mirrors their poor start to the regular season. But the Blazers defense in the postseason has been several levels above their regular season performance, as it needed to be against one of the best offenses in the league.
The role of the supporting cast has been a crucial one for the Blazers all season and one filled with different players at different moments. Most recently, Maurice Harkless has been the most consistent fourth player in addition to Lillard, McCollum and Plumlee, at least offensively.
"It's good it takes a lot of pressure off us and it shows that guys are versatile and able to rise to the occasion if necessarily," McCollum said. "We can trust them, they can make plays, they can rebound, a lot of different things so we're going to continue to need that. I think we've been aggressive, we stayed in our shell, we helped out a lot. We've rebounded. Mason and the bigs have done a great job of rebounding and creating second chance opportunities. I think they're going to come out strong, come out aggressive and come out at another level."
If the Blazers can get another solid performance from the rest of the crew in addition to their leaders who will certainly have the full attention of the Clippers defense once again, the Blazers can secure their place in the second round.
Trail Mix
It's been a little while since I've done a trail mix. Considering all the playoff games there just hasn't been a whole lot of time. But here are some Blazers related links that you should check out. 
Corbin Smith, VICE Sports | The Blazers Are Weird In The Most Disciplined Way, And They're Winning 
Sean Highkin, Sports On Earth | NBA Playoffs: The Most Painful Game  
Jason Quick, CSNNW | The Trail Blazers and their pursuit of a storybook ending 
Dave Deckerd, Blazersedge | Perspective on Playoff Experience (a different look at the value of going deep in the playoffs for these Blazers)