Report: Blazers one of four "favorites" to sign Dwight Howard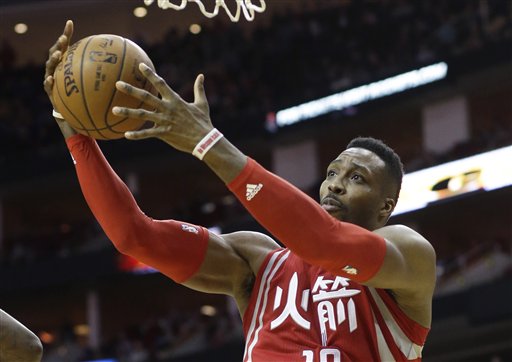 Things haven't gone well for the Houston Rockets this season. In three seasons together, Dwight Howard and James Harden are on track to get out of the first round only once during their time together. They're currently down 3-1 in their best-of-seven series against the Warriors heading into Wednesday's Game 5 in Oakland. And it should be no shock that Howard is expected to opt out of his contract to become a free agent.
ESPN.com's Calvin Watkins reports that Howard will indeed look to become a free agent and that the Blazers are one of the four "favorites" to acquire him in free agency.
From Watkins' report on the Rockets
Howard is not expected to have a role. It's expected that he will become a free agent and seek a new team. Orlando, Milwaukee, Portland and Charlotte are the favorites.
All four of these teams are about the same in market size and both expect to have a lot of cap room, as will most of the teams with the salary cap going up. The fit with Howard on the Blazers is an intriguing one, but one would think that a deep playoff run can help sell Howard on coming to Portland. Howard has shown an inability to stay healthy for extended periods since undergoing back surgery a few seasons ago and at this stage in his career, it looks like he should take a lighter load, at least in the regular season.
But with so many teams with maximum cap space and so few max players on the market, small market teams like the ones who are apparently favorites to sign Howard could do much worse than signing one of the league's best big men, even if he's not as great as consistently anymore.
Howard could give the Blazers a veteran presence in the postseason and would give them an actual rim protector.
The Blazers are getting ready for Game 5 in Los Angeles but it appears that their success this season has already affected their ability to market to free agents.