The Scouting Report: Los Angeles Clippers, Game 5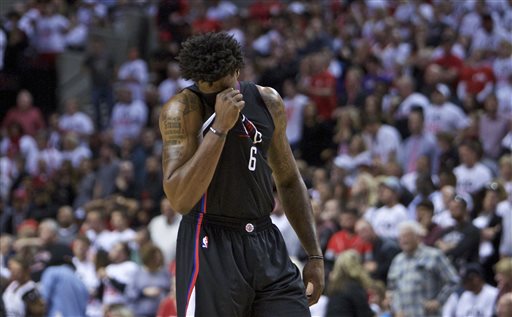 Projected starting line-up: Austin Rivers, JJ Redick, Luc Mbah a Moute, Jeff Green, DeAndre Jordan
You've got to feel for DeAndre Jordan. Listen, I don't really have a great idea what the Clippers are going to look like in Wednesday's all important Game 5. The Clippers might be the only ones who have even the slightest idea. The winner of Game 5 will secure control of the series and if it is the Blazers, a win can set up a potential close out game in front of their home crowd in Game 6. The Blazers are trying to approach what is now a best-of-three series in the same manner but they also don't really know what they're going to get from the Clippers.
"They played a couple of games recently against Oklahoma City and Utah when they rested a lot of players," Stotts said, pointing to probably the most instructive material available when it comes to the team they will face Wednesday without Chris Paul and Blake Griffin. "I don't know if that's a good barometer of what they do. You look at the times that he did not play, whether it was in our series or in other games to get  a little bit better gauge of how they play without him in the game. I think there's only so much video work you can do. And there's only so much you can change in a 48 hour period. But we'll look at some of those things from their offensive standpoint."
In the regular season, JJ Redick played all but 113 minutes on the court with Paul according to NBA.com. There are a lot of numbers but no way to truly quantify how much Paul means to this team. But given the three-game series format, the randomness and home court advantage gives the Clippers a puncher's chance.
So far in this series, the Clippers second unit has been characterized by lots of things, most importantly: a tale of two cities. Their reserves have all had moments but they haven't been able to play well together as they did in Los Angeles. Austin Rivers has been a pest on CJ McCollum and Damian Lillard while providing dribble penetration in the first two games but was more or less bottled up in Portland. Jeff Green has brought a nice punch of shot-making, athleticism and defense on the wing and Jamal Crawford has still had his slippery scoring game. Cole Aldrich was a major factor earlier in the series and although he wasn't as big in Portland, his role will likely increase. Pierce's role will also probably increase.
The Paul injury is certainly the most important. Both in watching him over the four games and in the numbers, Paul was clearly the best player in the series. On the surface the Griffin injury spells doom for Los Angeles' size advantage, but the numbers give hope to the Clippers. They have actually rebounded well in the time that Griffin has been off the court in the series and have been better with Green on the court, according to NBA.com.
The Clippers biggest advantage in this series outside of experience was their size. Mason Plumlee has been excellent in answering the challenge since Game 1 and Ed Davis did back in Portland. The numbers suggest that the Clippers will be just fine on the glass. Plumlee has played Jordan to a standstill. Plumlee will have to continue his excellent play but the Clippers' small ball line-ups just aren't as scary in the paint even if they are rebounding better. Take this drive from McCollum in Game 3 when the Clippers played small, as they will now have to almost exclusively.
If the Blazers see four smalls consistently on the court while Paul is no longer one of the smalls deterring penetration it's a nightmare scenario. And now they know they can get more opportunities. Rivers has played his butt off in the series defensively and will have to continue to do that. Jeff Ayers got run in their games against Oklahoma City and Utah, even playing some at center. The Blazers will have opportunities to go small without giving up much even more without Griffin in the game. But if the numbers hold up without Griffin, the advantage on the inside won't be as drastic as it would appear to be on the surface.
I expect the Clippers to activate a couple of their younger players like CJ Wilcox now that Paul and Griffin are done for the series. Wilcox got some minutes against the Thunder and had some plays in transition and showed some quickness defensively, which the Clippers will need to hope to slow down Portland's guards.
McCollum had several drives like that one against the Green-Aldrich frontcourt and although DeAndre is a menace, the Blazers have found ways to neutralize him by making Plumlee a playmaker and running more pick and rolls with Aminu as the screener.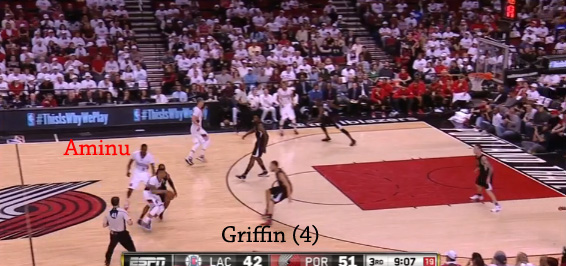 Lillard turns this particular action into an opportunity to split the defense and get to the rim before Jordan can get there. Jordan hesitates just a little to guard against a potential pass to Plumlee, and Lillard gets to the rim. Perhaps the Blazers wanted to challenge Griffin to see how mobile he was with the quad and it will be interesting to see if they go to the same strategy. Jeff Green may provide more resistance than an ailing Griffin but if the Blazers go to that when Paul Pierce is playing power forward with the second unit it should yield results.
Defensively, the Blazers will have to guard against Rivers' ability to drive into the paint as well as Crawford's ability to get red hot. Although it's almost impossible to find a common thread between the two games in the late regular season where they rested players, they did managed to go 1-1 without Griffin, Paul, Jordan and Redick. More looks for Redick should be expected but now it will be on Rivers to make the deliveries and the Blazers know now that it's probably their No. 1 option offensively.
The battle of the benches should favor Portland, especially the back-up point guard match-up between CJ McCollum and Pablo Prigioni, unless Rivers does something to take the 38-year old point guard off the NBA's Most Improved Player.
And in terms of Griffin, the Blazers no longer have to scheme on him or double team him, which is impossible to quantify. Their concerns will now consist of Jeff Green drives, Jordan offensive rebounds and Redick moving off the ball. The Clippers role players could barely miss when the two teams played at Staples and if they get a repeat performance, they will have a shot.
Therefore, it's on the Blazers to maintain the defensive effort they've had since Game 1. They will have things to guard against but the anxiety of Paul or Griffin being able to solve their defense with sheer greatness is no longer there. In the same way, the Blazers no longer have an excuse not to win this series.