Clippers stars Chris Paul (hand), Blake Griffin (quad) out for rest of playoffs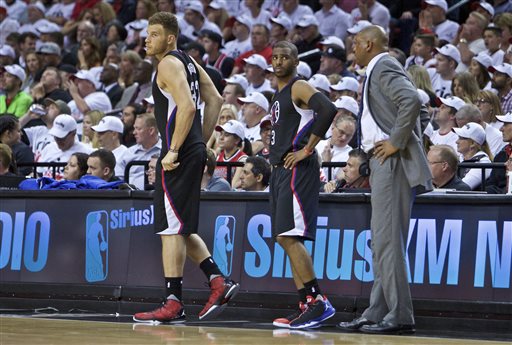 The two best players for the Los Angeles Clippers, Chris Paul and Blake Griffin, are done for the rest of the postseason, the team announced Tuesday afternoon.
The Clippers announced that Chris Paul underwent surgery on his right hand today and will be re-evaluated in 4-6 weeks. That would essentially render him out for the rest of the playoffs because the Clippers may not even survive the next four-to-six days. Even if they were to advance past the Blazers, they would have to face the Warriors who will still be tough without Curry especially without Paul and Griffin. The Paul injury is a major blow as he had the highest Player Efficiency Rating in the series (33.9) and was helping the Clippers outscore the Blazers by 13.2 points per 100 possessions during his time on the floor according to NBA.com.
The news on Griffin is a cruel double-whammy. Doc Rivers classified Griffin's chances of playing in Game 5 as "50-50" following Game 4 but now he has been ruled out for the rest of the playoffs as his quad is acting up again. There is no further structural damage for Griffin but the tweak made him pretty immobile as he tried to come back in the fourth quarter. Griffin had an excellent Game 1 but cooled off considerably since. In Game 3, Doc Rivers acknowledged that they expected there would be some nights of struggle for Griffin but he certainly did not imagine this.
The Clippers suddenly look crippled in the best-of-seven series which continues Wednesday in Los Angeles with Game 5. The Clippers will be out Paul and Griffin, their two best players and likely replace them with Jeff Green and Austin Rivers. JJ Redick has barely played any minutes without Chris Paul on the court alongside him and it will be interesting to see if there is a domino effect with Paul not out there.
After the Blazers started Game 4 holding everybody from scoring but Paul, the Blazers were fully aware of it and the explanation of that awareness encapsulates how much Paul brings to the Clippers.
"He's the guy who makes them go," Lillard said. "He's getting Blake that pick and pop jumper. He's getting JJ Redick those shots. When we have him having 12 points and 0 assists, that's better for us. Especially when they were contested shots, tough shots, you live with that."
The Clippers now have to learn how to live without he and Griffin. They have the home court advantage but the talent battle now suddenly favors the Blazers.