Blazers head coach Terry Stotts runner-up for 2015-16 Coach of the Year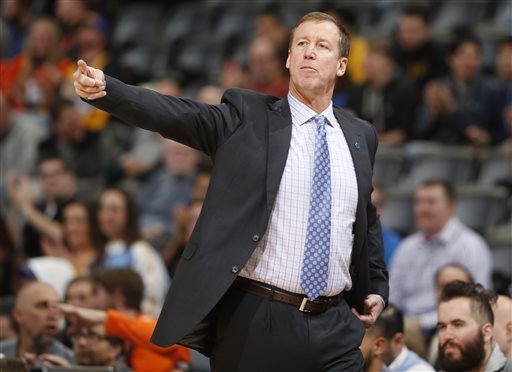 Golden State Warriors head coach Steve Kerr was announced as the winner of the 2015-16 NBA Coach of the Year award Tuesday morning. Portland Trail Blazers head coach Terry Stotts finished second in the Coach of the Year voting and missed out on winning the award by 26 award points, which was the difference of five first place votes.
Stotts got the most second place votes of any coach, as well as the most third place votes. He received 37 first place votes but it wasn't
Stotts led the Blazers to a 44-38 record in the regular season after the team lost four starters including All-Star forward LaMarcus Aldridge. Stotts had to implement his style of play with a set of players that had barely seen the floor together and he did it to great success. Under his leadership, Mason Plumlee has been allowed to flourish as a playmaking big man who can bring the ball up the court and Al-Farouq Aminu has been trusted to make big plays.
Atlanta's Mike Budenholzer, last year's Coach of the Year, earned just one third place vote.
The Blazers are tied 2-2 with the Los Angeles Clippers in their best-of-seven first round series in the NBA playoffs. The Blazers won both games at home after dropping the first two in Los Angeles. Game 5 will be played Wednesday. If the Blazers are able to win two of the next three games, we will see a match-up between Stotts and Kerr in the next round.
Here are all of the results from this season's coach of the year voting, provided by the NBA.
2015-16 NBA COACH OF THE YEAR RESULTS
Coach, Team                                     1st                       2nd                3rd                 Pts
Steve Kerr, Golden State                  64                 18                 7                   381
Terry Stottts, Portland                        37                 38                 36                 335
Gregg Popovich, San Antonio            10                 32                 20                 166
Steve Clifford, Charlotte                    7                   16                 15                 98
Dwane Casey, Toronto                       6                   12                 17                 83
Brad Stevens, Boston                         5                   10                 19                 74
Dave Joerger, Memphis                      1                   1                   3                   11
Doc Rivers, L.A. Clippers                  —                   1                   2                   5
Luke Walton, Golden State (interim) —                   1                   2                   5
Erik Spoelstra, Miami                         —                   —                   4                   4
Quin Snyder, Utah                              —                   1                   —                   3
Rick Carlisle, Dallas                            —                   —                   3                   3
Mike Budenholzer, Atlanta                —                   —                   1                   1
Billy Donovan, Oklahoma City          —                   —                   1                   1