Golden State guard Stephen Curry out at least two weeks with mild knee sprain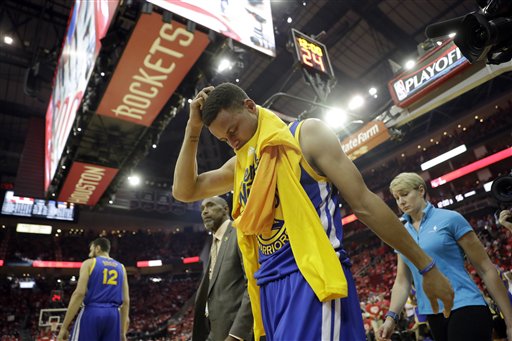 We wondered whether the entire NBA landscape changed on the latest Bulls vs. Blazers NBA Podcast and the news of an MRI confirmed that soon-to-be back-to-back MVP Stephen Curry has a Grade 1 MCL sprain. The Warriors said in a release that Curry will be "re-evaluated" in two weeks, meaning that he will miss at least that much time.
This news now directly affects the series the Blazers are in against the Los Angeles Clippers, which is something I wrote about in Monday's Columbian when it appeared clear that Curry would miss some games. Now it appears clear he will miss at least the first week of the second round, which would mean he would miss at least three games. The Warriors are up 3-1 in their best-of-seven series against the Rockets heading into a potential close-out Game 5 in Oakland.
As expected, the injury has sparked a lot of conversation about whether the Warriors could survive the next round, with the Clippers serving as the antagonist in every hypothetical. Here it is on ESPN's First Take.
[youtube http://www.youtube.com/watch?v=BIWXwimS6Fo]
No matter who has or hasn't advanced yet, this game is all of a sudden a lot more interesting. Even if Curry misses only the first two games of the next round, it gives the winner of this series significantly better odds. The Clippers beat the San Antonio Spurs last season in the first round and the Spurs are the favorite to be the West team on the other side of the Conference Finals.
Game 4 of Blazers-Clippers is set for 7:30 PM at the Moda Center on TNT and will be shown locally on KGW.