Clippers guard Chris Paul leaves Game 4 of Blazers-Clippers with broken hand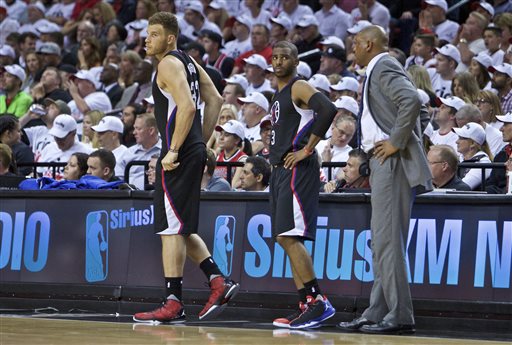 Los Angeles Clippers All-Star point guard Chris Paul was forced from Game 4 of the the Clippers' first round series against the Portland Trail Blazers with an apparent right hand/wrist injury. The Clippers have updated Paul's status, saying his a broken right hand (third metatarsal) and will not return. This is a series-changing injury.
Paul appeared to injure the hand on a pass and then left the game after a Clippers trainer checked on him with 5:53 left in the third quarter. Paul left the game with 16 points and four assists. His status moving forward remains unclear as the Clippers have yet to provide an update. Here's video of his reaction from BBALLBREAKDOWN. It doesn't look good.
https://vine.co/v/iUQAIuWv1TO/embed
Paul has been the best player in the series and has a series-best Player Efficiency Rating of 35.1 through the first three games of the series. In Game 4, Paul scored the Clippers' first 12 points.
As of this writing, the Blazers lead the Clippers 64-59 with 2:31 left in the third quarter.