Bulls vs. Blazers NBA Podcast: Curry Emergency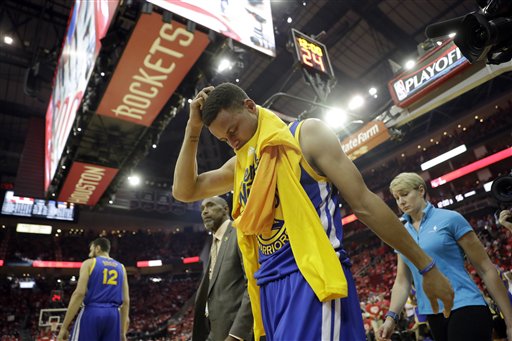 We have been covering the Blazers-Clippers series closer than any other but as Sean as I were recording a podcast between Game's 3 and 4, the entire NBA season changed.
The latest episode is a playoff round-up with a focus on the Blazers-Clippers series, which we are covering. We talked to some players about the increased intensity and chippy nature of Game 3 in Portland. What did the Blazers do different and what can continue for them to go back to Los Angeles tied up at 2? Meanwhile, several other series have gotten things back to even, as the Celtics did last night.
[soundcloud url="https://api.soundcloud.com/tracks/260701473″ params="auto_play=false&hide_related=false&show_comments=true&show_user=true&show_reposts=false&visual=true" width="100%" height="450″ iframe="true" /]
However, Curry's sprained right knee and the MRI results that should come later Monday have changed everything, including the Clippers-Blazers series. A Curry injury, even a minor sprain, opens up the possibility that the winner of this series will have a legitimate shot against the Warriors in the next round. Beating the Rockets is one thing, but the Warriors will have quite the challenge against a team that isn't broken like Houston.
Sean and I reacted to the Curry injury in real time and though we don't see him go to the locker room until the very end of the podcast, we discussed all of the implications of what a Curry injury would mean for the Blazers-Clippers series and the whole league.
We will have another episode after Monday's Blazers-Clippers Game 4, where the Clippers will either take a commanding 3-1 lead or the Blazers will get us locked into a series that should take us to the weekend.
As always you can follow the Bulls vs. Blazers NBA Podcast on Soundcloud, iTunes, or Stitcher Radio. Leave us a five star review.