Blazers shootaround notes: Allen Crabbe hopes to turnaround poor postseason start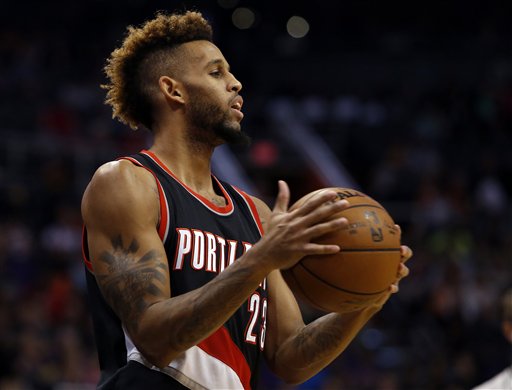 Allen Crabbe hasn't had a good series and he knows it better than anyone. Crabbe spoke to reporters prior to Portland's morning shootaround ahead of Monday's pivotal Game 4 against the Los Angeles Clippers in their best-of-seven first round series. The Clippers hold a 2-1 advantage but throughout all three games, Crabbe's absence as a productive player has been a constant.
"(I) really haven't had the series that I've wanted to, but we've still got more games to play so there's no reason for me to dwell on what's already done," Crabbe said Monday. "Go into tonight with a better attitude and be able to change things that I haven't been able to do."
Crabbe, who hasn't made a shot in the series, quickly cut to the chase on what he would like to change in the series. So far, Crabbe is 2-of-12 from the field overall and he has yet to connect on a 3-pointer after making 112 3-pointers in the regular season. If he hit four 3-pointers tonight his playoff average would still be below his season average in terms of 3-pointers per game.  But he even though he's as unhappy as we've seen him, he's still trying to keep the Cool Breeze about him.
"I want to make a shot," Crabbe said. "I've had ups and downs this season, I've struggled, I've gotten out of struggles. I'm not really worried about my play. But right now I mean we've got more games left to play and if I worry about if I haven't produced the way I wanted to it will only continue to be this way."
Crabbe has gotten the match-up against Jamal Crawford for most of the series and so far he's been unable to make Crawford pay for guarding him on the other end. Crawford had his best game of the series in Game 3 and Crabbe has guarded him on most of the series.
"He's a good offensive player," Crabbe said of Crawford "He looks to draw fouls on the offensive end but I mean I feel like it's been pretty solid against him. I think he had a good game last game. Playing him so many times you get comfortable, you know what he likes to do on the offensive end so it's just going to be about limiting that and taking those things away."
[soundcloud url="https://api.soundcloud.com/tracks/260833453″ params="auto_play=false&hide_related=false&show_comments=true&show_user=true&show_reposts=false&visual=true" width="100%" height="450″ iframe="true" /]
But even though Crabbe is preaching the gospel of not worrying about whether his shot will go in to play solid defense, the thing that has set Crabbe apart for most of the season has been his ability to not only knock down open shots, but be relied upon at times as a creator. Just seeing the ball in the basket may help.
"I can't go back and change it so just look at the film, identify the areas that I can find better shots, get more shots, do something on the offensive end to get me going," Crabbe said. "Just seeing the ball go through the hoop that gives you a lot more confidence. Just find other ways to contribute."
Head coach Terry Stotts said that he wanted to impress upon his team what they did to win Game 3.
"For me it's important to remember what we did to win Game 3," Stotts said. "We have to stick with that. And now it's nice to have Game 4. It's nice to be down only 2-1 but we have to hold home court."
Those things will mostly include improved ball pressure from perimeter players and the improved rim protection the Blazers have had in Game's 1 and 2. Veteran center Chris Kaman has helped some with the physicality in limited minutes, but overall the Blazers know they have to be the more physical team.
"I think he certainly helped with it," Stotts said of Kaman. "We were more aggressive, particularly defensively throughout the game whether it was Chris or anybody else."
Doc Rivers commended the Blazers while at the same time calling out his team after Game 3, saying the Blazers were the "more physical" and "tougher team."