The Scouting Report: Los Angeles Clippers, Game 3
Projected starting line-up: Chris Paul, JJ Redick, Luc Mbah a Moute, Blake Griffin, DeAndre Jordan
Now's the time that teams start to settle into knowing most of what the other team is doing in the series. Terry Stotts said it Friday at practice that as the series goes on, there are fewer and fewer things to change. So then, what will happen in Game 3?
After watching Game 2 once and watching it once again in the days after, the Blazers prepared a much better game plan, which the team mostly followed to script. They found good solves for the different coverages that the Clippers were bringing and even though the Clippers changed things up, they stuck to the principles of their offensive game plan. But they shot 28.9 percent on uncontested jumpers according to NBA.com. They also made some fixes defensively, but they still have some very easy tweaks still left on the table.
Offense: Plumlee helping Lillard, DeAndre eating things up
There have been a lot of comparisons between this rocky 0-2 start in the best-of-seven series to the Blazers' rough start to the regular season. But one thing in Game 2 did remind of their early season journey where they were able to find shots for their best player, unable to get going, thanks to their playmaking center.
Mason Plumlee developed as a release valve for Lillard as the season went on and became a crucial part of most of Portland's closing line-ups because of his ability to make life easier on Portland's All-Star. He did so again in Game 2, rebounding from a terrible Game 1.
Here's a play where the Clippers aren't trapping, but Plumlee comes up to help Lillard.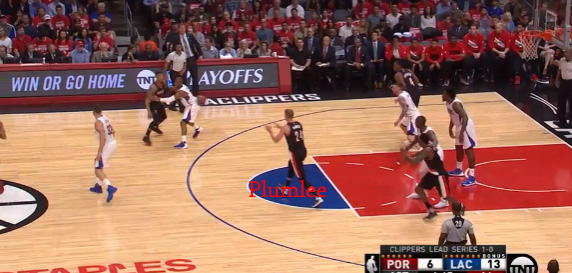 That gives Lillard enough breathing room to dart to the hoop and get a rare open opportunity.
It also has the added benefit of dragging DeAndre Jordan away from the rim. It worked again here in the second quarter.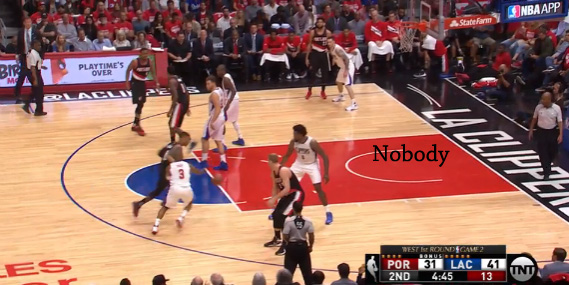 Plumlee didn't let Jordan discourage his dribble and he also scored some points, which the Blazers desperately need. He found open shooters, but most importantly, Lillard was the one who benefitted the most. It's hard to imagine a scenario in which the Clippers key in on Plumlee's creation and suddenly have him take priority over Lillard and McCollum. But because of that adjustment Lillard had 12 uncontested field goal attempts in Game 2 according to NBA.com. But he made only three one game after going 4-of-6 on those same shots. The Clippers will probably look to limit those looks, meaning players on the backside of players should be open. Plumlee again will have to make good decisions.
Lillard also got a couple of situations that almost anybody would like him in. I wrote in the scouting report for Game 2 that I thought getting Lillard in some isolations situations would be a good way to get him going. He got a few of those in Game 2.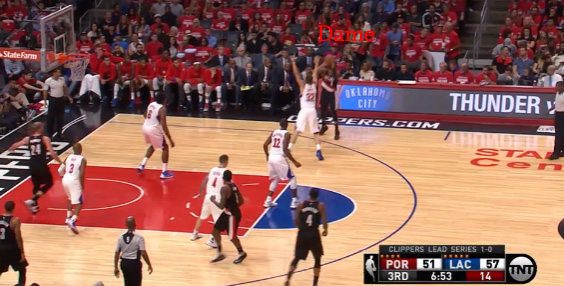 This isn't one of those "uncontested" shots, but one that Lillard has to be hitting if he is really on his game. That's one of his classic shots, especially after getting a big man on a switch. If he's not hitting that, the Blazers are in for another gentlemen's sweep.
But he could also get some help from teammates when he has an opportunity. Here, Harkless kills the spacing and in the process, a scoring chance for Lillard.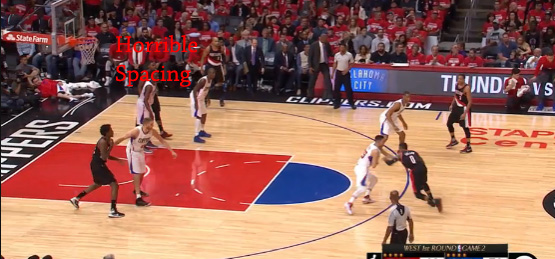 And the horrible spacing ends up killing the drive from Lillard.
But part of the problem, a rather large part, for the Blazers has been the play of Jordan. Jordan has turned nearly every Blazers drive into a disaster. Not only have the Blazers been unable to make the Clippers pay on the rare opportunities from the perimeter, but Jordan has made them meek at the rim.
Here Jordan deters two Blazers drives in one possession. First Lillard, then Crabbe.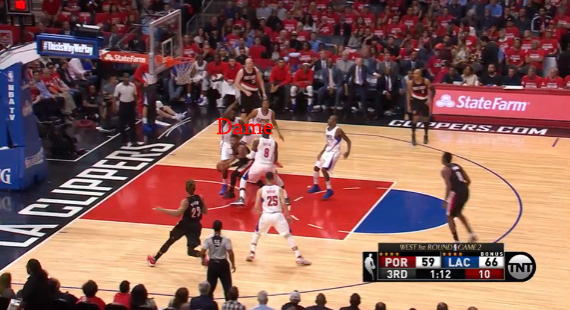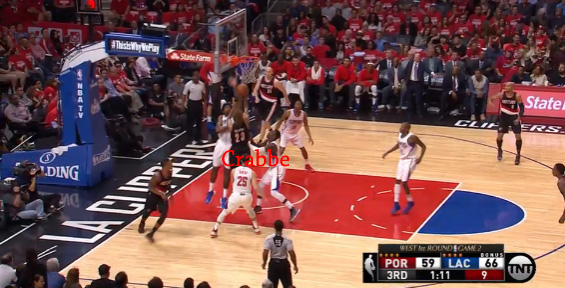 Harkless' ability as a finisher was one of the things that made him so valuable to Portland's late season run. He did make some unexpected 3-pointers to make up for it, but Jordan has made Harkless, perhaps Portland's best finisher at the rim a non-factor where he's at his best. He's shooting 40 percent from less than three feet in the first two games after shooting 66 percent at the rim in the regular season. It's a two-game sample, but there's been enough of the above that makes you think Jordan is a monster the Blazers simply don't have an answer for.
The Chris Kaman minutes in the first half weren't bad and he actually has the best net-rating for the Blazers in this series according to NBA.com. I think the he's earned the right to get another look early on again. But if Jordan's in the game, or ever really, they don't need to force-feed him in the post. The Blazers need a shooter and passer in that spot at center to run dribble hand-offs and pick and rolls to get something going for their guards. Even if Kaman gets a post-up to score, the Clippers won't double him and nothing is going to open up. If he hits some jumpers that's another story. I still like Aminu at center as an option and perhaps it's a safer one against the Clippers second unit. Kaman should at least get the first quarter rotation that he got again and Stotts could even consider going to him earlier and using the Hack-A on Jordan earlier than he has in the first two games.
Trying to take Jordan out of the series, one way or another, has to be the priority for the Blazers. It just may not be possible. But nothing matters if the Blazers keep missing shots like these.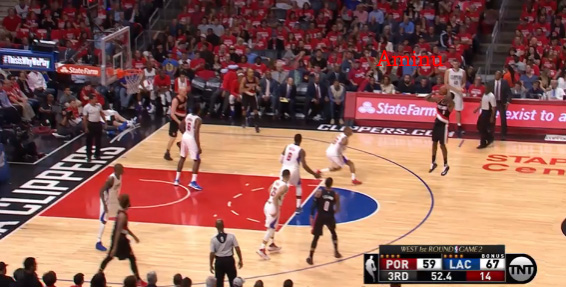 The Clippers will continue to change it up. Jordan will drop back some and mix up his traps. They know they can't give Lillard the same look and have it succeed. It will be on the Blazers to read, react and work hard for looks as they did in Game 2 and hope that those home rims give them a little love.
Defense: Guarding Griffin and…Austin Rivers?
Defensively, the Blazers also did much better in the aspect of game planning. Instead of wasting their best length and athleticism on offensive non-factors, the Blazers started the game with Moe Harkless on Chris Paul. That allowed them to stick more length on Paul, which didn't stop him, but at least made things harder. It appeared that their defense on Griffin as a whole was more effective thanks to fewer breakdowns and fewer times getting point guards on him. He went 3-for-12 overall, probably a bad sign for the Blazers in hindsight since they lost that game, but an indication their changes had some effect.
On the first post-up of the game, Harkless is able to help and it leads to a steal. He's able to cover more ground and help.
Here again the change in personnel allows the Blazers to keep someone of elite athleticism and height to keep up with Griffin at all times. Here Griffin scores anyway but that's what you have to live with.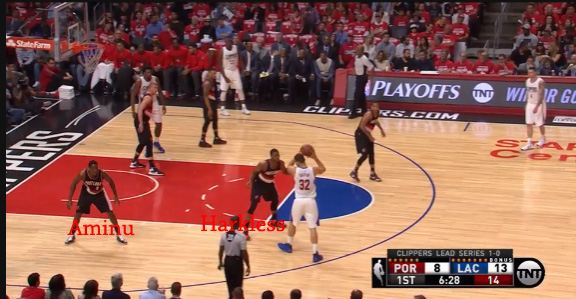 Harkless also has a whole host of obstacles when it comes to guarding Paul, something he's not really used to doing. "It's a lot different. I just have to be careful not to let him draw fouls and stuff like that," Harkless said before practice Friday. "A lot of switching, pick and rolls and off the ball stuff. If Blake's in and Chief's guarding him we can switch that. If they bring a brush screen with Jamal or JJ we can switch that too. It allows us to do different things. He's obviously a great player."
The Blazers haven't exactly solved the Paul problem and they never will, but they know their best strategy on him. The same cannot be said for how they've covered back-up point guard Austin Rivers in the first two games, which I can't even believe I'm writing. Rivers, so far, has an effective field goal percentage of 52.6 in the series, which is just one percentage point behind Paul. He has absolutely killed the Blazers and as they did in the starting line-up, they may want to relieve their point guards of the duty of guarding the primary ball handler on the second unit.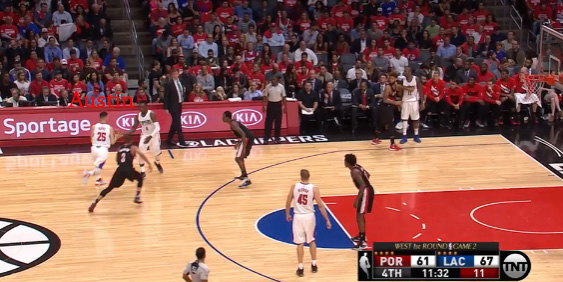 Here again we have a good defender wasted on a bit offensive player. McCollum is the one currently on Rivers. The task of guarding Redick has been a tough one for him and since the Clippers defense has turned things up about 100 notches, perhaps the Blazers should consider limiting his defensive load when he's in at point guard. I think he can hang with Wes Johnson and it could snag him some rest. Here McCollum does a good job staying in front of Rivers but you have to wonder whether his energy is being wasted.
Lillard was also on him when he came into the game. With the Clippers running a lot of pick and rolls with Jeff Green, putting Henderson on the primary ball handler, Rivers, would allow the Blazers to more easily switch just like it did with Griffin. Rivers hits a tough shot on this one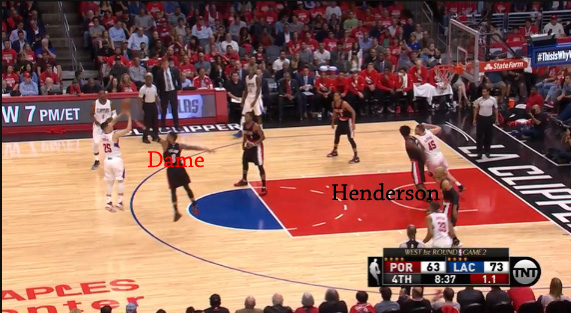 The Clippers' bench has been as much of a problem as the Clippers starters have been so far for the Blazers in this series.  The starters have been dominant but the Clippers all-bench unit of Rivers, Jamal Crawford, Wesley Johnson, Jeff Green and Cole Aldrich has a net-rating of +32.1. They're outscoring Portland's reserves 76-52, which includes some garbage points from Portland reserves.
As much as it's on Blazers reserves like Crabbe and Ed Davis to pick up their games on an individual basis as the series shifts scenes, they could also swallow their pride a little bit and stick a bigger guy on Rivers to try and stem his penetration. They need to do something because in the first two games, he's killed them and returning home can't be counted on to change everything.