Blazers G CJ McCollum wins 2015-16 NBA Most Improved Player Award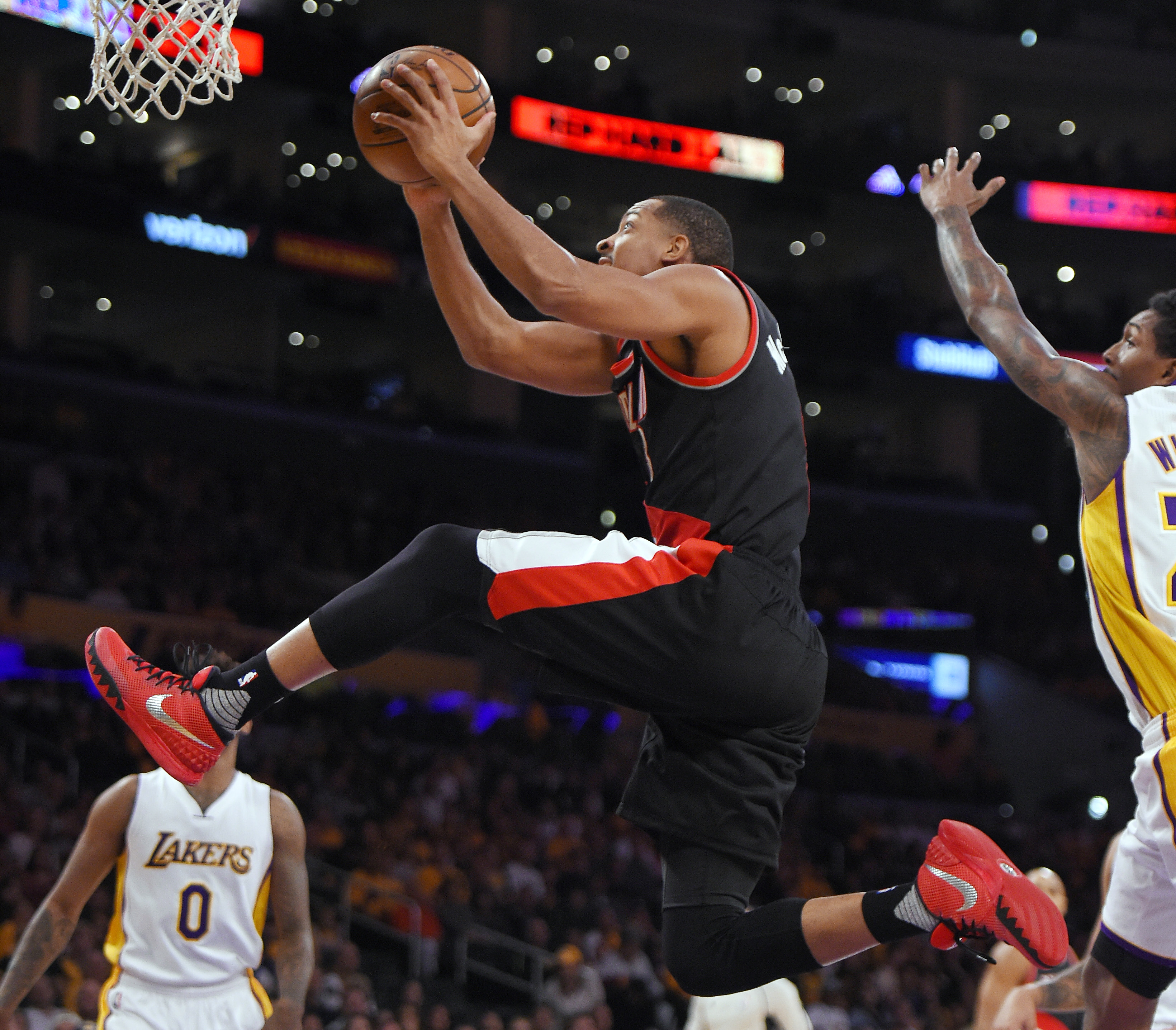 Portland Trail Blazers guard CJ McCollum was named the NBA's Most Improved Player award winner for the 2015-16 season Friday morning. McCollum received 101 of the possible 130 1st place votes, winning in a landslide. Charlotte Hornets guard Kemba Walker came in second in the voting while Milwaukee forward/guard Giannis Antetokounmpo finished third in the voting.
McCollum becomes the third Blazer to win the Most Improved Player Award along with Kevin Duckworth (1987-88) and Zach Randolph (2003-04).  McCollum was a key figure in the Blazers making the playoffs, averaging over 20 points per game as the starting shooting guard and helping the team become the fifth seed in the Western Conference.
McCollum also doubled his assist percentage this season, taking on the role of the team's back-up point guard while keeping his turnover percentage around the same despite upping his usage-rate to 27 up from 20.
"Being recognized as the Most Improved Player in the NBA is a testament to the dedication and commitment to his game CJ has shown since joining the Trail Blazers," said president of basketball operations Neil Olshey in a press release.
McCollum, of course, made a huge jump in scoring, the biggest in the NBA this season and one of the biggest jumps of All-Time. McCollum's 14-point jump in points per game was the biggest since Tony Campbell's scoring average jumped 17 points in the 1989-90 season. McCollum and Damian Lillard also became the first Blazers backcourt ever to have two players average over 20 points per game.
McCollum dealt with injury and playing behind veterans in his first two seasons. But those tough times made it even sweeter.
"It just means a lot to struggle, I take pride in struggling," McCollum said. "Being 5-2 180 pounds, all the girls being taller than you in high school. You have an appreciation for good things coming your way. Understanding you have to work to get success. You got to judge a man, don't judge me after 37 vs New Orleans. Judge me after 3-of-11 in LA, judge how I respond to adversity. Everybody is good when things are sweet and going your way. I pride myself on being able to bounce back from things. Be able to not only prove people wrong and solidify what I already know and that's sustaining a high level of excellence."
"CJ worked extremely hard to have the season that he had this year," said Trail Blazers head coach Terry Stotts in a press release. "His work ethic and commitment to improve is the reason he is deserving of this award. He is an example to everyone what can be accomplished with diligent practice and a belief that you can always get better."
The winner of the Most Improved Player Award gets a new Kia Sorento. McCollum will donate the brand new car to the Boys & Girls Club of Portland Metro.
Complete voting results 
1st Place (5 Pts)     2nd Place (3 Pts)   3rd Place (1 Pt)            Total
CJ McCollum (Portland)             101                          14                           12                    559
Kemba Walker (Charlotte)             7                              37                           20                    166
Giannis Antetokounmpo (Milwaukee)4                         17                           28                    99
Stephen Curry (Golden State)        7                              13                           9                      83
Will Barton (Denver)                      1                              16                           9                      62
Jae Crowder (Boston)                     1                              8                             16                    45
Draymond Green (Golden State)   2                              10                           3                      43
Isaiah Thomas (Boston)                  3                              3                             6                      30
Hassan Whiteside (Miami)             1                              6                             3                      26
Kawhi Leonard (San Antonio)       1                              2                             7                      18
Andre Drummond (Detroit)           1                              1                             3                      11
Gary Harris (Denver)                      1                              —                            1                      6
Kent Bazemore (Atlanta)               —                              1                             1                      4
Evan Fournier (Orlando)                —                              —                            4                      4
Rodney Hood (Utah)                     —                              1                             —                      3
Russell Westbrook (Oklahoma City)–                           1                             —                      3
Reggie Jackson (Detroit)                —                              —                            3                      3
Ian Mahinmi (Indiana)                    —                              —                            3                      3
Zach LaVine (Minnesota)              —                              —                            1                      1
Kyle Lowry (Toronto)                    —                              —                            1                      1
ALL-TIME KIA NBA MOST IMPROVED PLAYER AWARD WINNERS
1985-86                       Alvin Robertson, San Antonio
1986-87                       Dale Ellis, Seattle
1987-88                       Kevin Duckworth, Portland
1988-89                       Kevin Johnson, Phoenix
1989-90                       Rony Seikaly, Miami
1990-91                       Scott Skiles, Orlando
1991-92                       Pervis Ellison, Washington
1992-93                       Mahmoud Abdul-Rauf, Denver
1993-94                       Don MacLean, Washington
1994-95                       Dana Barros, Philadelphia
1995-96                       Gheorghe Muresan, Washington
1996-97                       Isaac Austin, Miami
1997-98                       Alan Henderson, Atlanta
1998-99                       Darrell Armstrong, Orlando
1999-00                       Jalen Rose, Indiana
2000-01                       Tracy McGrady, Orlando
2001-02                       Jermaine O'Neal, Indiana
2002-03                       Gilbert Arenas, Golden State
2003-04                       Zach Randolph, Portland
2004-05                       Bobby Simmons, L.A. Clippers
2005-06                       Boris Diaw, Phoenix
2006-07                       Monta Ellis, Golden State
2007-08                       Hedo Turkoglu, Orlando
2008-09                       Danny Granger, Indiana
2009-10                       Aaron Brooks, Houston
2010-11                       Kevin Love, Minnesota
2011-12                       Ryan Anderson, Orlando
2012-13                       Paul George, Indiana
2013-14                       Goran Dragic, Phoenix
2014-15                       Jimmy Butler, Chicago
2015-16                       CJ McCollum, Portland