The Scouting Report: Los Angeles Clippers, Game 2
Projected starting line-up: Chris Paul, JJ Redick, Luc Mbah a Moute, Blake Griffin, DeAndre Jordan
We could see some slight rotation changes in Game 2 for Portland, which become much more noteworthy in the best-of-seven format. More importantly though, the Trail Blazers left a lot of little stuff on the table for the Clippers in Game 1 and just cleaning up what they did in Game 1 could be enough to restore competitive balance in the series. Damian Lillard had a good game and the story after Game 1 was that everybody needed to help Lillard by being able to knock down shots. McCollum will likely wake up and they need it to come quick. But Lillard and CJ McCollum could use a hand in ways that don't count for points but could pay off for the Blazers.
Allocation of resources
Chris Paul is an All-NBA point guard and one of the best to ever lace them up and while Damian Lillard worked hard against him, the Blazers need too much from him to force him to go through pick and roll after pick and roll against Paul. The Blazers also need a great deal from CJ McCollum, who had to chase JJ Redick around. This has to change for the Blazers, but really, only one of them will be able to change. And right now Paul should be priority No. 1.
It's not that simply putting bigger, more athletic defenders on Paul will be a major difference but the Blazers would perhaps see the benefits of a lightened load on their two best players. The Blazers have the advantage in this series when it comes to playable wings. Allen Crabbe, Gerald Henderson, Al-Farouq Aminu and Maurice Harkless collectively bring more to the table than poo-poo platter of Luc Mbah a Moute, an aged Paul Pierce, Jeff Green and Wesley Johnson, at least in theory. But let's start with Mbah a Moute who starts and played 19 minutes in Game 1. The Blazers did nothing to make Doc Rivers pay for playing a non-shooter and wasted good defenders on him.
Let's look at some situations where putting a good defender on an offensive non-factor hurt the Blazers in Game 1, situations that can't happen in Game 2.
Mbah a Moute
Crabbe came into the game earlier than normal because Harkless picked up two early fouls. But he came into the game to guard Mbah a Moute and seemed to lose focus. Here, after stepping towards Griffin to take away a midrange shot, his first step in trying to close the rotation pass to Mbah a Moute is towards the 3-point line. Here Crabbe shows a lack of awareness in personnel and it opens a baseline drive for Mbah a Moute which led to a basket for DeAndre Jordan.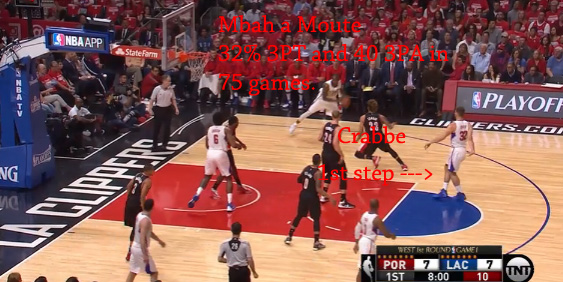 There should be no excuse for Crabbe to lose focus but here he does and it would be a lot less likely for him to lose focus when he has the marquee match-up against Paul. Here Harkless is on Mbah a Moute in the third quarter while Lillard fights in the lane.
The Blazers have one clear advantage in this series and that is their collective group of effective wing players that are 6-foot-6 or taller and bring some kind of offensive game. They have more of those guys than the Clippers do. Lillard didn't do a bad job against Paul and McCollum looked up to the challenge against Redick, keeping him from the 3-point line (3 3-point attempts, season average was 5.6). But it's a waste of their energy, energy the Blazers will need from them if they are to take down the Clippers. They are a very, very good defense and they need their star players to burn brightest. It also would help to have more length on Paul because of all the situations the guy guarding him is put in.
Redick off ball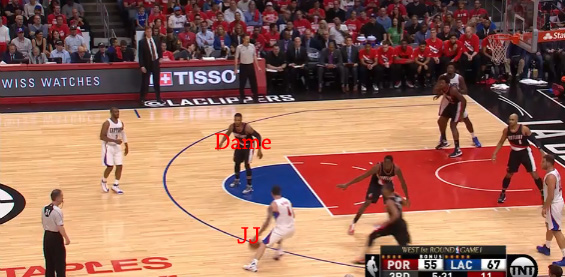 Here, the player to help on the Redick curl is Lillard instead of the player it probably should be: Gerald Henderson, who is on the right block on this play waiting to box out Mbah a Moute, who is out of the picture. Henderson is a really good defender and shouldn't be wasted there! The Blazers don't need to make wholesale changes. They just need to allocate their resources better and that starts with putting their best defenders in the middle of the action. .
Griffin-Paul pick and roll
Another good reason to have Harkless on Paul is that the Clippers frequently run the double pick and roll for Paul with Griffin setting the first screen to create a switch. It gets a bigger forward, usually Aminu, on Paul, but also gets a smaller player, Lillard in this case, on Griffin. If Harkless or perhaps Crabbe are on Paul instead, at least there is a bigger body on Griffin to rebound or post-up.
Lillard and Henderson end up switching to get a bigger body on Griffin, but if there is a bigger player on Paul to begin with there should be no anxiety as to who has Griffin.
Too much on Dame
Remember the signature moment of Game 1 with the sage star in his prime Paul schooling the young Lillard before hitting a jumper? Well, all the other Blazers who were on the court with him surely do as well.
Lillard told reporters in Los Angeles he would see less time on Paul. But even when Lillard is out, CJ McCollum shouldn't be asked to add more to his plate either. Here, instead of being on Crawford or Paul Pierce, he is on Paul, and ends up on Pierce on a switch. If that's Crabbe, you like your chances a lot better. And it's unnecessary. The Blazers need McCollum and Lillard to get buckets and their best defenders aren't getting a chance to do what they do best. And if the Clippers want to set up a post-up for Pierce on the block against McCollum, the Blazers should welcome that. But the spot above the free-throw line is where Pierce has been at his best and it's still his bread and butter at 38.
Crawford is a three-time 6th Man of the Year and Pierce is a playoff legend. But the Blazers should prioritize Paul and have their longest, most athletic players on him. Whether it's Harkless, Henderson, Aminu or Crabbe, the Blazers should be aware at all times that one of them is on him. Paul is in the 89th percentile in pick and rolls according to Synergy Sports while Crawford is in the 60th.
Given what Lillard said and how things looked in Game 1, allocating their resources more effectively towards stopping Paul will be the most important adjustment going into Game 2. Making things easier on the switches with Griffin is an added bonus of putting the small forward on Paul and Lillard has proven to be up to the task against bigger players in the post. Harkless will have double duty getting Paul and Griffin at times, but the Blazers will need he and Aminu to be up to the task to have a shot.
Cut out rookie mistakes
As good as the Clippers were in this game, the Blazers may have been worse. Mason Plumlee's presence in the series suddenly became questionable. He was completely dominated by Jordan but he has been too good this season for the Blazers and too crucial as a playmaker to lose his spot after one game. This isn't like Robin Lopez towards the end of last season who struggled for a solid month before struggling in the playoffs last year. Plumlee just can't do stuff like this in the first minute of the game.
It gets worse. He then acts as if he is going to pressure Paul in the backcourt.
Guess what it leads to? Harkless' first foul before the SAP disclaimer goes off the screen.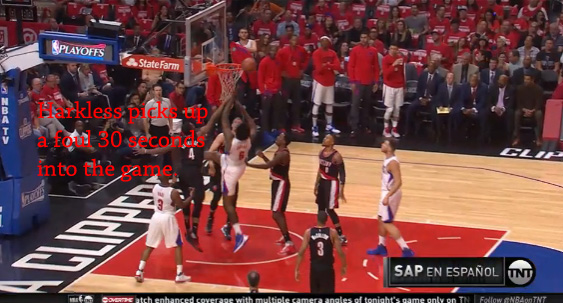 Harkless committed his second a few minutes later and had to go to the bench, playing just eight first half minutes.  Plumlee's handles also got locked down by Jordan. His playmaking has come in the form of sometimes leading the break or breaking down the defense and driving. Plumlee had 0 assists after having only four games in 82 with 0 assists.
The Blazers also can't have these moments at the end of halves. Lillard was their best player, but here he was asleep at the wheel against Paul, which again speaks to the load he had to carry in Game 1.
Teams who win in the playoffs can't make these mistakes. They also need to make shots.
Aminu and Harkless open
Early in Game 1, Blake Griffin made it clear how much respect he had for Al-Farous Aminu's jumper.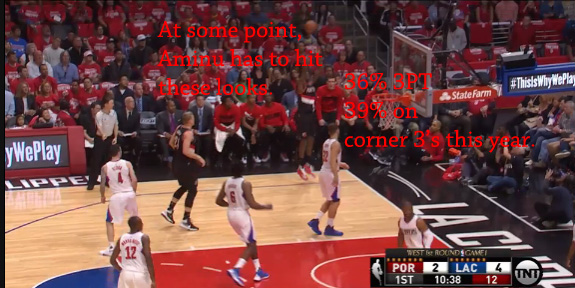 Aminu's bad shooting even had an effect on how his teammates were playing. Here Plumlee drives the lane and DeAndre Jordan is on Aminu, who manages to float away from the action. But Plumlee ignores him to throw up a running fadeaway that gets blocked by Griffin.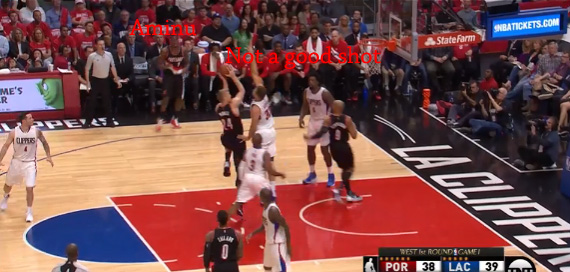 The bigs for the Clippers are leaving the Blazers forwards open. Here Harkless has a wide open look.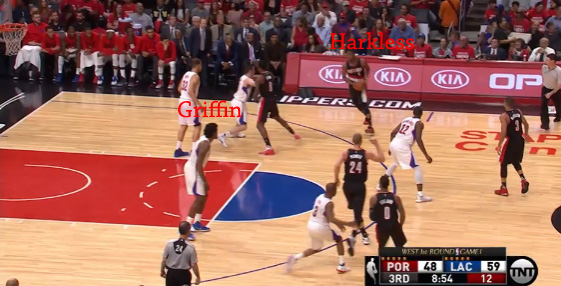 Harkless misses but it wouldn't be a badd idea to try and run to the rim with nobody there. He's probably the only Blazer athletic enough to finish strong with Jordan around the rim.
Let Dame cook
I know I said Damian Lillard had a good game but the Blazers did some things in Game 1 that they could do more of to make things easier on their best player. Here the Blazers start one of their normal actions with a guard-guard pick and roll which gets the Clippers to switch Crawford onto Lillard.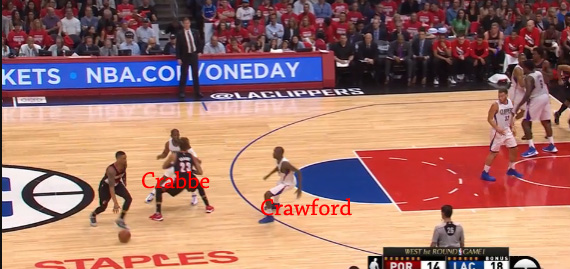 Then they get a screen coming from Davis.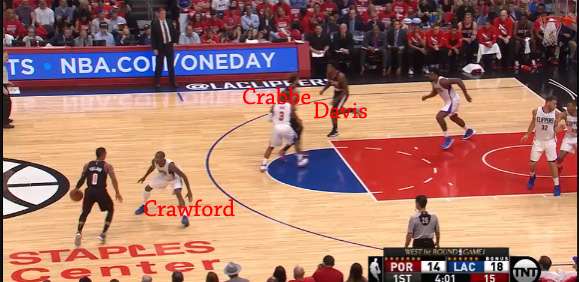 Now I want to focus here because Lillard has a read available. He can wait for Davis to set a screen and bring Jordan into the fold, or if he wants to attack Crawford he can go right away. He ends up taking the screen on this play, but if the Blazers can get Lillard in more of these situations it would likely help. The Blazers don't need to stop running pick and rolls, they just need to run them differently and better. Lillard has also been one of the best isolation players in the league  since coming into the NBA (4th in points per possession among players who isolated on 100 possessions or more according to Synergy Sports) getting him one-on-one situations against Crawford or Redick are something he should take advantage of.
The Chris Kaman question
Chris Kaman got some run in Game 1 and looked like a nice addition, especially with his combination of midrange shooting and good passing. But whose minutes does he get and when does he get them? Plumlee has been too important for the Blazers success and ball movement to get yanked now and Davis has earned the back-up center position.
Stotts didn't go to the Plumlee-Davis front court likely because the Clippers shut everything down with four shooters on the court. Will the Blazers really try to mix it up and just send Plumlee and Davis as battering rams towards the offensive boards? For stretches, perhaps, but Kaman presents another option to stay big and also get some offense. But there's an issue that Kaman himself pointed to and that's that he hasn't played all season and may not be able to keep up in a fast-paced series since he's not really in the shape he would be had he been a rotation player all season.
Starting him won't be viable when the starting line-ups played at a pace of 104.95, which is two more possessions than the fastest paced team in the league this season. Against the slower-paced Clippers line-ups anchored by Cole Aldrich is the best option for Kaman to make an impact. Davis will likely join him and the Blazers will take their chances with him on Jeff Green. You lose Harkless at power forward, so we'll see which one the Blazers value more.
Kaman getting the call in Game 1 was a sign that they will likely see what they have in him before making this series really weird.
The Blazers are close enough they don't have to make a major adjustment like playing five perimeter players and using their wing depth to try and force Jordan from the game. It's a risk with foul trouble and all, but eventually an option they will have to go to. But if Aminu or Harkless make a few shots and they are able to slow down Paul even just a little bit while also cleaning up simple mistakes, they can make this a series without a major adjustment.
The options are there, but the Blazers' main focus in Game 2 should be cleaning things up and stop giving the Clippers easy, avoidable advantages. It should be more competitive than Game 1 and the Blazers can still get back into this series, which give us a grand total of two competitive Western Conference series'. If not, pushing the game to the extremes with super small line-ups will be the last card the Blazers have left to play.
Images and stats from NBA.com/stats unless stated otherwise