Clippers G Jamal Crawford wins 6th Man of the Year Award, Blazers' Ed Davis receives 1st place vote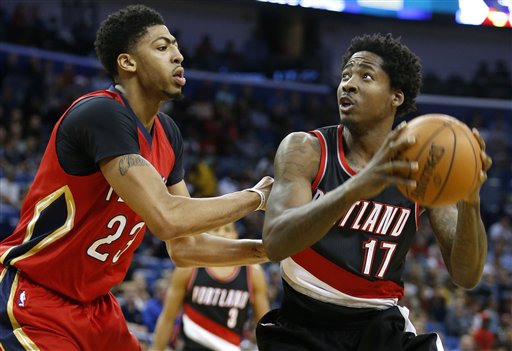 Los Angeles Clippers shooting guard Jamal Crawford took home his third NBA Sixth Man of the Year Award, the league announced Tuesday morning. At 36 years old, Crawford is once again the oldest player ever to win the award. He won it two seasons ago at the age of 34.
The Portland Trail Blazers had a couple of players get votes, including Ed Davis, who finished 8th in the voting and received one first-place vote from Phoenix Suns broadcaster Tim Kempton. Davis got second place votes from Bulls broadcaster Neil Funk, ESPN.com's Kevin Arnovitz, Warriors analyst Jim Barnett, Hornets broadcaster Eric Collins and Andy Vasquez of the Bergen Record.
Blazers guard Allen Crabbe received just one third place vote from John Denton of OrlandoMagic.com. Former Blazer and current Nuggets swingman Will Barton finished 4th in the 6th Man of the Year voting.
Here are the full voting results. You can see who voted for who on NBA.com for every NBA award.
Player                      Team              1st Place (5 Pts)  2nd Place (3 Pts)   3rd Place (1 Pt)  Total Points
Jamal Crawford     L.A. Clippers          51                       23                          17                    341
Andre Iguodala        Golden State            33                       35                          18                    288
Enes Kanter             Oklahoma City         19                       20                          27                    182
Will Barton              Denver                     15                       21                          20                    158
Evan Turner             Boston                      3                         7                            10                    46
Ryan Anderson        New Orleans            4                         6                            5                      43
Jeremy Lin               Charlotte                  1                         6                            7                      30
Ed Davis                  Portland                   1                         5                            1                      21
Dennis Schröder      Atlanta                     1                         2                            6                      17
Tristan Thompson    Cleveland                 2                         —                            6                      16
Shaun Livingston     Golden State            —                         1                            4                      7
J.J. Barea                  Dallas                       —                         1                            2                      5
Boris Diaw               San Antonio             —                         1                            2                      5
Zach LaVine            Minnesota                —                         1                            1                      4
Darren Collison        Sacramento              —                         1                            —                      3
Allen Crabbe            Portland                   —                         —                            1                      1
Jrue Holiday             New Orleans            —                         —                            1                      1
Patrick Patterson      Toronto                    —                         —                            1                      1
Mirza Teletovic        Phoenix                    —                         —                            1                      1