The Scouting Report: Los Angeles Clippers, Game 1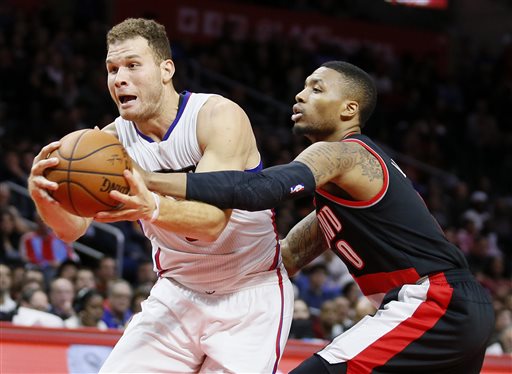 Projected starting line-up: Chris Paul, JJ Redick, Luc Mbah a Moute, Blake Griffin, DeAndre Jordan
The early games of the playoffs are often the most interesting. It's when teams exchange adjustment after adjustment. After game four or so, it's hard to see huge adjustments, other than complete line-up changes like what the Golden State Warriors did last year in Game 4 of the Finals. The Blazers-Clippers series provides a lot of interesting questions and perhaps what's most fascinating from a gameplan standpoint is there is very little film of these two teams facing off. Yes, they've played four times, but there has been circumstances in almost each one keeping us from seeing the two teams we will see Sunday night. Nov. 20 was the only game Blake Griffin played in, Damian Lillard had a stomach illness in the next meeting. Then it was the CJ McCollum line-up card snafu. The last meeting may be the one that will most closely give us a blueprint even though Griffin didn't play.
But that doesn't help us much as guarding Griffin is a priority for the Blazers in this series, even if he hasn't yet reached peak Blake greatness.
Guarding Blake Griffin
The Clippers navigated most of the season thanks to excellent play from Chris Paul, DeAndre Jordan and JJ Redick in the absence of Blake Griffin. Paul Pierce had to play more and they traded a first round pick for Jeff Green in order bolster their suffering wing depth after the Lance Stephenson trade didn't work out. And Griffin has only played once against the Blazers this season, a Portland win on Nov. 20. Griffin was the best Clipper that night but it could be hard to gather a lot from that night considering the Blazers are a different team since they moved Aminu to power forward and Harkless into the starting line-up. But we still could see some things we saw from the last match-up, especially Ed Davis on Griffin.
Look at how much space Griffin has here against Noah Vonleh, who is also expected to get time against Griffin.
Davis did a much better job of closing down the airpsace against Blake and getting into his dribble. Down the stretch of Portland's lone win, Davis was the one who guarded Griffin.
Griffin's game has evolved far beyond the post and while that's going to be a weapon, the Clippers offense often requires that Griffin float. And while Vonleh has the potential to one day be the perfect guy to guard Grififn, Davis has the veteran skills and the right amount of nasty to bother Blake in a series.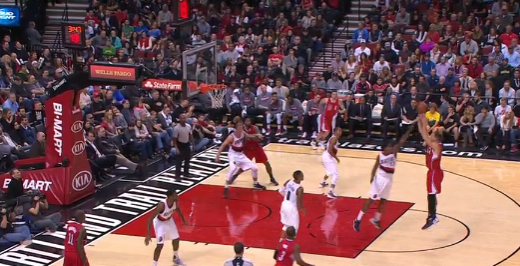 But the question then becomes, who will Davis share the floor with? Lately, it's been Aminu and Harkless cycling through at the power forward spot and both will guard Griffin at the start of the game. Davis shared the floor a lot with Plumlee a lot in that Nov. 20 game, also an option the Blazers can go to. The Davis-Plumlee frontcourt has seen limited minutes but has posted a nice net-rating (+17.9 net-rating in 96 minutes). The lack of shooting from two big men is just too much of a detriment for extended minutes. But we could see it at the end of halves and quarters because it may be Portland's best defensive 1-2 punch. But on both ends, things will depend on the duo of Harkless and Aminu, who have barely guarded him this season.
Aminu will probably get the first crack at guarding Griffin, something the Blazers did not go to in the November meeting but something both teams will expect. As Aminu said, the Blazers have "no choice" but to go small against the Clippers, which has been their guiding principle of attack in the last three weeks of the season. Aminu has probably been Portland's best post defender, allowing 0.84 points per possession, significantly better than Plumlee or Davis, according to Synergy Sports. Although Vonleh didn't do very well against Griffin in their only match-up, he has matured a little bit and will likely get a shot just because of his length and athleticism. Vonleh also ranks best in post-up defense in terms of points per possession on the Blazers, but those numbers don't account for the occasional loss of focus that would be brutal in a playoff series. Post-ups, especially when Griffin gets out in transition will be an important situation to guard Griffin in but Davis has proven adept at guarding him in the pick and pop. The Blazers' approach to guarding Griffin will come in waves and stages. Double teams will be risky when you account for his elite ball handling and passing, as well as the shooters around him.
If Griffin is Griffin, the Blazers will have to throw everything they can at him and it still may not work. But if they can limit him early on in the series and perhaps keep him from being able to play himself into peak form, that would be enough.
How will Damian Lillard get open? 
So the question of how the Clippers will guard Damian Lillard, especially in pick and rolls, was one that elicited an interesting but also predictable response from Lillard, who will be a key a figure in this series. In fact, I think he is the key figure in the series for the Blazers. But what has always made Lillard "Dame" is that he is ready for the task no matter the result, but he also knows how they will approach guarding him.
"I know that the bigs will be up high," Lillard said. "They'll try to make me get rid of the ball to the next guy to make the play. Sometimes I'm sure they'll trap just to be aggressive. They've been that way for the last couple of years with me. I know guard to guard pick and rolls they like to switch. It's a lot of things that I can do to counter what they like to do and try to make it work in my favor. It's a basketball game."
The Clippers are one of the few teams in the league that have their big men hedge high on pick and rolls or "show," which usually means cutting off a driving lane for the ball-handler. They also will trap him sometimes with Jordan or Griffin, but that is harder if Griffin is on Aminu who has been a solid enough 3-point shooter to make teams pay all season long. Paul is an All-NBA defender and sometimes, you need get the ball out of Lillard's hands to set him up for success. The Blazers will do plenty of that. Here's a dribble hand-off set from their most recent game where they get Lillard off the ball and set up a pick and roll with CJ McCollum and Mason Plumlee.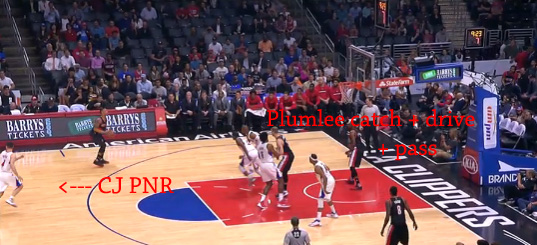 Lillard will get a hefty dose of Luc Mbah a Moute. Paul will have him early but putting a bigger body on Lillard is a tactic many have used and the Clippers likely won't shy away from sticking Mbah a Moute on him.
The other thing the Blazers will have to consider is how the Clippers will defend pick and rolls. Here, instead of blitzing high, Jordan is dropping back a little bit further since Ed Davis doesn't possess a shooting threat.
The oddly effective interior game of Moe Harkless
Moe Harkless is nominally the starting small forward but offensively for the Blazers he functions and plays as a big man a lot of times. And if the Blazers will need his off ball cutting and presence away from the ball in addition to good outside shooting from role players. Having his quickness at power forward with second units could be a weapon. But you won't see him space the court in the form of a tradtitional "stretch 4."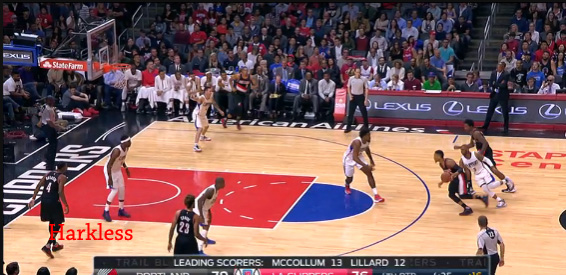 Harkless will get tested, however. The Boston game was an example of how shooting from the Blazers forwards can be the key that unlocks everything when Aminu exploded for 27 points. Aminu knows that he will get tested and asked to shoot. "They double CJ and Dame a lot and it's just on me to stand there and knock down open shots. Hopefully I can continue that," Aminu said. Harkless will have to approach this series with an optimistic attitude as well because he will get left open like this.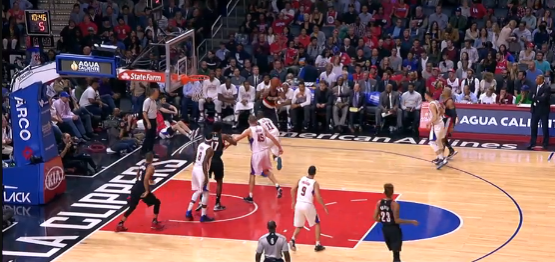 But his quickness and function as a power forward can cause problems for bigger forwards who aren't used to dealing with an athlete of Harkless' caliber. He's also an excellent finisher, posting a career-best 66 percent field goal percentage on shots three feet and closer according to Basketball-Reference.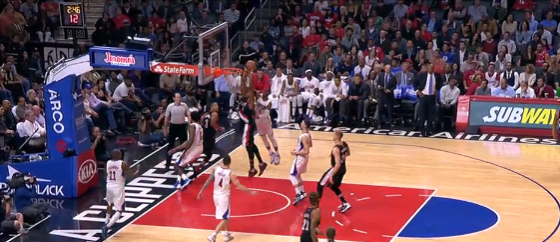 This series will be interesting and the ways that the Blazers guard Griffin and the Clippers guard Lillard will both be keys. Harkless providing relief with his cutting has helped recently and has to continue for Portland to have a chance. The Blazers have a lot of options against Chris Paul and we will definitely see some cross-matching. Even if Paul Pierce or Jeff Green are in at the three and the Blazers put Lillard on them, Lillard hasn't been elite or really that good, but should be adequate. He ranked in the 46th percentile according to Synergy Sports and defended the second-most post-ups on the team. If nothing else, Lillard is experienced enough in those situations for the Blazers to feel comfortable doing it without giving anything up.
See you after Game 1!