Blazers to face Los Angeles Clippers in first round of the 2016 NBA Playoffs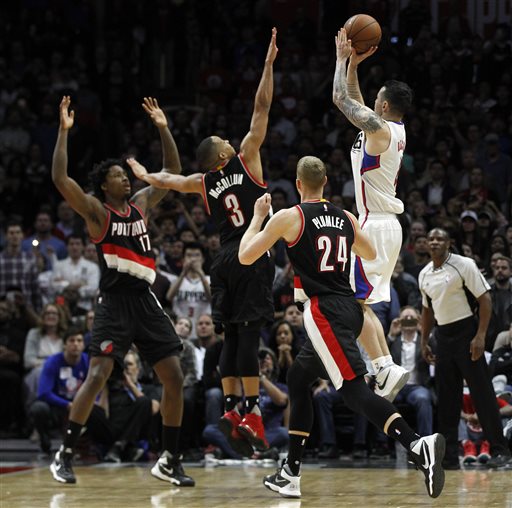 Playoffs! The Portland Trail Blazers will face the Los Angeles Clippers in the first round of the 2016 Western Conference playoffs, courtesy of a missed game-tying shot by Blazers legend Raymond Felton. I hope you all like watching Luis Montero.
The Blazers went 1-3 against the Clippers in the regular season. They began the season series with a 102-91 victory on Nov. 20.They lost a couple of days later in Los Angeles, 102-87, when DeAndre Jordan set a franchise record 34 free-throw attempts. The third match-up was the most eventful but it wasn't competitive as a clerical error left CJ McCollum on the inactive list for the game on Jan. 6, 109-98. The Clippers won 96-94 in the most recent meeting in Los Angeles on a JJ Redick buzzer-beater on Mar. 24.
The full schedule for the playoffs is expected to be released at the conclusion of tonight's games. It sounds like the series will start on Sunday but we are awaiting confirmation from the league and the full schedule. Just because the Clippers are one of the more interesting teams and that the series will be played entirely in the pacific time zone, I think this series won't get banished to NBATV.
The Blazers face the Denver Nuggets Wednesday at 7:30 in a game that no longer means a whole lot. Head coach Terry Stotts said before the game that those of us would have to wait and see what the Blazers do with their players if their playoff match-up is already decided.
The Blazers see the Clippers as a good playoff match-up and most everybody else does too. Before the game, I met up with former Blazer Will Barton and he told me that he thinks the Blazers should give the Clippers "everything they can handle."