The Scouting Report: Denver Nuggets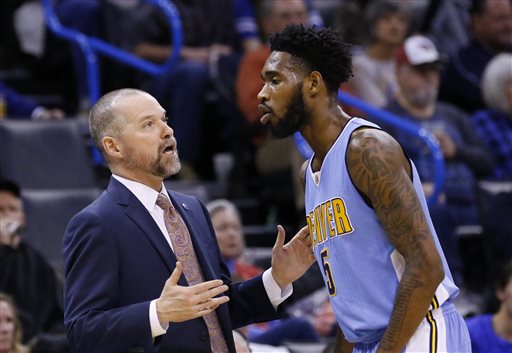 Projected starting line-up: Emmanuel Mudiay, Gary Harris, JaKarr Sampson, Nikola Jokic, Jusuf Nurkic
Injuries: Kenneth Faried (several injuries) is questionable, Wilson Chandler (hip) and Danilo Galinari (ankle) are both out for the season
The Denver Nuggets have been a fun team to watch grow this season even though they have been an afterthought in the greater NBA landscape. They have enough talent to win their final game of the season and play the ultimate spoiler against the Blazers. The Nuggets have lost four of their last five games but have invested in their young players towards the end of the season thanks to injuries. As we saw the other night against the Timberwolves, young players finally getting a chance to shine can be a challenge to any team.
The Nuggets are fresh off a 16-point loss to the Utah Jazz but are still equipped with a lot of players that can go off against you even if they don't have their most recognizable veterans like Kenneth Faried. Nikola Jokic and Jusuf Nurkic are both skilled big men with post moves who are tough. They will present size problems for the Blazers, but the Blazers best move against bigger teams recently has been to stick with small ball and force their opponent into an adjustment.
All of Denver's big men, with the exception of Nurkic, play like floor-spacers and aren't afraid to let it fly from beyond the arc. Portland's big men were content to let Karl-Anthony Towns shoot open shots and while the Denver bigs aren't as good as Towns, they can't allow their bigs to gain confidence shooting the ball. The Nuggets have also added JaKarr Sampson after he was waived by the 76ers since the last time these two teams met. Sampson adds athleticism and defensive potential.
Mudiay will present problems for the Blazers backcourt with his size. He still isn't a good outside shooter but he reads the game well so the Blazers can't just play the same coverage against him and think it's going to pay off. Off the bench, Will Barton has the green light to control things and he's improved a shooter. Overall, this season has been his most efficient in a bigger role. Gary Harris is blossoming.
The key in this game will be whether the Blazers can lock in defensively. The Nuggets are not a good defensive team and running the offense should get enough points against them to win. The Blazers beat Denver twice without Lillard. What the Blazers can't do is allow the Nuggets to find themselves in a shootout and get excited about spoiling Portland's plans of facing the Clippers in the first round.