Trail Mix: Brandon Roy discusses Blazers tenure, injury and retirement on JJ Redick Podcast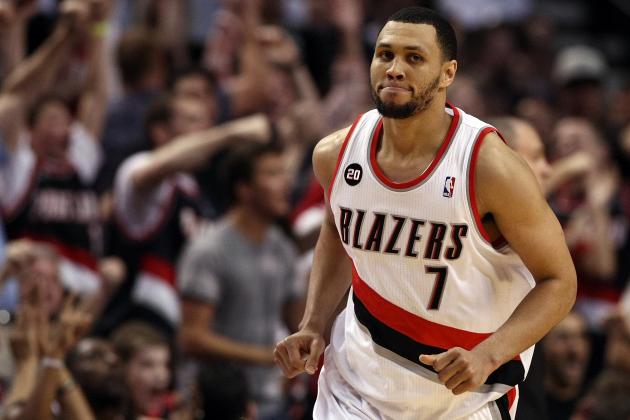 Although the playoffs are just around the corner, Blazers fans can enjoy a blast from the past. Former Blazers great Brandon Roy was a guest on The Vertical's JJ Redick podcast Monday. Roy talked about his journey to the NBA and he and Redick reminisced about being in the same high school and NBA draft classes. Roy also discussed his Blazers tenure, his bout with countless knee injuries and surgeries and how he and Blazers decided that it was right to call it quits.
Here's an excerpt transcribed by Casey Holdahl from the interview of Roy talking about how he views his career five years after his retirement.
The honest truth is I never asked, 'Why me?' because the first all-star game I ever played in was the NBA All-Star Game and I always looked at that like as a blessing. From the moment I sat there at the NBA Draft and the commissioner said 'With the 6th pick in the 2006 NBA Draft the Minnesota Timberwolves select Brandon Roy,' I said, 'Every moment from here is just like extra," because I had waited for that moment my whole life. I felt as a basketball player I gave those — honestly, I wouldn't say five because the fifth year I had two knee surgeries — but those four years, I played loose, I had fun and it was the best time of my life because I finally said, 'Hey, I'm going to take the pressure off because the hard part was getting here. Now I'm going to really enjoy it.' So I never sit back and say, 'Hey, why me?' What I do sit back and think about sometimes is, 'Man, what if I had great knees and never really been injured before. What kind of player could I have been? What kind of player could I have challenged to be?' A lot of people don't know, but even those four years where I was able to be an All-Star, I was in some pain. There were some games where I was like, 'Man, I don't know how I'm going to do this.' So it was pretty cool to be able to have a great career knowing that I had injuries, but at the same time JJ, we all go through something or we're all going through something as NBA players. So I just try to take all the good and appreciate everything and the lifestyle that I'm able to provide for my kids and my family. I'm grateful. I played at the highest level of basketball, I got to workout with guys like you and hangout with you and Chris Paul, I was able to talk to Kobe Bryant during games, so I'm grateful for the lifestyle I was able to live.
Roy was candid in talking about his experiences and also gave his list of the top shooting guards in the game. Though I'm sure Blazers fans will have something to say about the fact Roy left CJ McCollum off his list of the top-seven shooting guards.
Fear not, however, because it appears that McCollum is a lock to take home the NBA's Most Improved Player award. ESPN.com's Zach Lowe talked about that on his podcast with Jeff Van Gundy, where they went over the awards picks for the season. Lowe thinks it's a lock and although JVG would vote for Stephen Curry, he believes a vote for McCollum would be a worthy choice. Van Gundy went even further with that statement, saying he would support any votes for Trail Blazers because of what they've accomplished as a group. Van Gundy and Lowe talk about the Blazers at the 43-minute mark.
Speaking of McCollum, NBA.com's Lang Whitaker wrote a feature about him and his path to an award that is almost all but wrapped up.
With all due respect to all of the writers that work this Blazers beat, I don't think anybody in our market has done as good of a job of recapping the playoff seeding scenarios like Blazersedge. Eric Griffith and Timmay! have you covered there. It's pretty straight-forward now: if the Blazers win Wednesday they are the fifth seed, but they could get there before then with a Memphis loss and a Dallas loss before then.
Blazers back-up center Ed Davis was the Basketball-Reference Player of the Day. According to the Basketball-Reference twitter account, Davis has gone 339 consecutive games without attempting a 3-pointer. I love Basketball-Reference and Blazers fans love Ed Davis, who took home the 2015-16 Maurice Lucas Award.
"It means a lot," Davis said about the award. "Especially being here and just all of the fans appreciating all the hard work, every night. Just play hard, bring energy. Be a positive guy in the locker room, be a great teammate, give back to the community. Doing stuff that might not get the recognition or what not, I try to do those things."
Davis has been one of Portland's most consistent players and if not for the consistency of NBA award voters giving 6th Man of the Year to high-volume scorers, he'd have a legitimate case as 6th Man of the Year.
Finally, I have a new Bulls vs. Blazers NBA Podcast with Sean Highkin where we talked about the Warriors getting to the 72-win mark and more. We will have some live podcasts coming during the playoffs. Good news for Blazers fans: we both have Damian Lillard making 3rd Team All-NBA. Bad news: we don't actually have votes.
[soundcloud url="https://api.soundcloud.com/tracks/258394352″ params="auto_play=false&hide_related=false&show_comments=true&show_user=true&show_reposts=false&visual=true" width="100%" height="450″ iframe="true" /]