Arnovitz: Blazers assistant Nate Tibbetts a head coaching candidate to watch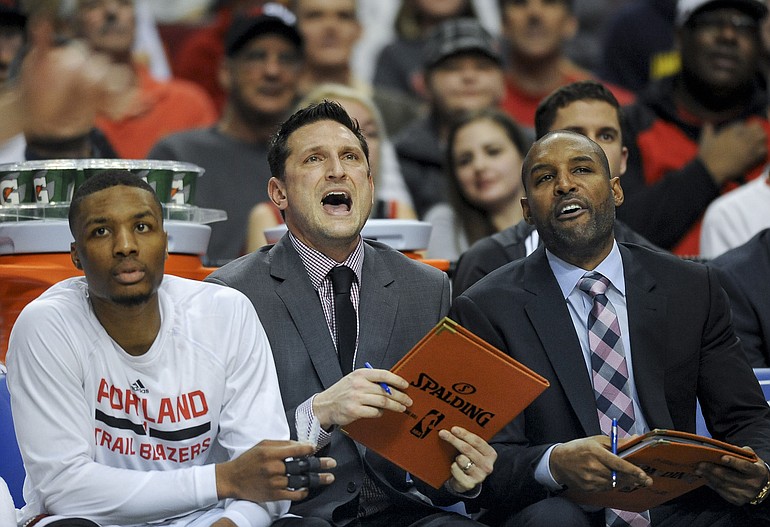 The Portland Trail Blazers coaching staff has been mostly the same for the past several seasons. There have really only been two changes since the beginning of the Neil Olshey/Terry Stotts era. Kaleb Canales moved on to Dallas after the 2012-13 season and the dismissal of Kim Hughes this past summer. Stability in the coaching staff has been one of Portland's great strengths and one that may get tested in the offseason.
Kevin Arnotvitz of ESPN.com published his annual list of the best potential head coach candidates, gathered by talking to league insiders, and Tibbetts made the list.
Though he's not a big personality, per se, Tibbetts' combo of player development chops, time as a head coach, positive energy and communications skills is starting to reach front offices around the league. With a slew of openings this spring and summer, Tibbets is likely to visit some executive suites after the Blazers' season ends.
Tibbetts' name making the list shouldn't be much of a surprise. He was a candidate to join Billy Donovan's staff in Oklahoma City last year. Arnovitz also reported that Tibbetts was a candidate for the Charlotte Hornets head job before they hired Steve Clifford. Tibbetts has head coaching experience, mostly in the NBA D-League. He also has excellent development chops, drawing praise from players he's worked with like Kyrie Irving, Wesley Matthews, Will Barton and even current players like Maurice Harkless, who is in the midst of a breakout moment.
It will be interesting to see if the Blazers can still maintain that stability. But just as is the case with the Golden State Warriors, success will start getting more front offices to ask about what it is they've got going on in Portland. That the Blazers have proven nearly every preseason prognostication wrong and have gotten improvements from their younger players throughout the season, it would behoove teams to look at candidates that are coming from an environment of success.
Assistant coach David Vanterpool has been interviewed to be a head coach candidate in the league before and also had some front office experience, which will no doubt make him a desirable candidate, if he wants to be one.