The Scouting Report: Oklahoma City Thunder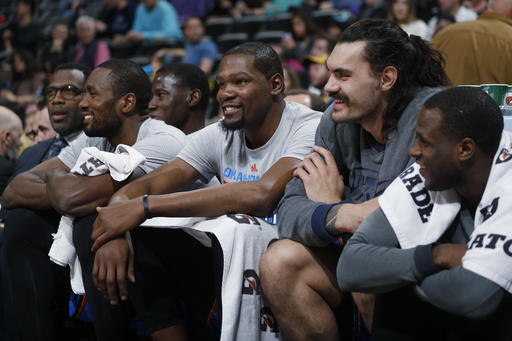 Projected starting line-up (if they don't rest players): Russell Westbrook, Andre Roberson, Kevin Durant, Serge Ibaka, Steven Adams
Important: Anthony Slater of The Oklahoman reported that the Thunder may rest players. They just wrapped up the No. 3 seed last night. While there has been no official word from the Thunder, this is a game where resting them makes sense for them. It also would help Portland catch Memphis and avoid the Blazers in the first round.
So, now that we have the housekeeping out of the way, let's talk about the Thunder. Regardless of who takes the court for the Thunder, they will be the No. 3 seed in the playoffs and despite all of their 4th quarter failures, still a dark horse to make it out of the Western Conference. The Thunder have historically been trouble for the San Antonio Spurs and the Golden State Warriors are starting to look weary.
If the Blazers don't have to worry about Westbrook and Durant, they'll probably need to prepare for some major helpings of Dion Waiters and Enes Kanter. Although those two players draw lots of ire for things they don't do well, they can both score and a poor defensive effort at the start can let them get going. The Blazers have been prone to poor defensive starts and poor defensive games and they can ill-afford to have one against a team resting it's best offensive fire power.
Back-up point guard Cameron Payne could be in for a big game if he gets the start, provided Westbrook rests. Billy Donovan hasn't been giving Payne a lot of minutes but his talent as a point guard and shooter probably warrants it.
The Thunder have been known to rest Durant and Ibaka, but not Westbrook at times. If the Blazers have to face even just one of the two stars that will make this game tougher. However, Payne is talented enough to put up numbers against the Blazers and their guards must take the task of guarding him seriously.
In terms of other guys to worry about, the Blazers cannot leave Anthony Morrow open around the outside. Kyle Singler and Randy Foye have been shells of their former selves for much of this season but a garbage time in April is sometimes when players having an otherwise forgettable season might have some big games.
The Blazers have had a good chunk of blowouts at home against inferior opponents or teams resting players. They did it against the Kings and Heat just last week. However, the work won't be done if the Thunder rest their guys. It will be easier, but as we saw against Philadelphia, the Blazers still aren't a team that can afford to take opponents lightly.