The Scouting Report: at Sacramento Kings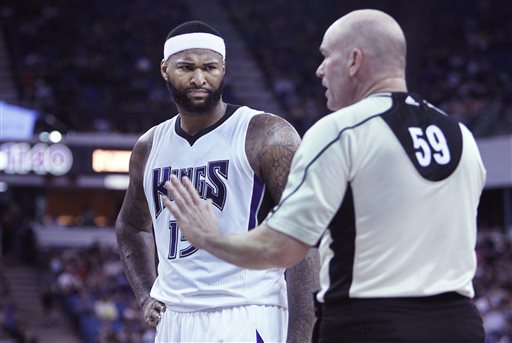 Projected starting line-up: Seth Curry, Rajon Rondo, Rudy Gay, DeMarcus Cousins, Willie Cauley-Stein
Injuries: Omri Casspi (hamstring), Marco Belinelli (foot)
Another fantastic, critically acclaimed season of "Love & Hip-Hop: Sacramento" is winding down and of course, we still have some intrigue. Will George Karl miraculously return as coach next season even though they've tried to fire him before? Will DeMarcus Cousins and Rajon Rondo leave the floor mid-game? Will the Kings hold on to their top-ten protected draft pick? When are we going to get a new single from Anjali World?
The plot lines keep on coming on "Love & Hip-Hop: Sacramento," but unfortunately the basketball has been very bad in the City of Trees since the new year. The last trip the Blazers made to Sacramento at the end of December was right before the fall of the Kings season began. CJ McCollum's brilliant 35-point performance where he was one assist shy of a triple-double carried the Blazers to a victory and the Kings season went downhill from there. A couple of games later, the Kings lost at home to the 76ers.
From a tactical standpoint, however, this game will present a lot of problems if DeMarcus Cousins plays as expected. The Kings have said that Cousins won't play in any more road games but with tonight's game being played in Sleep Train Arena, the final Blazers visit to the arena formerly known as Arco, Cousins is going to force the Blazers to make some decisions.
If you've watched the Blazers all season, you know that as important as Mason Plumlee and Ed Davis have been to their success that they aren't the antidote for the NBA's best centers. That distinction used to belong to Meyers Leonard, whose 7-foot-1 and nearly 250 lbs., but also has 3-point range pull players away from the basket. Leonard's combination of bruising strength on the block and shooting bothered Cousins in both meetings, who refused to make Leonard cover him in pick and roll situations and insisted on pounding the ball on the block. Normally, he's right to do that and against the Blazers tonight, we'll see a lot of it.
The Blazers small ball has been their style of choice for the last two weeks and if nothing else, the Blazers should go all in on that strategy. The Kings rank 1st in the league in pace, but their personnel without Omri Casspi able to play power forward, would appear to have a lot of trouble keeping up with Portland's small starting line-up. Running will be a key for the Blazers tonight and they usually run when they get stops. But it will have to start with slowing down Cousins and without Meyers Leoinard, it's going to be a little more difficult.
A 1/2 game back of the Grizzlies for the fifth seed in the West, the Blazers need every single win they can with four games left. Tuesday is Portland's final road game before coming home to finish the season with a 3-game home stand.